TWO OF WATERFORD'S established defenders will not see action before this summer's hurling championship due to injury, while attacker Maurice Shanahan will have an appeal tomorrow night against his recent sending-off against Cork.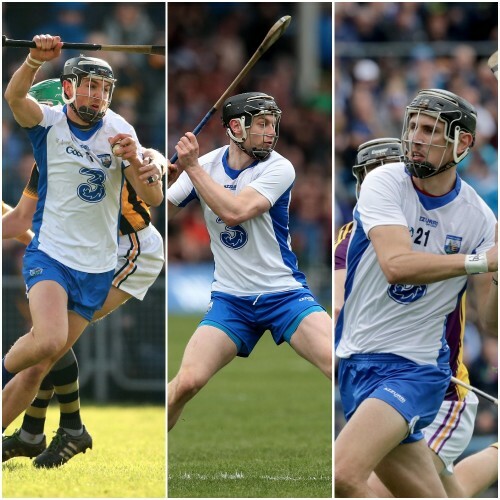 INPHO Darragh Fives and Philip Mahony on the Waterford injured list while Maurice Shanahan appeals suspension. INPHO
Manager Derek McGrath has confirmed that Philip Mahony and Darragh Fives will not return during the league, as Waterford get set to face Clare on Sunday.
McGrath revealed that they are backing 2015 All-Star Shanahan after a dismissal that noticeably angered the player in Walsh Park.
"I don't want to jeopardise any appeals process on Thursday night. We've looked into it and we'd be happy to support our player I suppose, that's what we'd say.
"But appeals processes are difficult scenarios for everyone involved and a difficult job for the referee as well. We'd feel it merits an appeal anyway."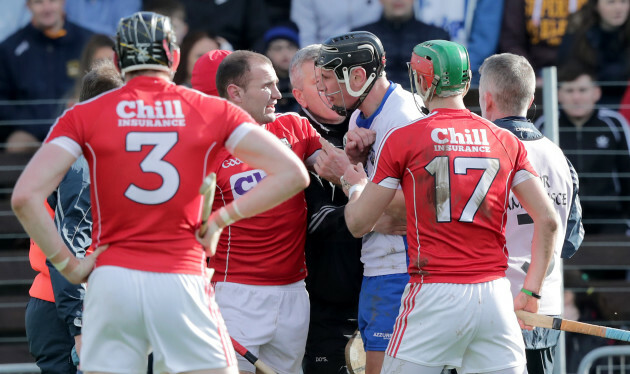 Morgan Treacy / INPHO Maurice Shanahan confronts Dean Brosnan after being shown a red card. Morgan Treacy / INPHO / INPHO
Mahony (hip) and Fives (quad) have been battling long-term injuries with the latter then suffering another knock recently.
McGrath is targeting the Munster semi-final on 18 June for their comeback with Mahony closer to match fitness.
"With Philip, we'd be very confident he'll be involved. With Darragh it's a different scenario. He's been battling a long term injury, he tore a quad muscle in a fitness test before the All-Ireland semi-final first match last year and that set him back.
"We would have played him two Sundays ago in a challenge game against Wexford with a view to playing him against Dublin here on the Saturday night.
"The Wednesday before we played Dublin then, he pulled up in training so it's just very hard to manage it at the moment.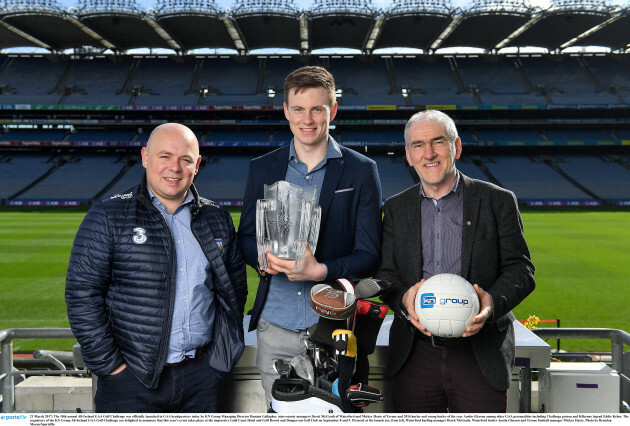 Brendan Moran / SPORTSFILE Derek McGrath, Austin Gleeson and Mickey Harte at yesterday's launch of the KN Group All-Ireland GAA Golf Challenge. Brendan Moran / SPORTSFILE / SPORTSFILE
"Just when we seemed to get him rehabbed and right, he compensated for it with another muscle injury, so he's having a rough time.
"We'll have to get game time in to him before 18 June. We can't just throw him into that. It's a difficult scenario.
"If Waterford were playing a championship match next Sunday or the Sunday after, I think Philip would be available to play and push himself through a little bit of pain.
"The club championship is down in Waterford for the first week in May and we're the last championship game in Munster so we have a six week run in no matter what materialises in the league or otherwise.
"We're just trying to concentrate on that six week period to allow Philip to be right. I can safely say we won't involve him in the league."
The42 GAA / SoundCloud