WHAT KIND OF strange agony awaits the hurlers of Waterford this Sunday?
There is a Munster hurling championship game against Tipperary in Semple Stadium, only there's nothing there for them. Nothing at stake. All the pressure is on their figurehead, Davy Fitzgerald, to get their single win of the championship.
But the players? Lose their fourth game and a free pass awaits. The season is, after all, yet another write-off.
Tipperary need a result and are brimming with the confidence of taking Limerick down the stretch and drawing with them last Sunday.
Limerick and Cork meet at the Gaelic Grounds. They both need something as well to either join Clare in the Munster final, or scrape through into third place. Events in Semple aren't entirely a 'dead rubber' scenario, but there's nothing in it for Waterford.
For the second year in a row, they will not be getting out of the Munster round robin. In that period, they only have one win to show for their endeavours, and that coming against a Tipperary team on the first day out in 2022.
Their crowd have long abandoned them. There wasn't many there for the first game against Limerick to see them shoot themselves out of it when they had the big chance after Gearoid Hegarty was sent off.
Last April, the mood was different in Waterford. They were reigning league champions and the act of Liam Cahill staying on as manager along with Mikey Bevans was a huge sign of the possibilities that were awakening.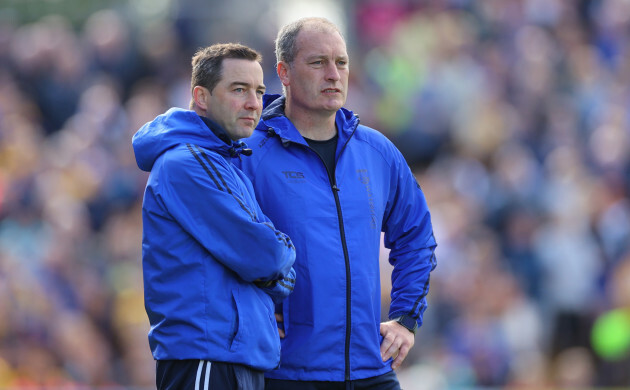 James Crombie / INPHO James Crombie / INPHO / INPHO
We are all wiser after the event, of course, but subsequent reports held that the panel were mercilessly flogged after that league win, as if it were a form of punishment.
Waterford hurling folk were on a high though. Early season work had been done with Jim McGuinness and the noises were positive.
Former manager Derek McGrath, writing in his column for The Irish Examiner, made this eloquent point:
"Charles Kettering famously said 'high achievement always takes place in the framework of high expectation' and this echoes the new psychology of this team. Instead of cowering and lowering expectations, the humility of the group, the ambition of the group, will see them embrace the excitement and giddiness that is evident in Waterford."
They won that game against Tipperary in Walsh Park, lost by three to Limerick — no shame — and few would have forecast the subsequent collapse to Cork (six points) and then Clare (12).
This year there was a reasonable performance against Limerick, a heavy defeat to Cork, and a no-show against Clare.
It might be the mega-fame of Davy Fitzgerald that causes it, but rather than the conversation looking for a rational explanation as to Waterford's run, it runs down the dead end of Fitzgerald defiantly effing and pledging to stay where he is.
Taken in overall context, there is a case to be made that the county is bankrupt at football and hurling.
This season, Waterford played 11 hurling games in Munster at minor and U20 level. They have lost them all. They had five Munster football championship matches and lost all as well.
When Munster switched their U20 hurling championship to a round-robin for the last two seasons, they have played seven games altogether, losing six and winning one. The win was against Kerry, last year.
In senior hurling for the round-robin years of 2018, 2019, 2022 and 2023, their overall record is horrendous, as stated in this table:
Twitter - @GAALeagueTables Twitter - @GAALeagueTables
The most miserable year came under Páraic Fanning in 2019, with the margin of losses to Tipperary (18), Limerick (20) and Cork (13).
There have also been a 13-point loss to Limerick in 2018, and Clare beat them by ten this year, 12 last year.
It's also worth noting they haven't carried a single management team over from one round-robin to another, with Derek McGrath, Páraic Fanning, Liam Cahill and now Davy Fitzgerald having a go.
And you wouldn't have far to go for various disclaimers. The 2018 campaign can be seen in the light of losing the All-Ireland final to Galway the previous year and a group that had gone over the crest six months earlier after a tough few seasons under McGrath.  
Last year it all unravelled after the opening win and then a narrow loss to Limerick.  Similarly this year, there was a narrow loss to Limerick before the season fell apart.
Is there a brittleness there?
The record comes with various caveats and disclaimers. Waterford's ability to pull out big days with little lead-in has kept them foremost in people's minds
In Covid times, they might have benefitted from the lack of formlines and an ability to just go and play with self-expression in a time when intercounty hurlers and footballers were one of the few lucky people who could express themselves in such a fashion.
They reached the All-Ireland final played behind closed doors in 2020 and reached a Munster final. Across the 2020 and 2021 campaigns, they beat Cork, Clare, Kilkenny, Laois, Galway and Tipperary in championship games.
But those who lit up those games, the Conor Pruntys, Dessie Hutchinsons, Austin Gleesons and so on, don't appear to be particularly enjoying their hurling any more. Added to that the injury history of the desperately unlucky Tadgh de Búrca, then you realise that they can always gather a team around themselves for senior hurling.
The worrying thing is the lack of development at underage. They are without a Munster minor title since 2009. It's been a while since the likes of Stephen Bennett and Austin Gleeson won an U21 title in 2016.
When that grade was straight knockout from 2017 to 2021, Waterford played five games and lost them all.
Right now, the redevelopment of Walsh Park is nearing the end of Phase One. A new uncovered northern stand will house around 3,400 while the southern stand is being refurbished.
Phase Two will begin next year on Keane's Road and will be able to cope with a 1,300 crowd, while Phase Three will turn the city end into a new bank.
All in, the rebuilt stadium will be good to go in 2025.
After their stirring win last weekend, Clare's man-of-the-match Diarmuid Ryan nailed down what a special day it was for those inside their own tight, close-knit Cusack Park.
"It's an unbelievable feeling, looking around Cusack Park with friends and family here," he said.
"It's unreal. The Munster championship here is what you dream of."
Waterford have been unhappy tenants in Semple Stadium. It hasn't worked out for them and now they are heading for a humiliating eviction by the landlords.
Whatever they choose as the next course of action, getting back to Walsh Park and reconnecting with their former selves has to be high on the priority list.