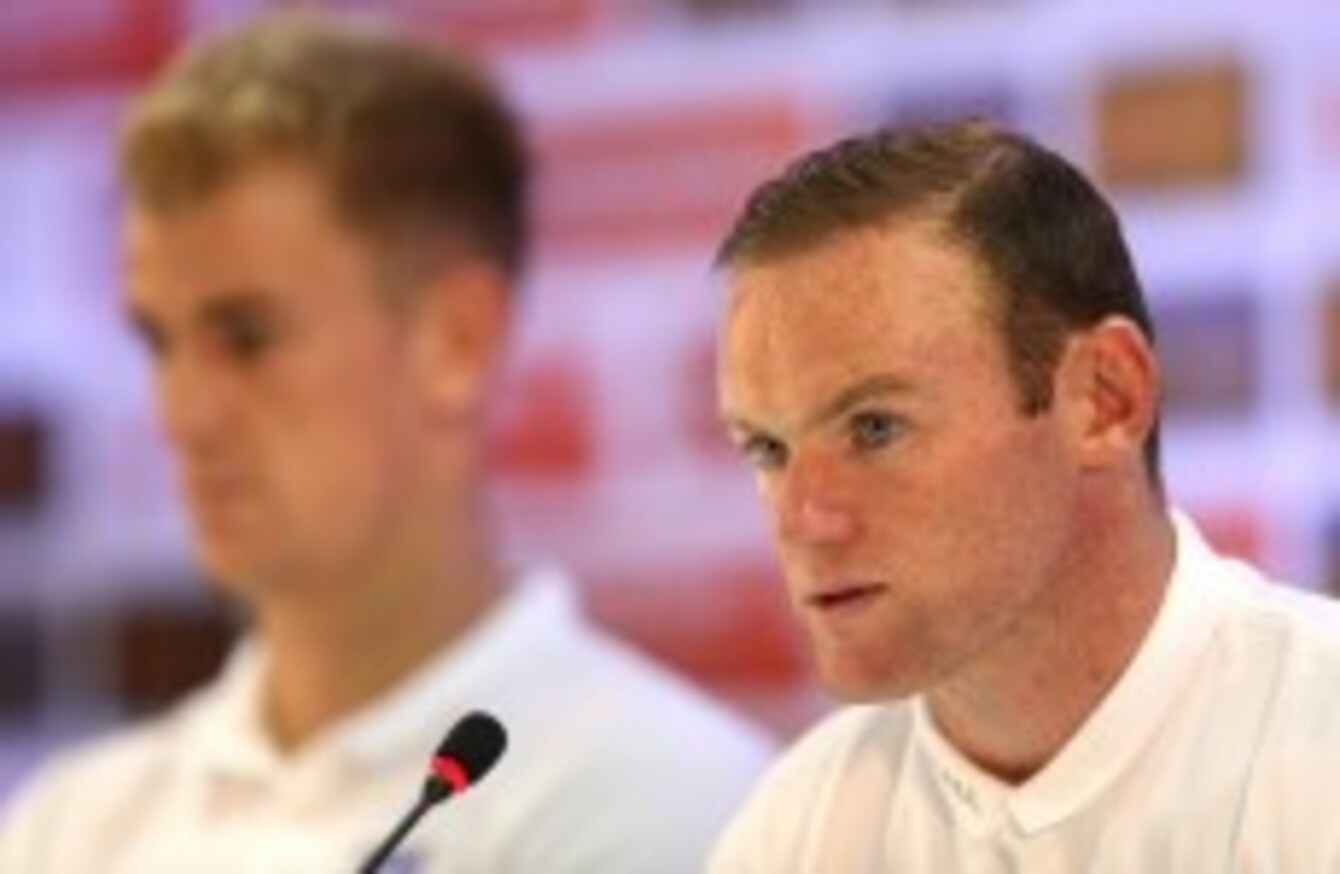 Wayne Rooney and Joe Hart during a press conference at Urca Military Training Ground, Rio de Janeiro.
Wayne Rooney and Joe Hart during a press conference at Urca Military Training Ground, Rio de Janeiro.
ENGLAND STRIKER WAYNE Rooney believes his country's players need to acquire more "nastiness" if they are to arrest 48 years of underachievement at major international tournaments.
The 1966 world champions were dumped out of the World Cup on Friday, halfway through the competition's group phase, after losing 2-1 to both Italy and Uruguay in their first two Group D matches.
Rooney has now tasted disappointment at five major competitions and having seen England flop in Brazil despite preparations that were widely considered to be ideal, he feels the problem is one of mentality.
"I think you look at teams who have won the tournament over previous years and you can see that nastiness in them. I think we need to get that in us," he told a group of journalists in Rio de Janeiro on Saturday.
"Maybe we're too honest, as a team. Uruguay the other night (Thursday), they stopped the game, they committed I don't know how many fouls. Clever fouls, really, to slow the game down.
"I think we're a bit honest in terms of the way we play. It's small margins. But those small things can amount to a big thing in terms of staying in the competition or going out."
England were aggrieved by some of Uruguay's rough-house tactics in Thursday's game between the sides in Sao Paulo, with manager Roy Hodgson making several references to the South Americans' "tough tackling".
However, while Rooney felt that he had come in for particularly rough treatment during the game, he believes that England can learn a valuable lesson from Uruguay's approach.
"You see players surrounding the referees — I'm not saying Uruguay did that — but I'm the same now," added the Manchester United striker, ahead of England's final game against Costa Rica on Tuesday.
"I want to win the game. I got kicked 10 times and I don't think there was a yellow card given to an opponent. We try and be honest, but maybe that's a fault of ours."
- 'We've let them down' -
England went to Brazil with their youngest World Cup squad since 1958, when they also went out in the first round, and Rooney feels that they might have avoided their fate had they been more streetwise.
"You see a lot of the great teams, international and club teams, they have that," he said.
Be part
of the team
Access exclusive podcasts, interviews and analysis with a monthly or annual membership.
Become a Member
"I think that will come.
"But this is football. You have to take your chances. If we'd taken at least one of them, we'd have gone on and won the game. That's what's disappointing."
While Rooney, who describes himself as "a football fan", said that he would watch the rest of the tournament once the squad have returned home, he is not looking forward to encountering disappointed supporters.
"In terms of this summer, it's tough," he said.
"Wherever we'll be, it'll be on the TV and there'll be fans coming up to you. We have to try and move on.
"It's difficult for us, but more for the fans. What is it? 48 years? It's tough, each tournament going into it. We've let them down. We want to give them something to cheer about for the future."
Before long, Rooney will be reporting for pre-season training with United under new manager Louis van Gaal, who has led the Netherlands to consecutive victories in their first two World Cup games.
When asked which team he would like to see lift the trophy on July 13 now that England are no longer involved, Rooney answered tactfully.
"Holland."