WAYNE ROONEY IS not one to take the easy option.
At his first press conference since joining Everton, the England international spoke of his frustration at having to get used to a bit-part role at Man United.
"It was just a frustrating time. The hardest thing was lifting the two trophies – the League Cup and the Europa League.
"You don't feel like you (deserve it) because you haven't been part of the game. That was hard to do; you're naturally happy because you have won but you don't celebrate it as much.
"It is just frustrating if you are not playing. The lads who play were having two-day recovery sessions while all the lads who were on the bench and not in the squad were training together, so you're not really training with the first team.
It was around November I knew (an exit was likely). I spoke to Jose in January to see what his opinions were and he always said he wanted me to stay and help the team until the end of the season. I did that."
Rooney clearly feels he has a point to prove. If he wanted an easy ride, he could have gone to China, with the attacker confirming yesterday that he was given the option of moving to the Far East.
Returning to his boyhood club, Everton's new signing turns 32 in October. By now, he has been playing top-level football almost half his life.
The 15th anniversary of his senior debut — a 2-2 draw with Tottenham on 17 August 2002 — takes place next month.
The following October will be the anniversary of that famous last-minute winner against Arsenal — scored five days before he turned 17 — as he brought the Gunners' 30-game unbeaten run in the top flight to an end in blistering fashion.
hacirooney / YouTube
Less than two years later, at Euro 2004, Rooney's impact was similarly phenomenal, becoming the youngest scorer in the competition's history at the time amid a 3-0 defeat over Switzerland. Sven-Goran Eriksson even likened his influence to that of a 17-year-old Pele at the 1958 World Cup, while others nodded their head in agreement.
There were even times that summer in Portugal where Rooney looked like he could inspire the Three Lions to a first tournament triumph since 1966 with his regular bursts of brilliance, before an untimely injury ruled him out and England were beaten on penalties by the hosts in the quarters.
Alexg733 / YouTube
Since then, it would be harsh to say Rooney has not fulfilled his potential. Five Premier League titles and a Champions League triumph, in addition to being the all-time top goalscorer for both England and Manchester United is the type of CV most footballers can only dream about.
For a period, Rooney was world-class in most people's eyes. He carried the mantle brilliantly in the immediate aftermath of Cristiano Ronaldo's departure, scoring 26 goals in 32 appearances in the 2009-10 season, finally becoming a truly prolific scorer after years of failing to breach the 20-goal-a-season mark.
In 2010-11, Rooney hit a relatively disappointing (by his standards) Premier League return of 11 goals in 28 appearances, but he followed it up with an impressive 27 goals in 34 appearances — a career-best tally — the following campaign.
Yet Alex Ferguson, unhappy at having been pipped to the title by bitter rivals Man City, still chose to sign another striker, Robin van Persie, the following season — a move that created tension and led to the manager and the English star falling out ultimately.
Rooney was relegated to the status of sidekick, managing just 12 goals in 2012-13, and since then, he has seldom rediscovered the kind of form he demonstrated at his scintillating best, despite the player signing a lucrative new contract during the David Moyes era — a move that looks unwise on United's part with the benefit of hindsight.
Moreover, for all his highly impressive achievements, there is still a legitimate case to be made that Rooney has not quite reached the astronomical levels expected of him in the days where he was comfortably English football's most gifted teenager.
Compare him to Cristiano Ronaldo, for instance. A harsh barometer of success admittedly, but surely a fair one, given the circumstances behind their respective career trajectories.
Ronaldo, at 32, is only slightly older than Rooney. Think back to the 2004-05 season, Rooney's first campaign at United. The pair weren't far apart in terms of individual quality.
If anything, Rooney was the slightly better player out of the two in those early days. During that debut campaign, he scored 11 goals in 24 starts, while Ronaldo managed five goals in 25 starts, as United finished the season trophyless having been eclipsed by a Chelsea side recently boosted by Roman Abramovich's millions.
Ask Red Devils fans back then which player was more indispensable and the majority would say Rooney.
Ironically, given that he has since become arguably the most potent finisher football has ever seen, at the time, Ronaldo was widely regarded as a player of immense promise and incredible skill, but also as an ill-disciplined youngster who lacked end product, more intent on showing off his dazzling array of tricks than hurting the opposition in a decisive fashion.
WayneRooney10i / YouTube
Rooney, by contrast, had a power, dynamism and direct approach that Ronaldo patently lacked, as emphasised by a magnificent hat-trick on the English star's memorable United debut in the Champions League against Fenerbahce in 2004.
Gradually, though, as would re-occur once Van Persie joined, Rooney was upstaged. The duo's roles were reversed, as Ronaldo became the main man to Rooney's support act. The Portuguese star was moved to a more central role, while Rooney often had to be content with 'doing a job' on the wing.
There was one other conspicuous difference between the two. Whereas Rooney invariably ran his heart out, Ronaldo was infamous for his reluctance to track back or put in a good old-fashioned 'shift,' a habit that seems synonymous with the ideals of British football in particular.
As former United right-back Gary Neville later reflected: "All the premeditated tactical theories I had learned about getting and staying in your shape, and tracking back with your runner, all the things that had been drummed into me, were thrown out over those two years because we had a player who could make up his own rules with the blessing of his team-mates.
He has helped to redefine the game by creating a new breed of flexible forward."
The perception at the time was that Ronaldo was lazy, but the overwhelming success the player has since enjoyed inevitably prompted critics to re-consider this view.
Conversely, Rooney, widely admired for his tireless work ethic, suggested in 2014 that he should have taken a leaf out of his former teammate's book.
I did too much running when I was younger and then didn't have the energy to get myself into goal-scoring positions in the box," he

told reporters

.
Perhaps this childlike enthusiasm is also the reason why Rooney's decline has been more rapid than many of his contemporaries.
Exclusive Six
Nations Analysis
Get Murray Kinsella's exclusive analysis of Ireland's Six Nations campaign this spring
Become a Member
While Ronaldo was winning his second consecutive Champions League trophy last season, Rooney was coming off the bench in the 90th minute of the Europa League final. With United 2-0 up and the game effectively won, Mourinho could for once give in to sentiment and afford the fading United star one last anti-climactic hurrah at the club he represented with unwavering passion for 13 years.
Consequently, following the teenage Pele comparisons in 2004, Rooney must now aspire to emulate the Brazilian idol in a different context. Before the 1970 World Cup, many critics had suggested the legendary attacker was past his best, but he went on to star in an improbable triumph as part of a team widely regarded as one of the greatest sides ever.
At Everton, Rooney can hardly be expected to achieve similar glory. Simply featuring regularly in the starting XI would be an admirable feat in itself, with the Toffees having already spent over €100 million this summer and likely to part with further funds in their bid to attract attacking talent following the sale of star man Romelu Lukaku.
So where exactly Rooney fits into Ronald Koeman's side is another pertinent question. He had a stint in midfield under Louis van Gaal at United, but Jose Mourinho subsequently insisted the star's best position was as a second striker.
Yet the fact that Rooney has failed to hit double figures in the Premier League over the past two seasons would suggest the Liverpool-born star is no longer capable of being the prolific scorer he once was, particularly when playing in an inferior team where he is unlikely to get as many goal-scoring opportunities as he did before. It remains hard to imagine him as an out-and-out midfielder too, though.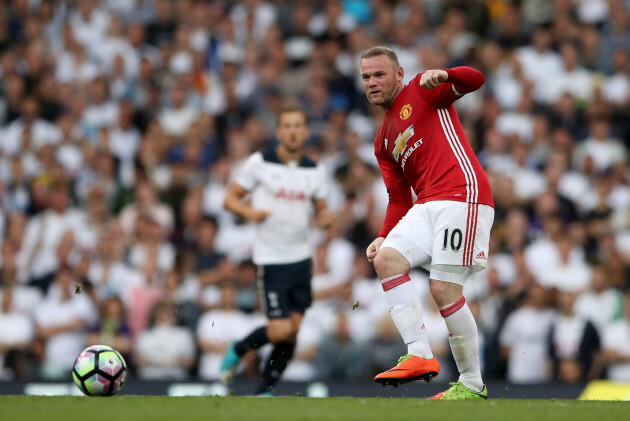 Nick Potts Rooney looked a pale shadow of his former self against Tottenham last May. Nick Potts
Rooney's last United goal came in a 2-1 Premier League defeat to Tottenham at White Hart Lane back in May. That day, he started in a more withdrawn role than he was normally accustomed to during the Mourinho era.
Tottenham, by then, had lost all hope of winning the league, while United — with the Europa League final the primary focus at the time — fielded a second-string side.
While the scoreline suggests it was a close game, in the first half in particular, United were outrun and outclassed amid an emotional occasion, as Spurs waved goodbye to White Hart Lane in style.
Up against Tottenham's array of supremely talented and relentlessly energetic twenty-somethings, a cumbersome Rooney looked totally out of his depth, against the same team in which he made his first Premier League appearance all those years ago.
It felt poignant, reflecting that it was once Rooney who was making fools of players twice his age and remembering that all glory is fleeting, as the England forward traipsed around haplessly in a game that meant almost nothing to either side.
It played into the perception of Rooney as faded star — yesterday's news, in stark contrast with the bright young talents, such as Harry Kane, Dele Alli and Christian Eriksen, who were on show that day.
At Everton, therefore, the Croxteth native faces the biggest challenge of his career. The Premier League, with its growing emphasis on pace and athleticism, is increasingly becoming a young man's game.
In order to burn out rather than fade away, Rooney needs regular game time, peak fitness and the type of irrepressible self-confidence that was a hallmark of his younger days.
The42 is on Instagram! Tap the button below on your phone to follow us!