Updated at 08.02
WHEN WAYNE ROONEY first stepped out onto the Goodison Park pitch, he was an 11-year-old.
That day, Rooney was Everton's mascot for a derby clash with Liverpool. There's a picture that commemorates the event. The other kid looks a little nervous, intimidated.
But there's Rooney, with a massive grin, living every moment.
Of course, it probably helped that a few minutes earlier, during the warm-up, instead of knocking a simple pass to Neville Southall, he sent a delicate chip over the head of the veteran goalkeeper and into the net.
Southall called him 'a cheeky git' and the impudence he displayed as a child has never really evaporated. It comes from a place of fascination, wonderment.
Rooney was the kid who would batter a ball from morning 'til night in his Croxteth estate in Merseyside. Boredom was easily satisfied by inventing new ball-related challenges. There was a road sign on the opposite side of the street so Rooney would try and rattle it, using passing cars as the defensive wall he needed to beat.
Every star has similar stories.
George Best honed his skills with a tennis ball. One game involved him using just enough precision and trajectory to get the ball rebounding back to him off the edge of the footpath.
David Beckham used to hang a tyre from the crossbar and swing various long-distance shots through it.
But unlike Best and Beckham, Rooney retained that childlike obsession. In fact, he still does and it's what's fuelled his desire to keep going.
Everything Rooney has done on a pitch and off it has merely been an extension of that impudent, addictively-expressive 11-year-old kid.
The goal against Arsenal in 2002 – the thunderous, long-range strike that announced his arrival – was replicated many times over, perhaps never more so than the astounding volley against Newcastle at St. James' Park that nearly took the net off.
In the years that passed, Rooney had merely replaced the road sign in Croxteth with some new targets.
That overhead kick in the Manchester derby, surely the best-known of all his remarkable goals? Well, he'd done the same thing in an underage game against United as a member of Everton's academy. It was such an astonishing piece of individual skill that even the parents of the United players broke out in spontaneous applause.
Even the controversies, essentially, were tantrums. He tried to leave United twice. The first time, after the stunt worked perfectly and secured him a five-year bumper contract, Sir Alex Ferguson made him apologise for what he'd done. Rooney: the perennial child.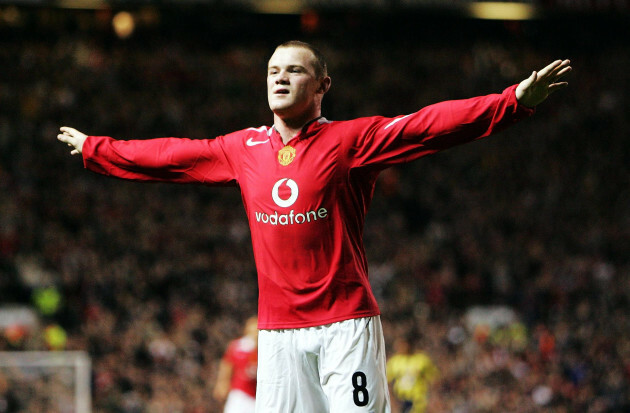 Getty Images / INPHO Getty Images / INPHO / INPHO
When Rooney became a star, he treated it like it made complete sense. Because, it did. Rooney always knew he would become a professional footballer. So, nothing really changed that much besides his bank balance. There's a great yarn about when he made his England debut as a 17-year-old against Australia. Afterwards, he went back to Croxteth, drank Coke, ate crisps and played football with his friends. They just wanted to know what the other England players – the actual stars – were like.
Everything has remained very familiar to him. Coleen McLoughlin, who he has known since childhood, would probably have married him regardless of whether he became a footballer or not. He was already high-profile when he proposed to her but, rather deliciously, shunned a massive, expensive production and instead popped the question in the forecourt of a petrol station in 2003. Afterwards, to celebrate, the pair went to Colleen's mother's house for corned beef, sausage and beans.
His time as a child – those formative years – probably follow Rooney around more than any other professional athlete. He's never felt the need to break from the familiar. There are constant reminders of where he comes from and, perhaps, that's why he's such a curious case.
He seems massively at odds with the social-media savvy and marketing gimmicks that other players of a similar age immerse themselves in. While the vast majority are intent on developing their brand, there's something adorable about Rooney's Twitter comments regarding X Factor, Breaking Bad, Family Guy and Whitney Houston.
When he mis-steps, there remains a gormless quality to his behaviour. There's no malice – just idiocy. Again, a reflection of those silly things kids do sometimes. When his sparring session with Phil Bardsley ended with Rooney face-down and unconscious on his kitchen floor, there was nothing much to do except laugh. Fittingly, that's what Rooney did too after subsequently scoring against Spurs.
Gavin MaxdMerc / YouTube
Growing up, Rooney would play until darkness made it impossible to see anymore. Even then you can still picture him, using the light from some street lamps to score 'one more goal' or beat one more 'defender'. Years later, he was the same – pestering Ferguson to let him play in games when he wasn't 100% fit or returning from injury.
And, he's still the same.
At 31, he realises he's not the same player anymore but he's ignorant to those around him saying 'time's up'. He keeps going because, well, what else is there? Nothing is an interesting or enjoyable to him. Rooney, very simply, wants to continue doing what he loves. He remains that kid in Croxteth battering the ball until there's nothing left.
For him, that childlike obsession with the game remains his biggest motivation. And there's something wonderful about that.
The42 is on Instagram! Tap the button below on your phone to follow us!