ON OF THE perks of being captain of a leading Premier League side is that it means you are likely to start and play for 90 minutes in most matches even in an age of rotation where top internationals are often left on the bench.
Yet there were signs over the weekend at the two most decorated clubs in the country that the armband on certain players is more like a weight around the team's neck.

 Liverpool and Manchester United started the season full of optimism but the form of their two skippers — Steven Gerrard and Wayne Rooney — has come to represent horrible starts to the new campaign.
Louis van Gaal said on Friday that Rooney, as captain, can expect to enjoy "privileges" by starting most games in a season and staying on the pitch when the time comes to make substitutions.

 It provides a position of great comfort for a player who many would suggest does not deserve a place in United's new-look starting XI.
The startling 5-3 defeat against Leicester on Sunday was just one example of why.

 One of the abiding images from the match will be the sight of Rooney furiously screaming at his team-mates after the Foxes had equalised to make it 3-3, showing a complete lack of self-awareness given he had conceded possession in the first place in the build-up.
It was not the mark of true leadership but an angry vent from a player who has never been considered a natural leader and has already let his selfishness and greed shine through at United on at least two occasions with contract stand-offs.
Funnily enough, the man he appeared to single out for the most criticism for that third goal – 20-year-old rookie Tyler Blackett – was later sent-off after conceding a penalty. It's hard to imagine Rooney's rant did much good for his mental state.

 Rooney would have been better off worrying about his own game. Save for a simple pass to set up Angel Di Maria's stunning goal, the United and England captain was clumsy, clunky and predictable.
While Juan Mata started on the bench and Di Maria and Radamel Falcao ended on it, Rooney enjoyed the 'privilege' of staying on the pitch for the full 90 minutes.

 There are now legitimate questions over whether Rooney deserves a place alongside the likes of Falcao, Di Maria and Robin van Persie.
His tendency to slow the game down does not fit in with Van Gaal's instincts to play fluid attacking football.

 Rooney, Blackett and goalkeeper David de Gea are the only players who have started each of United's five Premier League matches so far, but it is time for Van Gaal to reconsider his position on his captain. He needs to build around players like Di Maria, not Rooney.
Undroppable
The England striker slammed United's shambolic defending in his post-match interview, but equally concerning for Van Gaal will be how he can fit an undroppable player into a team that is now bursting with better attacking talents. 

 United's conspiracy to throw away a 2-0 lead for the first time ever in the Premier League came less than 24 hours after Liverpool slumped to their third defeat from their opening five matches.

 The 3-1 loss at West Ham on Saturday was a disaster for Gerrard. 

It was not so much that the Liverpool captain was terrible. It was even worse — he was anonymous.
The 34-year-old retired from international football after a dreadful individual World Cup in order to preserve his legs and provide his best for Liverpool.

 But the Reds's injury problems and Brendan Rodgers's commitment to his captain meant Gerrard played a third game in a week at Upton Park.

 Sitting in a defensive midfield role away from home, the statistics make grim reading.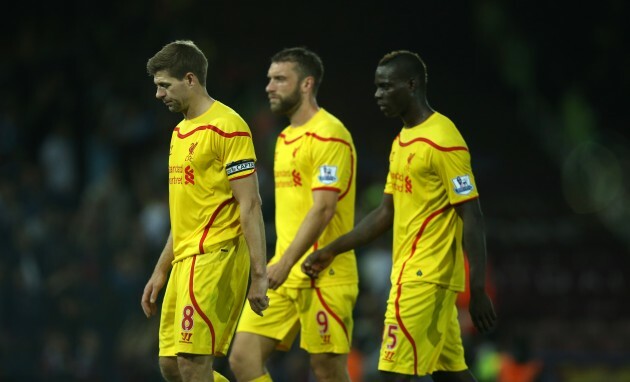 John Walton Liverpool's Steven Gerrard, Rickie Lambert and Mario Balotell walk off dejected at the end of the West Ham match. John Walton
Making zero key passes is bad, but can be overlooked, however, finishing the game without a single tackle successfully completed is very worrying.

 As Morgan Amalfitano raced away from Gerrard to score the Hammers' third goal, Gerrard must have known that he'd had a stinker.
His attempts at defending provided a timely reminder as to why there was always so much debate over whether he could play alongside Frank Lampard for England. Gerrard is not very good defensively, it goes against all of his instincts.
Gerrard has dropped deeper and deeper as his legs have become slower and slower, but we are nearly at the stage where the Premier League is just too quick for him.

 West Ham copied the trick used by Aston Villa last weekend by putting a man near the Liverpool skipper — this time Stewart Downing — and he simply didn't have any time or space to operate. He couldn't cope. 

While Gerrard still has something to offer, his seemingly guaranteed place is starting to weigh Liverpool down. Their start has been unacceptable, especially after finishing second last season and vowing not to 'do a Tottenham' following the sale of Luis Suarez.
And how Rodgers uses his captain will be one of the urgent issues he needs to resolve.
Greg Stobart, Goal.com