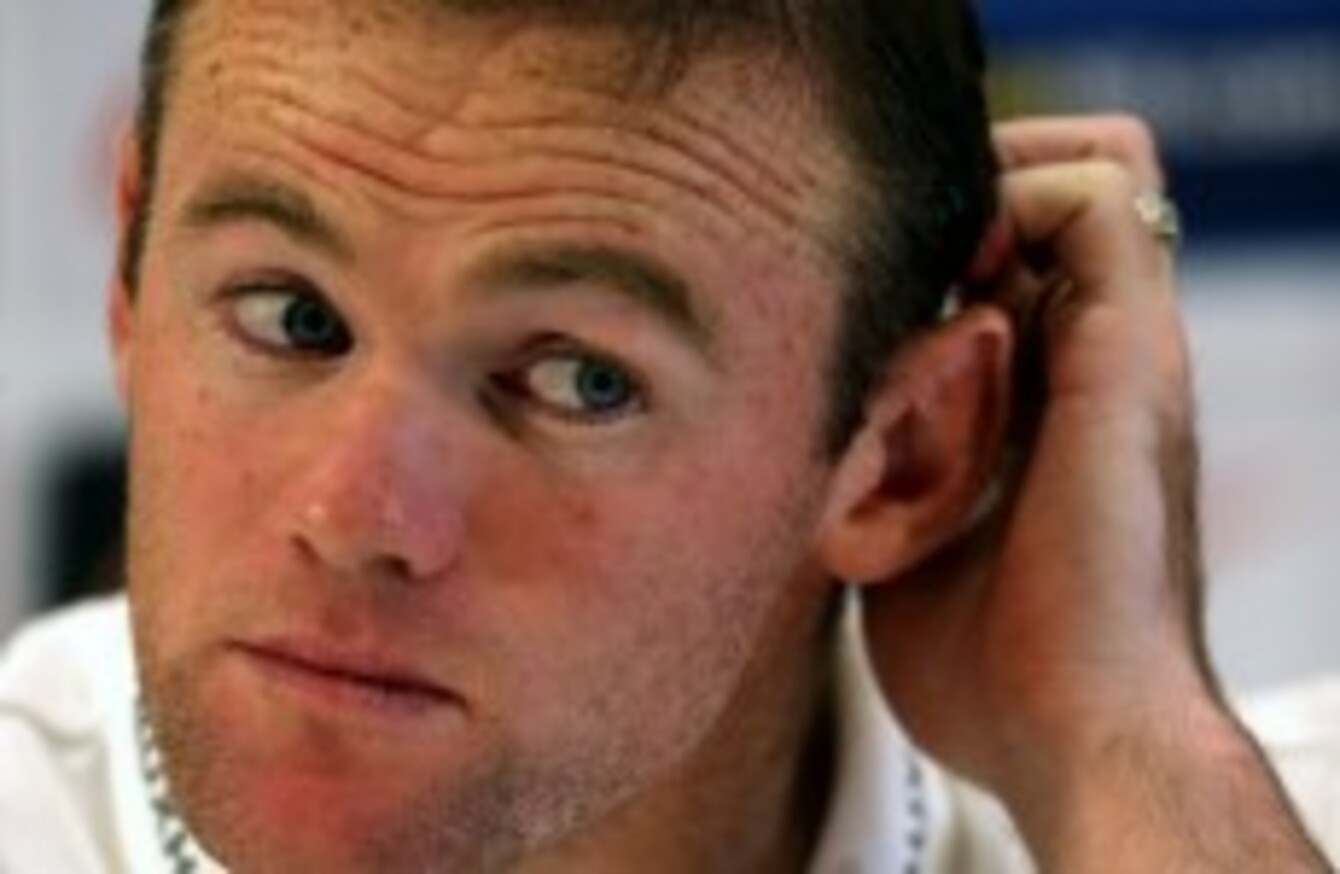 England's Wayne Rooney speaks to the media today.
Image: Nick Potts/PA Wire/Press Association Images
England's Wayne Rooney speaks to the media today.
Image: Nick Potts/PA Wire/Press Association Images
Wayne Rooney has spoken publicly for the first time about his reasons for wanting to leave Manchester United and blamed his disillusionment on Sir Alex Ferguson playing him out of position after the signing of Robin van Persie.
Rooney described himself as "happy" and "settled" at Old Trafford now David Moyes is in charge but the England striker notably stopped short when asked to clarify whether that meant he wanted to stay in Manchester or if he would renew his attempts to leave next summer. Choosing his words carefully, all Rooney would say on the subject was there would be more discussions behind the scenes.
The England striker, preparing for the World Cup qualifiers against Montenegro and Poland, went on to offer his backing to Roy Hodgson in the wake of Harry Redknapp's comments that he would not trust the "clueless" Football Association "to show him a good manager if their lives depended on it". Despite admitting he initially wanted Redknapp to get the job, Rooney says Hodgson has turned out to be the England manager he has enjoyed playing for the most, and that the FA made "the right decision" choosing him ahead of Redknapp.
However, it is his relationship with Ferguson that provides the backdrop to Rooney's explanation about the chain of events that led to him trying to engineer a move to Chelsea in the summer. He does not mention the former United manager once by name. Yet, in another sense, Ferguson is implicated in everything as the picture emerges of a player who had started to feel undervalued and mistreated after Van Persie's arrival from Arsenal.
Asked whether he had raised his concerns with the relevant people at Old Trafford, Rooney opened his arms to show his exasperation and smiled knowingly. "Yeah, and ?" That was the meeting at which he apparently told Ferguson he might leave and an already strained relationship was fractured. Ferguson dropped Rooney from his team and, to the player's dismay, publicised what had been said during a live television interview, describing it as a verbal transfer request.
Rooney's account is that, after nearly a decade at the club, he felt he had done enough to warrant a place in "my position", namely as centre-forward, and was fed up of being told to help out in midfield. "Everyone at the club knew where I wanted to play and I think that's why I was disappointed. I got told to play in midfield and I didn't want to. I just think there had to come a point when, for my own career, I had to be a bit selfish really."
This goes back to last spring, not long after he had been left out of United's starting XI to face Real Madrid in the second leg of their Champions League quarter-final. "I actually felt when I played in midfield I did OK, but I didn't want to play there. I've had no problem in the past playing out of position. But I felt I deserved the right to play in my position and that wasn't happening.
"I think, naturally, I was a bit disappointed and maybe that affected some of the games I played. I know myself that last year wasn't my best season but there were times when I was playing in different positions. I didn't feel I got a consistent run of games up front. Sometimes when you're not playing in one position all the time it's difficult to adapt."
Rooney was the subject of two Chelsea bids – £23m on 16 July and £25m on 4 August – and José Mourinho challenged him in the final week of the transfer window to go public with his desire to leave. Mourinho's information was that Rooney wanted to join them but by that stage, as the Guardian revealed on 13 August, it had already been established within United's boardroom the player would not be allowed to move to Stamford Bridge at any price.
"I'm sure the club made that clear," Rooney said. "Obviously there's been a lot of stuff happening and everyone has been waiting for me to say something, but I've spoken to the people who matter at the club and we've known ourselves what was going on.
"I didn't want to come out saying anything. I just wanted to concentrate on my football. That's what I've done and that's what I'll continue to do. I'm not going to go around saying: 'I wanted to stay' or 'I wanted to leave'. I'll concentrate on my football and see what happens after that."
To the direct question of whether he would like to stay at United, Rooney was happy to answer, but only to a point. "You can see I'm playing and I'm happy in my football. I'll have more discussions with the club and we'll see what happens from there." That was as far as Rooney would go on the subject of a new contract, with his present deal expiring at the end of next season.
From United's point of view, it offers a flicker of encouragement, though not a great deal more. "David Moyes has come in, he's playing me up front and I'm enjoying it," Rooney continued. "I'm not saying I wouldn't [go into midfield] for instance if it was the last 10 to 15 minutes of a game, if we were holding on a bit and I got asked to drop to the left, or drop back, to help see out the game. I'd always go in and try to help the team. I'm not saying I'd throw my arms up and not do it. I can play in midfield. Maybe when I'm a bit older, losing my legs a bit, I can go back there."
The slight contradiction here is that Rooney was used only sporadically in midfield last season rather than it being the matter of routine that he appears to suggest. Rooney's versatility was always seen as an important asset at Old Trafford but, in the vast majority of games, Ferguson actually used him alongside Van Persie.
Whether it is correct for any player to tell his manager where he ought to play is another matter, particularly in the case of Ferguson and United, and there is also the irony that Rooney blamed the club's lack of ambition in the transfer market for handing in a transfer request in October 2010 and it is essentially the signing of Van Persie that has cost him his status as first-choice striker. Rooney has always maintained that he has no issue with Van Persie and he sought to make sure there was no misunderstanding. "I don't mean I want to play as the only centre-forward, but one of the two."
In short, Rooney believes he was messed around during their 20th title-winning season. But it is a complex issue. At United, they will say there is a lot more to it than that and, specifically, that Rooney's adviser, Paul Stretford, is prominently involved in influencing his decision-making. At the same time, the clear briefing from the relevant people around Rooney is that he still believes Ferguson has an influential role at Old Trafford and therefore remains at the club against his choice. Then take into account the potential for another wave of headlines if Ferguson chooses to reveal more in his forthcoming autobiography. The book is released later this month, with a press conference and publicity tour, and it is difficult to see how Ferguson can ignore the Rooney issue.
Yet there are mixed signals here, too. On the one hand, Rooney makes it clear he was aggrieved with the way he was treated. Then, in the next sentence, he states that he has not been unhappy at all.
"To be honest, I've been settled all summer. I really have been happy all summer. From the outside looking in, it might not have seemed like it. But I have been settled. My wife had a new child and I'm just delighted to be back playing and injury-free. I've got my head down and worked hard. I've been focused and I've been wanting to prove to people that I am a top player. That's what I've really tried to do."
On the face of it, it seems strange that a player with legitimate ambitions to overhaul Sir Bobby Charlton's scoring records for club and country – Rooney is 47 short of Charlton's total of 249 goals for United and needs 13 more to equal his 49 for England – would have to prove himself to anyone.
"I wanted to prove it to myself really rather than anyone else," he explains. "I wanted to come back fit, sharp and scoring goals. I've done that. I've scored a few goals and I'm playing every week, so I'm enjoying it.
"It's a bit different in terms of David Moyes and his staff coming in. The training is different, there's a different style, a different way of thinking about how he wants us to play. Honestly, the training has been so hard. We've done a lot more running. Long running, quicker running, sharper running.
"I feel that's really benefited me. I feel as fit as I ever have done. I had a couple of injuries pre-season but I feel great and in good shape. It's a mixture of things, but I am happy and I am enjoying my football."
All of which should be greatly encouraging for Hodgson before the two games that will determine whether England reach the World Cup, go into the play-offs or even worse.
"Over the last five or six years this is probably the most excited I've been about England games," Rooney says. "We've got two games at Wembley, we need six points, and it's great. There have been a few doubters in recent games and we have to prove we're good enough."
Rooney was one of the players mentioned in Redknapp's autobiography for sending him text messages saying they all wanted him to get the England job. "At the time, I did," Rooney says. "I remember tweeting about it? He was doing a tremendous job with Tottenham and everyone thought Harry was going to get the job. The way it was made out, it looked like he was nailed on. But then, obviously, Roy's popped up.
"The FA have gone with Roy and, for me, I feel now that was the right decision. I feel he's going to take us to the World Cup. It's probably the most I've enjoyed working for any England manager. His man-management is really good. He really speaks to us. And he's shown a lot of trust in me, both on and off the pitch."
On Friday, when England take on Montenegro, Rooney is looking forward to developing a new partnership with Daniel Sturridge. "Good players can work with good players," he explains matter-of-factly. "I don't know what Roy is going to do with the team but if he plays the two of us up front we're both capable of coming short and going in behind. We can mix it up."
He does not appear to have given a huge deal of thought to the Adnan Januzaj debate – "He's a tremendous talent, but is he from Belgium, or Croatia, or something?" he asks of his Manchester United team-mate – but the same could not be said when it comes to Charlton's goals target.
"To be honest, I'm actually a bit disappointed with my record. I feel I should have scored more for England. But I do believe I can get to that 50-goal mark, which would be an unbelievable achievement. There's a long way to go but it's something I want to do." As for Charlton's scoring record at Old Trafford, no word on that one just yet.
This article titled "Wayne Rooney: midfield role made player want to leave Manchester Utd" was written by Daniel Taylor, for theguardian.com
© Guardian News & Media Limited 2014