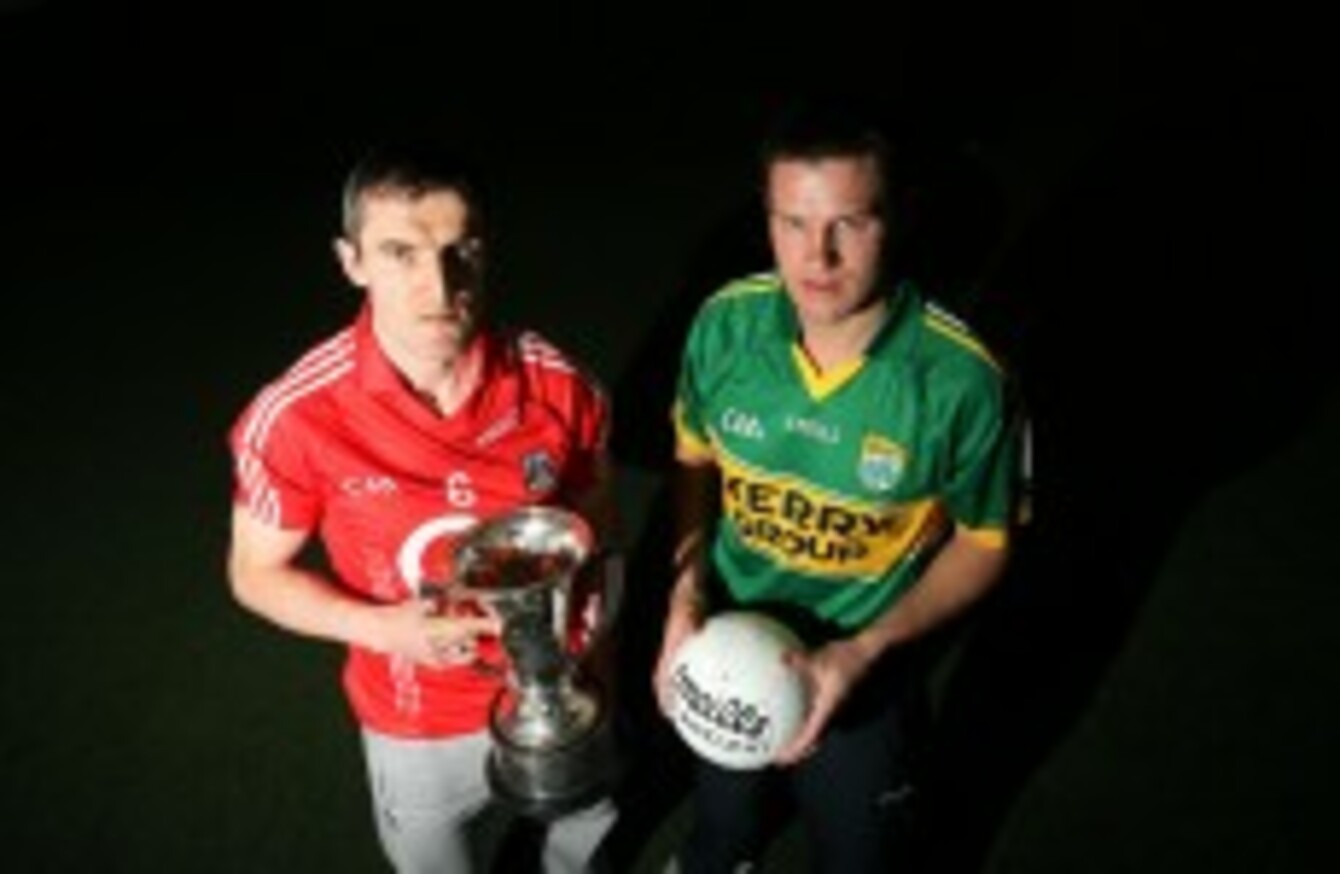 Cork's Grahan Canty and Eoin Brosnan of Kerry.
Image: INPHO/Lorraine O'Sullivan
Cork's Grahan Canty and Eoin Brosnan of Kerry.
Image: INPHO/Lorraine O'Sullivan
Reproduced with permission from Action81
THE FIRST HEAVYWEIGHT battle of Championship season takes place this Sunday in Páirc Uí Chaoimh as Conor Counihan's Cork take on Jack O'Connor's Kerry. Emmet Ryan gives his tactical breakdown of what to expect this Sunday.
Sheehan and the dominoes
The absence of Bryan Sheehan from Kerry's XV on Sunday will have a broad impact on how the Kingdom approach this game.
In losing Sheehan, Kerry must make up for productivity in every area between the 21s. Sheehan's most visible facet is in long-range free-taking, where he is on of the most dangerous threats from 35m+ in the game.
Having Sheehan's place-kicking as a weapon reduces an opponent's incentive to foul high. Cork will be able to re-think this aspect of their game with the big man out.
Size is another factor as Kerry will sorely notice his absence at both ends of the park. The return of Kieran Donaghy to the starting line-up won't make up for the loss of Sheehan on defence or in his creative role going forward. Likewise Kerry are now down one of the better ball-winners in the game. All of this adds up to big problems against a Cork team noted for its size. Jack O'Connor has experimented with his line-up this year, most notably with Donaghy's movements, in order to adjust for the Kingdom's lack of bulk at the back. Without Sheehan to offer defensive support, Donaghy may be forced to spend even more time inside Kerry territory on Sunday.
Establishing a tempo
Cork's game is simple and, when it has rhythm, devastatingly effective. Conor Counihan's charges focus on direct ball up the middle, using big line breaking players to force opponents back. The aerial bombardment enables the likes of Colm O'Neill and Aidan Walsh to double up as both creators and finishers of route-one attacking moves. Packed defences have struggled to overcome this approach. When Cork can bypass the horde and find a big target, creating space becomes less of a challenge.
This physical superiority can be viewed up and down the field, Cork's defensive game is built on bullying at the breakdown and creating a wall when supporting players drop back.
Impressive as all that sounds, when Cork fail to establish a tempo they present their opponents with opportunities to score. Kerry's effective long-range shooting won the league encounter between these rivals in March. When frustrated, Cork find it difficult to get in tune, leading often to wildly unbalanced performances from one half to another.
The Rebels have largely refined their game over the spring and showed far more consistency in the run-in to the end of their Division 1 campaign, but in their title victory a familiar problem raised its head. Cork's campaign was littered with some horrendous shot selection and they were plagued with this problem in the final against Mayo.
What are they
really like?
Rare insights on sport's biggest names from the writers who know them best. Listen to Behind the Lines podcast.
Become a Member
Distribution and shot creation
When Kerry have the ball in scoring position, they have proven more adept than most at finishing. Against Tipperary the Kingdom converted 9 of 17 chances from play, adding another 7 of 10 from dead balls. Those 27 chances however came from just 37 trips inside the Tipperary 45 in the whole game. Dontfoul, a Gaelic Football analytics site, found that efficient as Kerry were when they got into Tipperary territory, they had a hard time getting there. Distribution from the back is a big concern here and play-makers such as Paul Galvin will need to be on top form in order for the Kingdom to emerge victorious on Sunday.
Galvin's passing of late has been haphazard, mixing some sublime efforts with poor placements. In the Tipperary game and the loss to Mayo, Galvin was below par and it hampered Kerry's attack. Without quality ball, Kerry's forwards are limited in the number and quality of chances they get. If Kerry can get the ball to a player inside the 45, they are more than likely to create a chance for a score. The dearth of good ball reduced the role of Colm Cooper in particular in both games and Cork will have learnt much from watch Tipp and Mayo's defences in action.
The verdict
On Sunday one of these teams will drop into the qualifiers while the other will need just one more win to secure a berth in the All-Ireland series. While Cork and Kerry will both be expected to play football in August, neither wants to take the long way round. Cork have looked deeper in terms of personnel all season and gulf in reserves could be drawn sharply into focus on Sunday.
O'Connor will be able to patch up for much of what's missing with Sheehan but the attack will surely suffer. If Cork can succeed early, they should do enough to take the win. The bookies have only handicapped this game by a point, I could see the Rebels having another couple to spare at full time.
Follow Emmet Ryan on Twitter.