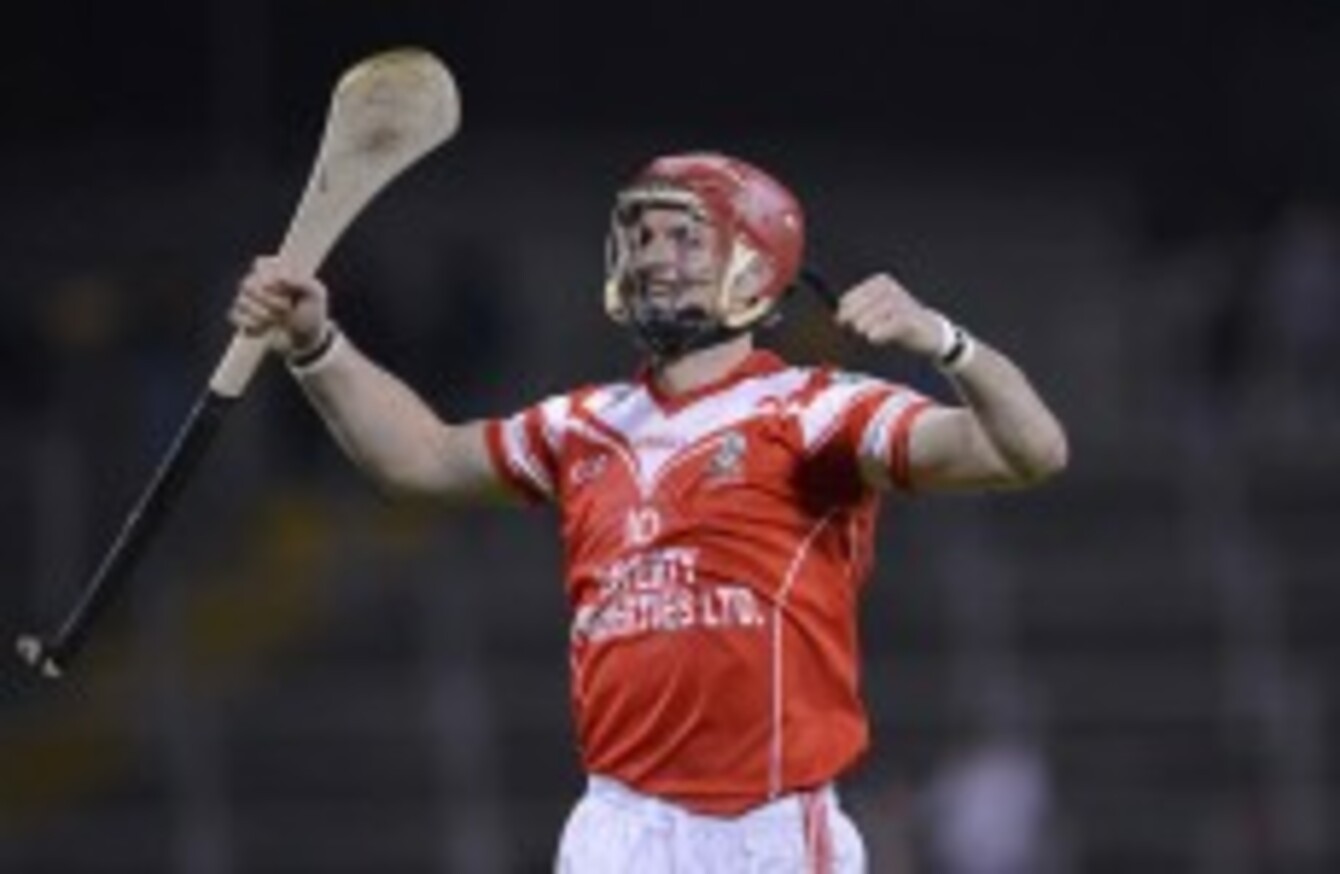 Watson.
Image: INPHO/Presseye/Russell Pritchard
Watson.
Image: INPHO/Presseye/Russell Pritchard
LIAM WATSONS' EYES are wide open and lit up. He is thoroughly animated. Smiling, then laughing; hands gesticulating. Completely enraptured by his subject.
Watson isn't talking about Loughgiel winning the AIB All-Ireland club hurling title last year, or his 3-7 that propelled the Antrim standard-bearers to victory.
Nor is he discussing how he accumulated 0-16 as the Shamrocks overcame Na Piarsaigh after extra time in the semi-final. The sweet victory over Dunloy in last November's county final isn't the topic of conversation either.
Instead, he is extolling the virtues of Four Benches, a game the younger children including his son Éoin play in the hall to help them hurl at speed. A bench in each corner counts as a goal and it is all ground hurling.
When Watson says the words 'ground hurling', Éoin makes three rapid-fire swings off his ciotóg side with an imaginary stick.
It's all about hurling here. From the bottom up, from the top down. The enthusiasm is intoxicating and addictive and 'Winker' is utterly hooked.
He is as enthusiastic as he is prodigiously gifted. There are no airs, no graces. Most of all, there is a complete absence of fear. Loughgiel hurlers have no reason to fear anybody now. They have scaled the mountain.
This shouldn't be mistaken for cockiness however. Watson and everyone else in Loughgiel are fully cognisant of the stiff examination facing them in Parnell Park on Saturday. They are invigorated by the desire not to be seen as flukes.
We're All-Ireland champions but the bookies have Sarsfields favourites to win it this year. We're a wee place up the country nobody ever hears tell of! We'll keep working away," smiles Watson.
"This bunch of players was criticised for losing six county finals. Banners and things written up on websites about us being chokers. There's no way we're going to throw in the towel just because we won an All-Ireland.
"If you look at Kilkenny and Crossmaglen, the best teams in the country, after they win an All-Ireland, they want another one. That's a sign of a great team. Our manager (PJ O'Mullan) says to us, 'If you want to be a good team you have to win an All-Ireland. If you want to be a great team you've got to win two.'"
They have accumulated a vast amount of experience over the last couple of years. When they played O'Loughlin Gaels in the All-Ireland semi-final two years ago, the build-up and the occasion itself proved too much for them.
"When you're a young boy you dream of winning an All-Ireland, so it's when you wake up in the morning in the hotel and you're thinking 'oh my God, it's an All-Ireland semi-final'. You get the butterflies. Then you go down to the pitch and see the support and the nerves hit you more.
"With a year's experience behind you, you're fit to cope with that a wee bit better and if the ball doesn't come to you, you don't panic. When it does, you don't dwell on it. Hitting frees, instead of rushing it, to compose yourself. It's everything."
Watson certainly looked comfortable as he laid waste to both the Na Piarsaigh and Coolderry defences. He jokes that though people told him before the final if he scored another 16 points, the day would be Loughgiel's, he said he'd be happy with one score. He clocked up ten, three of them goals and the Tommy Moore Cup was winding its way back to the Glens.
The surprise element is gone now though, and no-one is writing them off this year. What's more, the Galway champions are always strong. St Thomas' have a bit of an inside track too, as former Antrim manager, Dinny Cahill is helping them out.
They have great qualities through their team. Dinny knows everything about us and he'll be telling them we're no use, we're no good, we're finished and all the rest but we may have something to say about that.
"All the hard work is done. You live for these big days and hopefully it'll go well."
AIB All-Ireland Senior Club semi-final: Loughgiel Shamrocks (Antrim) v St. Thomas (Galway), Parnell Park, Sat (4.00)