NEAR THE END of this year's Sigerson Cup semi-final in the NUI Galway Sportsgrounds at Dangan in late February, NUI Maynooth clung to a 2-10 to 2-8 advantage against UCC.
Then UCC attacker Mark Reen, a Kerry U21 footballer, bore down on goal before smashing what appeared to be a perfect point from 20 yards. The ball had been struck with such ferocity that it travelled at a great pace but for anyone with a vantage point on the left wing, it was apparent that it had squeezed inside the upright.
Yet the umpire waved it wide, a decision that infuriated the UCC players and management and referee Sean Carroll opted to agree with his umpire's decision, deciding not to consult with his linesman who had a clear view of the shot.
"I am sick when you see a decision like that," fumed UCC manager Billy Morgan in his post-match assessment. "The linesman was over telling him "it's a point" and he would not come over. He (the linesman) had the best view of it."
It was a pivotal moment in the match and it would have been interesting to see how the contest would have developed if Reen's point had stood. Instead NUI Maynooth raised a late white flag to seal a three-point victory and while Morgan paid tribute to the winners afterwards, there was a tinge of controversy to the game.
The following afternoon DCU ruthless dismissed NUI Maynooth in the Sigerson Cup final in Pearse Stadium by 16 points. Full-forward on that DCU team was Eoghan O'Gara, the Templeogue-Synge Street man kicking four points to contribute handsomely to the victory. The Dublin attacker saw the identity of his final opponents that day influenced by a point-scoring decision. But when it came to another decider last Sunday, O'Gara was the beneficiary in a similar incident.
Unlike that Sigerson Cup semi-final, Sligo official Marty Duffy consulted with his linesman Maurice Deegan when it came adjudging whether O'Gara had blasted the ball over the bar in the 53rd minute of last Sunday's Leinster football final after the umpire had initially waved wide. The score was subsequently awarded, the sensible attitude employed by the officials was roundly praised afterwards and it was refreshing to see a GAA score controversy being rectified quickly and honestly.
But of course the story is not that straightforward. The official line from the GAA authorities is that Deegan intervened because he had seen the ball travel between the posts. Yet for the 69,656 spectators congregated in Croke Park and those involved with the Dublin camp, it was the replay of the incident on the big screen in the stadium that provided the proof that a point should be awarded. And as a result the thorny issue of video technology has erupted once more for the GAA.
It's a tricky situation for GAA officials to deal with. Despite the theory they are espousing, there will be scepticism amongst those that were present who will feel that the replay on the big screen was the decisive factor in forcing a change. There is nothing in the GAA rule book in relation to referees using big screen replays in Croke Park as a method of assistance when making decisions. Yet the benefits of utilizing the technology are clear to see and would certainly have proved beneficial in avoiding controversies that have plagued recent championships.
The process of implementing the score detection system Hawkeye in the GAA is still being undertaken yet it has been slow and stalled to date. President Liam O'Neill admitted yesterday that it is unlikely to be enacted for major championship clashes this year and it is important to point out that the Hawkeye system primarily revolves around score detection which means it could not clear up any issues that might arise in relation to square ball infringements before scores are registered.
However the argument for the introduction of TMO's (Television Match Officials) will intensify in the wake of last Sunday's events in Croke Park. The speed at which the decision could be made was clear for observers to see and there is a consensus that it was pleasing to see technology helping match officials to make the right call.
Costs are a clear barrier to such systems being used nationwide and it is not feasible in the short-term to see them being utilized in pitches like Dangan to quell the controversies like the one that erupted in last February's Sigerson Cup semi-final. But there is a groundswell of support for it to be implemented in Croke Park and that will only grow after last Sunday.
If the hurling and football product can be enhanced through technological means then why not do that? The GAA will be aware of that bracing reality and it is one that they are going to have to face up to.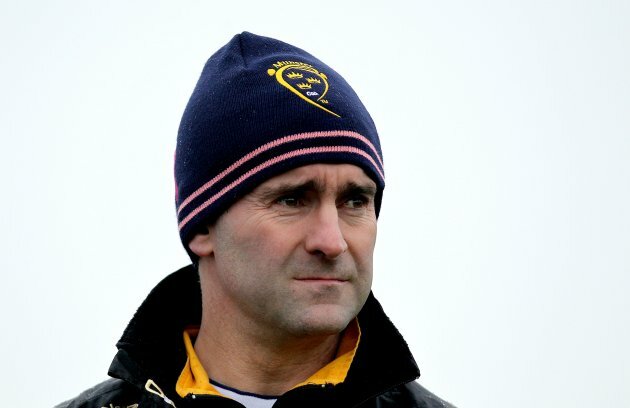 Former Tipperary manager Liam Sheedy. Pic: INPHO/James Crombie
Just A Thought…
He was at the pinnacle of the hurling world in 2010 when steering Tipperary to a Liam McCarthy Cup triumph in that epic final against Kilkenny yett after the national attention on him faded when he stepped down as Premier boss, Liam Sheedy returned to where it all began. His club Portroe may not enjoy a megawatt profile but like all prominent GAA figures, the endeavors of his local team continue to enthrall him.
Sheedy returned to invest time and effort at the coalface, and last Sunday evening got his reward in the most glorious fashion. For the first time in their history, Portroe claimed the North Tipperary senior hurling title by fashioning a 3-16 to 1-19 victory against Toomevara, the modern heavyweight force in that region.
Sheedy was the coach of a team managed by his brother John, while Liam's two nephews John and Michael registered 1-9 between them last Sunday. Both Liam and John were members of the club side who won the county 1990 intermediate hurling title and two of their teammates on that occasion, Dinny Hogan and Noel O'Halloran, soldiered on through the years to feature in last Sunday's winning team.
There was a wonderful picture of Hogan in last Monday's Irish Examiner, with the tears of joy rolling down his face perfectly capturing the emotion of the occasion and reflecting what was a staggering achievement for a club of small resources. Sheedy's involvement reinforced one of the most endearing traits of the GAA. For him a North Tipperary SHC title in 2012 will be as special as an All-Ireland SHC title was in 2010.