1. "CONSIDERING THAT HE urged Colin Kaepernick to leave the country for kneeling during the national anthem, you'd think Donald Trump would be up to speed on his star-spangled etiquette. But there was POTUS on the Truman Balcony, in the tense moments before the White House Easter Egg Roll, needing a covert elbow from his Slovenian-born wife, Melania, to remember to put his hand over his heart after the vocalist beside them had begun singing the anthem."
For the week that's in it, Austin Murphy of Sports Illustrated on why 'The Star-Spangled Banner' is intertwined with American sports.
2. "At this point it's fair to ask what The Sunday Game is about anymore? A sports show, or a panto?
"Editorially, the Sunday Game have a free reign in how they present the games. Nobody would ever wish to diminish that, but there can be no denying that those tuning into hurling matches feel like they are part of a special occasion, while the footballing punditry fraternity fall into two groups – the smiley heads who can't quite believe they are there – on the telly like! And then a group of middle-age men who heroically forgo their spare time to tell us that everything is rubbish.
"With the passing of time, they feel their roles have evolved not into talking heads that analyse games of Gaelic football, but that of social commentary."
Declan Bogue asks if The Sunday Game is still a sports show if it has become a panto.
3. "Over the course of almost 30 years I've been to Villa Park every season bar one. I saw David Platt score against Inter Milan in the Uefa Cup, Mark Bosnich make three saves in a penalty shootout, Ugo Ehiogu crash a thumping header into the roof of the net against Spurs. I watched the great Paul McGrath, the dazzling Tony Daley, and the heart-on-the-sleeve Ian Taylor. I sang about Dwight Yorke, Christian Benteke and Gabriel Agbonlahor.
"But this season, I won't be there. Because this season, Villa have signed John Terry."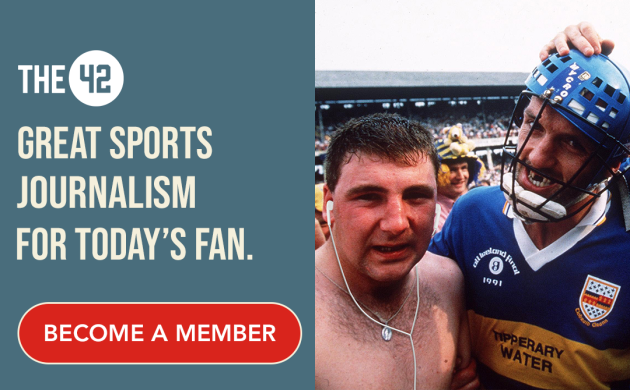 Lifelong Aston Villa fan Steve Bloomfield on why he is boycotting the club after the arrival of John Terry.
4. "In broad terms, the summer of 2017 has been pretty much a constant fug of horror and confusion, an experience best compared to being strapped inside a small European hatchback car as it tumbles head over heels down an alpine cliff face towards a lake of boiling piss, while vomiting repeatedly into a sealed full-face scuba mask."
Barney Ronay of The Guardian on why England cricketer Alastair Cook deserves more than a little love.
5. "From the kitchen window of their small cottage, Bianca Sierra and Stephany Mayor can see the soccer stadium where they practice every day. Mayor says she is living the dream here, playing first division soccer in Iceland's top division and sleeping so close to the field.
"It's like being in La Masia," she said, invoking Barcelona's famous clubhouse, which sits in the shadow of the team's Camp Nou stadium.
"But Mayor and Sierra had a different dream when they moved to this isolated fishing city at the mouth of a fjord: They simply wanted to play on the same team while living openly as a couple."
Bianca Sierra and Stephany Mayor played alongside each other for Mexico at the 2015 Women's World Cup. Raul Vilchis of The New York Times meets the couple in their new home. 
The42 is on Instagram! Tap the button below on your phone to follow us!