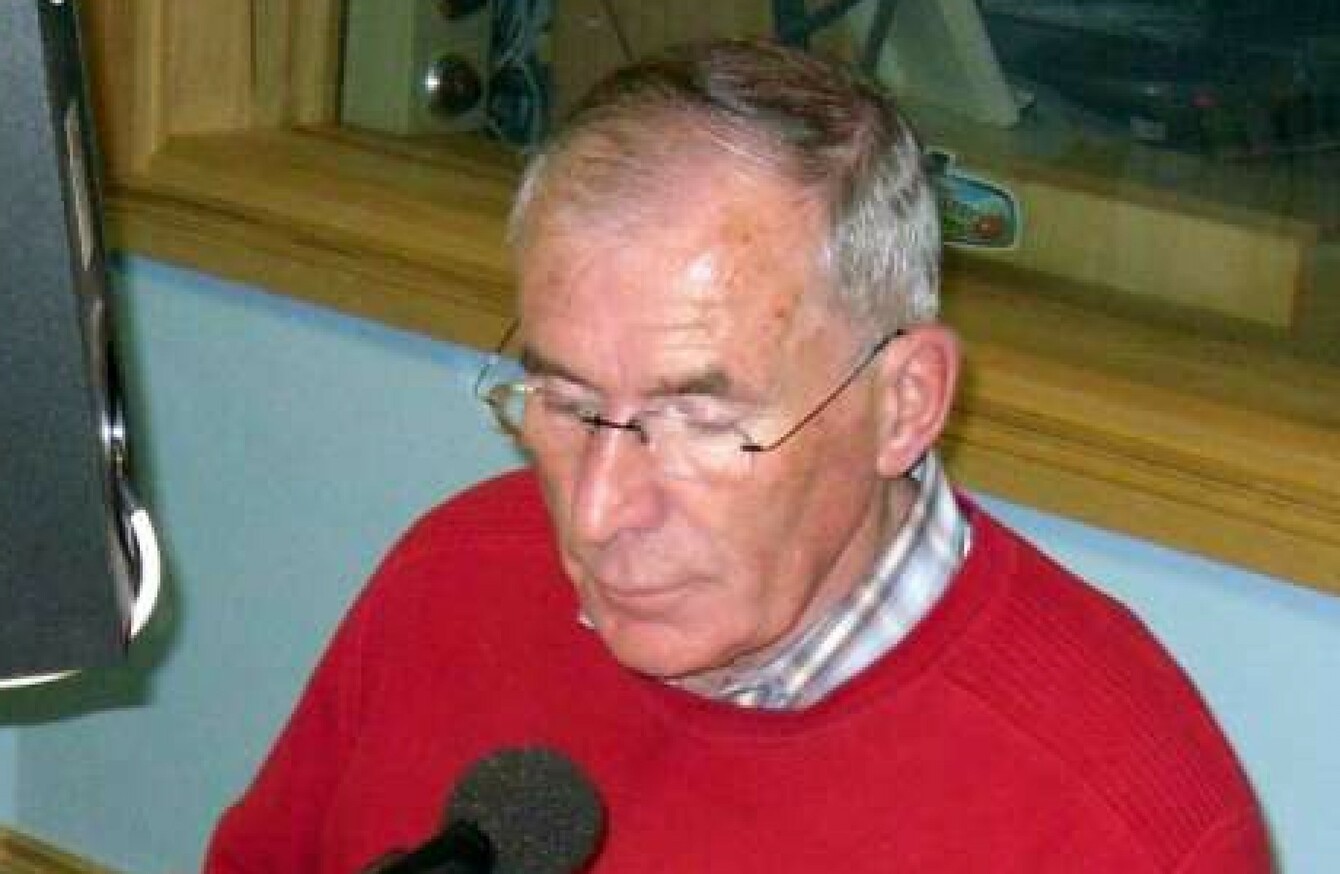 Weeshie Fogarty hosting an episode of Radio Kerry's Terrace Talk.
Weeshie Fogarty hosting an episode of Radio Kerry's Terrace Talk.
20 SEPTEMBER 2015 — better known as All-Ireland Sunday among the loyal devotees of the GAA football championship — has arrived
In the upper tier of the Hogan Stand, commentators, pundits and journalists alike are cramming together a few final pieces of preparation ahead of the much-anticipated clash between Dublin and Kerry. For many of them, they are putting the crowning touches on what has been a rigorous week of study and research ahead of the big match.
Statistics, form, articles, figures, interviews.
All of them compiled together provide a directory of everything that may be required for the culmination of the GAA sporting year.
One man refrains from the mare's nest, sitting back quietly observing both teams going through their pre-match routine.
Weeshie Fogarty has yet to complete a jot of preparation and has no plans to start. A microphone lies before him but Weeshie is unruffled by the prospect of entering kitchens, cars and headsets all over the world in just a few moments' time.
"I maintain myself that if you have done it yourself, if you have gone through it yourself, if you have a programme in front of you and you know your players and your football, I don't find that you ever have to prepare too long," Fogarty admits.
This is a man who epitomizes dedicating your life to your job. Captivated by the Sam Maguire Cup coming to the Presentation Monastery National School, Killarney in 1953, an infatuation and devotion to the game of football began to bud.
Various factors gradually began to intersect, each one developing the passion of the man that can be heard every Monday on Radio Kerry's acclaimed sports show, Terrace Talk.
"Even though there wasn't that much football in the family, my grandfather was a Tipperary man and he left me a medal when he died that he had won in 1897 in Cahir, Tipperary.
"After that then, of course, growing up in the town of Killarney, football becomes part and parcel of your life and you just kind of grow into it and it becomes an obsession," he tells The42.
Approached by O'Brien Press to write a book about his knowledge encapsulating everything about the tradition of Kerry football from the 1950s to the present day, Fogarty immediately obliged.
The Heart and Soul of Kerry Football cuts right through the surface of football in the county, unveiling the kernel of the sport that seems to drive its inhabitants' passion to the brink of madness.
"There are three things that matter to the people of Kerry. Family comes first, then football, and then religion."
Of the plethora of footballing stalwarts which reside between the Macgillguddy Reeks, the Dingle Peninsula, the Blasket Islands and Fitzgerald Stadium in the heart of the proud Kingdom, a person more informed on the state of Kerry football will not be found.
Type "Weeshie Fogarty" into YouTube and you're likely to get a snippet from his Radio Kerry show a number of years ago as the presenter struggled with a concert that his producer was attending.
"Who's he?" is his response to being told that she is at a Beyoncé gig.
Source: colly72/YouTube
Perhaps his knowledge of showbiz is slight but his comprehension of the game of football is rarely surpassed. Moreover, he has become an object of GAA regalia in the most successful county in the history of the sport.
"If you look at any Kerry team that goes to Croke Park, and look at the sideline, there are always four or five men who have won All-Irelands themselves," the sports broadcaster reveals.
"The handing down of tradition happens from the selectors and the managers because they have gone through it all themselves and it's the passion and a way of life down there. People are judged by what they win in All-Ireland finals."
Fogarty's book which is due for release in early September does not neglect the tradition of ladies football in Kerry and is mindful of its place in the county's football folklore also.
"There is a chapter in the book called 'The Lady Footballers'. I was asked to have a full chapter on how ladies football developed in Kerry. I interviewed some of great Kerry stars and traced back to the great Kerry roots."
The Radio Kerry presenter committed himself to covering every facet of the Kerry footballing heritage from the legacy of the county's ladies to its men and their greatest rivalry.
Despite no longer being a heavyweight of the All-Ireland Championship, or perhaps the Munster Championship, the Kerry icon believes that Cork are still the Kingdom's true foes and maintains that their dip in form over recent years has not rusted the cogs in the well-oiled Kerry machine.
"The decline of Cork at the moment wouldn't have made any great difference to Kerry as Kerry will still go away and do their own thing."
Yet, there is a widely accepted notion that this Kerry team are incapable of beating Dublin and are therefore unlikely to be scaling the steps of the Hogan Stand this September. Does Weeshie concur?
"There's an awful lot of truth in it.
"It would be one of Kerry's greatest victories if they could overturn Dublin in the All-Ireland semi-final this year. If they get there. But you don't ever underestimate Kerry.
"The first All-Ireland I saw in 1955, Dublin were the raging hot favourites. They were the so-called unbeatable Dublin machine and still Kerry went out and beat them"
It would be unwise to dismiss the shrewd eye of one of Kerry football's true elders. His comprehension of the game is unrivaled but he remains humble and thankful for the opportunities he has been graced with, especially sitting in front of a microphone in GAA's greatest arena with a view surpassed only by the stadium's resident seagulls.
"It's an amazing privilege and I consider myself a very, very fortunate person.
"To stand there on All-Ireland final day, for the national anthem, up in that stand and to look down and to know that your commentary is going out all over the world on the Internet. It's very, very special and I consider myself a very lucky person."
The book is currently finished and at the publishers ready for print. A launch date is set for the 9 September with Jack O'Shea, considered by the author as "the greatest of all time" carrying out the official business on the night.
The Heart and Soul of Kerry Football promises to be one of the finest insights into a GAA culture to ever grace the bookshelves and is most certainly worthy of every sporting book list this coming Autumn.