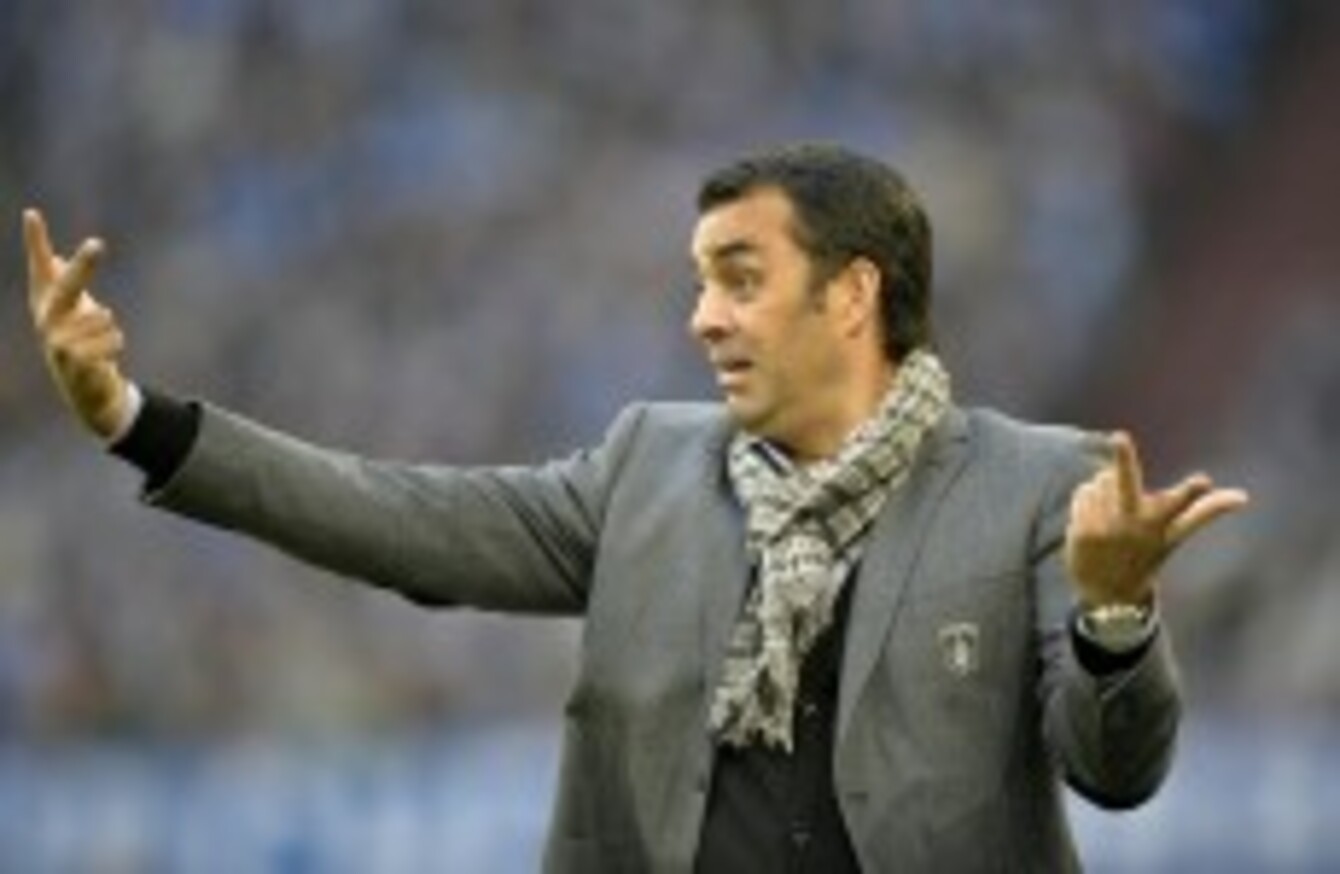 Bremen head coach Robin Dutt gesticulates during a German Bundesliga soccer match.
Bremen head coach Robin Dutt gesticulates during a German Bundesliga soccer match.
WERDER BREMEN COACH Robin Dutt has admitted his side are already battling to avoid relegation having gone five games without a win to drop further down the Bundesliga table.
Having been routed 7-0 at home by European champions Bayern Munich last Saturday, Werder's 3-2 defeat at Hertha Berlin on Friday left them 14th in the table.
A disgruntled Dutt ordered a 4am training session in the gym on their return to Bremen as punishment for another defeat.
Hertha's Brazilian midfielder Ronny hit Berlin's winner early in the second-half and inflicting Bremen's fourth defeat in their last five games.
"It won't help the team to hear this, but we are in the relegation battle," said Dutt, who took charge at the start of the season and whose side are home to second-placed Bayer Leverkusen next Saturday.
"There aren't many teams below us in the table."
Director of sport Thomas Eichin was just as blunt.
"I don't like talking about it, but yes, if you want to put it like that, we are in the relegation battle," he said.

"As soon as an opponent comes into our penalty area, there seems to be a grave danger," said Eichin.
Veteran midfielder Aaron Hunt, who was making his 200th Bundesliga appearance, pointed the finger of blame squarely at the defence.
"For Hertha's second goal, people were running around like headless chickens," fumed the 27-year-old.
"Everyone seemed to be leaving it to everyone else."
With eight defeats from their 16 league games so far this season, goalkeeper Raphael Wolf has seen 14 goals fly past him in the last three matches since being brought in to the first-team.
"That's crap for Raphael, the amount of goals we have conceded is shit for us all," said midfielder Philipp Bargfrede.

"It's not his fault, we are just not compact enough in some situations."
Eichin said he also had sympathy Wolf.
"I am really sorry for him," said Eichin.
"Raphael had hardly dug the balls out of his goal before the next shot came in and when they come, they are unstoppable and go in.
"We simply have to support him better, it's not his fault, the poor sod."