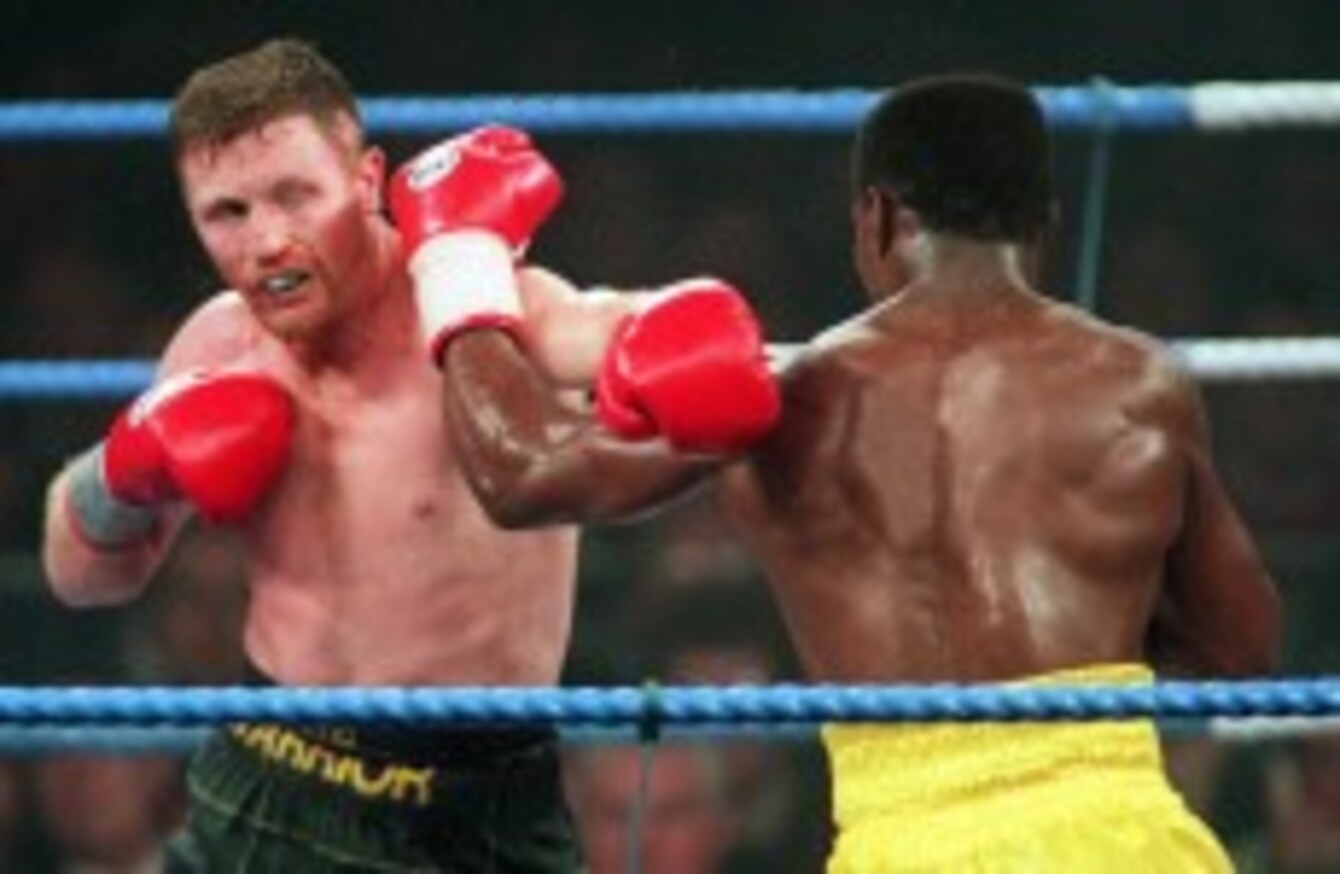 Steve Collins in his pomp, against Chris Eubank, 18 years ago.
Image: ©INPHO/Billy Stickland
Steve Collins in his pomp, against Chris Eubank, 18 years ago.
Image: ©INPHO/Billy Stickland
IRISH BOXING LEGEND Steve Collins plans to come face to face with Roy Jones on 17 May.
Not to trade leather and settle his 15 year grudge with the American then and there, but to start a promotional tour for a controversial Cruiserweight World title fight between the veteran duo.
Former world champion Collins [48] and the man deemed the greatest fighter of the 90′s have been exchanging words via the media re fighting and settling an old score for a number of months now.
Speaking at a Wednesday press conference to announce touted prospect Stephen Ormond's 3 May return to Dublin, Collins revealed the bout, which has divided public opinion, is close to being made.
'The Celtic Warrior' said he has had positive personal talks with the four-weight eight-time world champion and is confident the fight will take place in the Middle East or Eastern Europe this year.
"Roy Jones is going to take the fight. Its confirming the venue and TV. If the money is there the fight will happen. Roy Jones wants paying. We are getting closer," said the Irish fighter, who beat Chris Eubank and Nigel Benn in a golden era of Irish and British middleweight boxing."
"Roy will be in the UK in May for a book signing and I contacted his agent to let them know I am willing to travel with him to all his signing and public appearances to promote the fight. It looks like we will do a venue together on 17 May and that will be the beginning of the tour to promote the fight." Collins added:
We are two old guys trying to sort a grudge. It is moving along in the right direction. It is more of a reality now."
Roy Jones Jr gets a cut treated during his 2010 bout with Bernard Hopkins. (AP Photo/Isaac Brekken)
Since it was muted as a possibility the fight has had sceptics a plenty. Some suggesting it will never happen and others praying it won't. Collins, however, has always used criticism as fuel to train harder and revealed he is in the Celtic Gym in Dublin readying himself for the bout alongside the likes of Gary 'Spike' O'Sullivan, Stephen Ormond and former amateurs of note Karl Barbazon and Luke Keeler.
"You need critics," Collins declared. "If you don't have critics there is something wrong. The closer to home you get the more critics you come across, but that's OK.
I am preparing to be fit to go into training camp. I am in the Celtic Gym and I am in great company. I am just waiting for the nod. There is a grudge and history there and all the ingredients to make an interesting spectacle for sports fans."
The two-weight world champion also revealed a number of boxing organisations are interested in making the bout a world title fight. Granted, said bodies are of the 'alphabet' kind [not the respected WBA, WBC, IBF or WBO straps] but the Irish legend believes it shows interest in the fight.
"I spoke to Roy on the phone directly. He said he can't make light heavy so it looks like we will fight at cruiser-weight  We have spoken to organisations and it will be a vacant world title fight or an interim world title fight."
*Reproduced with permission from irish-boxing.com – you can follow them on Twitter @irishboxingcom