IT TAKES A while to pin Wesley Charles down long enough for him to chat. But, when we eventually start talking, everything becomes a little clearer.
Over the hour-and-a-half conversation, I get a teaser of what life is like in Brighton, a village right on the southern tip of Saint Vincent and the Grenadines, and where Charles was born and raised.
In the background, it's an electric hive of activity – the hubbub of daily life on a Caribbean island. At one stage, in between the constant din of people chatting, a cock crows. And it makes perfect sense. Later, it sounds like Charles has just walked into a live music event. It turns out, some guy is just stopped in traffic close by and listening to old-school reggae at full volume with the windows down.
"It's a place that's hard to get out of", he says.
"Once you're from this village, that's it. Everybody knows everybody. There's a lot of people coming here now from other places and buying houses and pieces of land. But people from Brighton, we always stay close and look out for one another. There's always a lot of banter going on. There's always something going on.
There's a guy who runs a food stand close to my house. We built some seats on the roadside. So, you can sit down and if you want to cook, you can get some conch – a type of shellfish – and put it on a grill here with some green bananas, potatoes."
It's a long way from Sligo, where Charles arrived in 1998.
So, how did a dreadlocked Vincentian centre-back end up at the Showgrounds?
"I was playing in a final here in 1996 and there was an English guy – Keith Holt – who came down on vacation. He saw me play and asked if I'd like to go to England on trial," Charles says.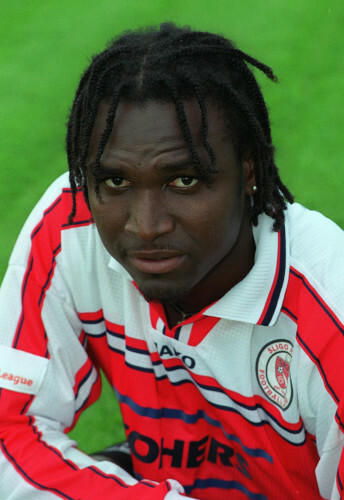 ©INPHO ©INPHO
"But '96 passed and '97 too and nothing happened. But in 1998, he came back and brought me to Bury on trial, where Neil Warnock was in charge. But there were work permit problems. I ended up going to a few English clubs like Torquay and Burnley but I couldn't sign. A lot of people at Bury were telling me to go to Ireland, play there and then maybe get a move back across. But I didn't even know where Ireland was so I just came home. I used to ask them, 'Where's Ireland?' and they'd say, 'It's not too far from here, actually'. What I didn't know was that the Bury physio was friends with Nicky Reid – who was in charge of Sligo at the time. He contacted him and said I had potential. But Sligo had never even seen me play.
I was here watching a schools final and the head of our federation approached me and told me a club in Ireland were interested in signing me. And I hadn't even unpacked my suitcase from when I was in England. I just picked it up and off I went."
It was a baptism of fire for 23-year-old Charles, who touched down at Dublin Airport and headed to Inchicore later that evening to meet his new team and watch them take on St. Patrick's Athletic. The memories are pretty vivid in his mind.
"I didn't know how cold it was going to be," he says.
"They gave me extra jackets to put on so I could sit and watch. I think Sligo lost 3-1 or 4-1 that night and Eddie Gormley scored one of the Pat's goals.
I went and stood by the dugout at one point and somebody spat at me. It landed on my shoulder – of this new jacket – and I turned around and there's this guy giving me the finger. I told some of the guys about it and they said, 'Ah, don't mind them. They're just some crazy fans."
It was already a culture shock and Charles hadn't even left Dublin yet. But there was more to come.
"We went back on the bus and headed for home," he remembers.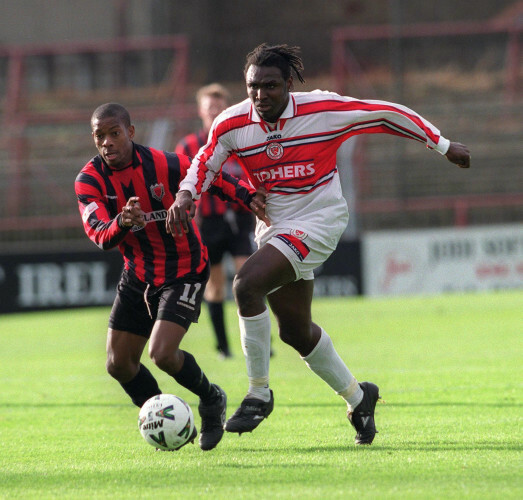 Lorraine O 'Sullivan / INPHO Lorraine O 'Sullivan / INPHO / INPHO
"We stopped off somewhere and the boys got two crates of Budweiser and started drinking. It didn't seem real. I ended up falling asleep but I woke up when I heard some of the players moving around. It was dark and we were in the middle of nowhere. But the lads had to get off and have a piss. It was the longest bus ride I ever had. I don't know how many hours it took because we didn't have all of the by-passes completed at that stage. But it was long. We arrived at the Showgrounds, the players picked up their cars and Nicky Reid brought me to my digs.
The next day, I remember looking out the window and I'd never seen so much rain. It was a totally new experience for me. We had training but, if there was rain like that in Saint Vincent, we couldn't play football. But Nicky arrived and picked me up.
'What's going on, big man?', he said. 'You're not on the islands anymore, man - this rain won't stop us from training.'
We get there and the ground is so soft. I've never played in long pants before so I'm wearing shorts. I genuinely can't feel my toes. Nicky used to take part in training too and at one point, he takes his pants off and he's just jumping around in his boxer shorts".
It was 1998. Multiculturalism in Ireland was getting there but still very much in its infancy. At the time, Charles was convinced he was the only black person in Sligo.
"There was a cafe on O'Connell Street and myself and a few of the other players were in there having breakfast one morning," he says.
"After we finished up, the boys were going in the opposite direction to me so we're just gathered outside and chatting.
I could see an old lady coming down the street toward us. She took my hand and started rubbing my skin to see if the colour would come off. She held my wrist and was rubbing my hand. After nothing happened, she stared me in the face, turned around and walked away without even saying anything.
For a lot of people in Sligo, I might have been the first black person they'd ever seen in the flesh."
Charles enjoyed himself at the club and racked up over 60 appearances in three seasons. There was a sincerity to how he was treated and he became a beloved member of both the side and the local community. Even in the awkward, slightly odd moments, there seemed a warmth, a sweetness.
"I was meeting the lads for a pint but I went to the wrong pub," he says.
"I ordered a pint of Guinness and this guy sat down beside me. He called for a drink and we started talking about where I was from and why I was in Ireland. Eventually, the lads got in touch and told me I was in the wrong place. So, I finished my drink and went to leave. And the guy called out, 'Hey, black fella'. He was the first person I heard say that. He said, 'Hey, black fella – come here'. So, I walked back to him. And he put his hand out and said, 'What was your name again?' I said, 'It's Wesley'. And the guy says, 'I'm going to call you 'Big Wes'…but if I can't remember that, I'll call you, 'Black Fella". And that man ended up becoming a very good friend of mine."
But, within moments of that encounter, Charles was reminded that unabashed racism still existed in Sligo.
"I went to this pub and the lads were in the corner," he says.
I went up to order a drink and there was absolutely nobody at the bar. But, the barman ignored me. I said, 'Can I get a pint of Guinness, please?' He never responded. I'm still standing there and the guys shout over – 'What's happening? Are you getting a drink?' And I say to them that I'm just waiting on the barman. And at that point he turns around and says, 'We don't serve women or black people here'. I said, 'What?' And he repeats himself. And I look around and there's no-one in there except men. So, I say, 'Okay' and I walk out. I pass the guys on my way and I tell them why I'm leaving – 'This guy has said they don't serve women or blacks' and the boys get up and leave with me. We went back to the other pub and had a drink with the man who I had met earlier. But that was the only example of racism I experienced in Sligo.
I always say that the good friends I had always outweighed the negative comments."
In 2000, he swapped Sligo for the seaside in Bray and linked up with Pat Devlin's newly-promoted club and who were the reigning FAI Cup champions. He ended up staying for five years and was a commanding, imposing presence in a talented group that finished fourth in Charles' debut campaign, going toe-to-toe with the more illustrious, high-profile teams of the era.
But, while there – during a league fixture – Charles was the victim of in-game racism for the very first time.
"This player started calling me 'black bastard this',' black bastard that', 'black prick'," he says.
"I told the ref and he just shook his shoulders and the game kept going. Then, I was following him, close to our bench, and before the ball was played, he was like, 'You nigger'. And I thought, 'Wow, really?' And as we're running for the ball he said it again and again.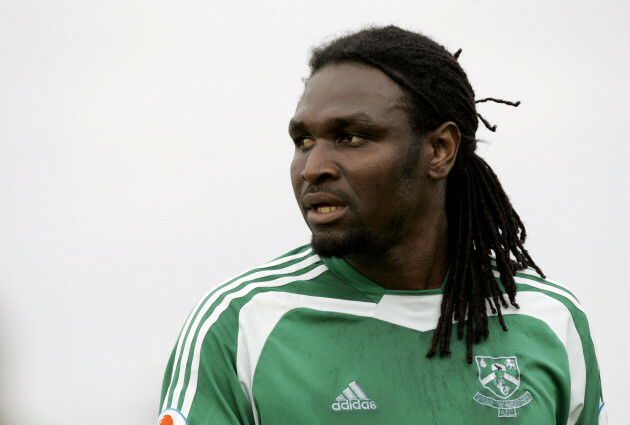 Donall Farmer / INPHO Donall Farmer / INPHO / INPHO
Like, you always play against teams and players and have great battles. But there was never any racial stuff like that."
In 2005, Charles became more accustomed to being abused because of the colour of his skin.
He had been approached by a Bray-based Russian who had ties to clubs in his native country and one was looking for a centre-back on a season-long loan. Though Charles initially trialled with one team, he eventually signed for a completely different top-tier side: FC Rostov.
"I remember we went to Moscow to play CSKA," he says.
"We walked into the stadium and the monkey chants started. We had four black guys on our team and we stuck together. But during the warm-up, with all the racist abuse happening, I look over and I see their striker – Vagner Love – and other black players on their team. I was just so confused. The CSKA fans were giving racist abuse to the black Rostov players but with black players part of their own team. And I wondered how the likes of Vagner Love felt about their fans doing that."
Charles only stayed for a season but he played under three different coaches in that time, which ensured a frustrating lack of consistency with team selection. He enjoyed the pace of the league and the quality of the players he came up against but as well as the managerial merry-go-round, there was also a tension, an edge to being a black man in the city.
"At the beginning it was fine," he says.
"But I remember later in my time there when I had finished training. Winter was just coming in. I had got something to eat and left the restaurant. I was listening to music and looked across the street and there was a group of skinheads. I just walked past them and went to the store to pick up some groceries. You know sometimes you're walking and you feel people following you? I turned around and there were 10 or 15 guys following me. So I yelled at them, 'Hey, is it me you're following?' And they stopped because they didn't know what I said.
Exclusive Six
Nations Analysis
Get Murray Kinsella's exclusive analysis of Ireland's Six Nations campaign this spring
Become a Member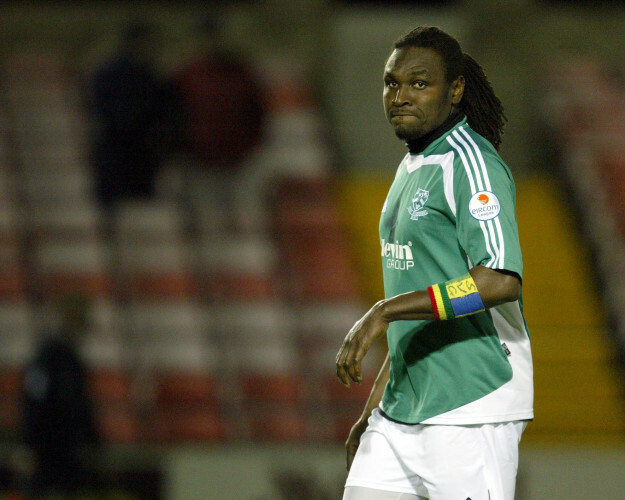 Donall Farmer / INPHO Donall Farmer / INPHO / INPHO
I went to my apartment building, went up to my place but didn't put on any light. I went onto the balcony and looked down. You could see them looking up, to see what apartment was mine.
The next night, there was a bang at my door but my neighbours were moving out and I thought it was them. There was no spy-hole so I opened the door. By then, I knew a little bit of Russian – just to tell someone I couldn't understand or to say hello, whatever. Two guys were at my door and started blabbering in Russian. I told them I didn't understand. One of them went to put his hand on the door but I pushed the door closed and they eventually left. I called the owner of the club and he started telling me how black students had recently been beaten and one had been murdered. He said that sometimes, it wasn't even about colour. That if you weren't Russian, they didn't like you."
After his stint in Rostov, Charles returned to the more tranquil and familiar environment of Bray before spending two years with Galway United, where he was captain. But when Jeff Kenna arrived as player-coach in 2008, it quickly became apparent that the towering centre-back was on a collision course with his new boss.
He was on international duty with Saint Vincent and played on a Wednesday before leaving for Ireland the following day. On Friday, Galway were in action and though Charles wasn't involved, he went to the game anyway and introduced himself to Kenna. He got stuck into training although he felt something had changed.
"I went to check on my salary and I saw I hadn't been paid for two weeks," he says.
"I went to Nick (Leeson, then-chairman) and he said it was a directive from the coach. So, I went to him after training and asked about the money. He said, 'Well, you came back late so we fined you two weeks wages.' I said, 'How could I have been late when I had permission to leave and play for my country? It seems you don't know where I'm coming from. The game was on a Wednesday and I was back here on a Friday.'"
But it mattered little and Charles left the Tribesmen in 2008, enjoying a successful stint with Vancouver Whitecaps (pre-Major League Soccer) and with whom he won the USL title in his first season. Later, there was a short-term deal with the Montreal Impact but injuries began to take their toll and the artificial turf wasn't helping Charles' creaking body.
And after a lengthy, well-travelled career, he was approached by a former underage team-mate, then the newly-appointed manager of the senior international team, who wanted Charles as his assistant.
Having served his country incredibly well, making a century of appearances – and the bulk of those as captain – it was an easy decision to make. He returned to the breezy, familiarity of Brighton and got stuck in to his new career.
But, in September 2015, he was at the centre of a traumatic incident. Asleep in his house one night, Charles was the subject of an unprovoked assault.
"Someone came and threw boiling water on me through an open window while I was sleeping," he says.
"I didn't know what was going on. It was really painful. We went to the hospital and it was skin burn. It wasn't too serious. On my arm, my stomach, one on my leg. I was in hospital for two weeks and then there was another two weeks recovery.
Lorraine O'Sullivan / INPHO Lorraine O'Sullivan / INPHO / INPHO
We know who it was. I asked why but I've never got an answer."
Thankfully, Charles was back to work shortly after and he's enjoying his new-found coaching role. Last year, there was some silverware and currently, he's planning for Saint Vincent's appearance in an upcoming tournament.
But, every so often, his mind will return to the days he spent in Ireland. And he thinks about returning.
"I'm comfortable here but I still think about going back to Ireland one of these days."
Later, after the interview is done, I send him a quick thank-you message.
The response, probably sent from the balmy shoreline of Brighton Beach, is a perfect hybrid of Irish/Caribbean. A bit like the man himself, really.
'Not a bother. Bless up, me breadren'.
The42 is on Instagram! Tap the button below on your phone to follow us!