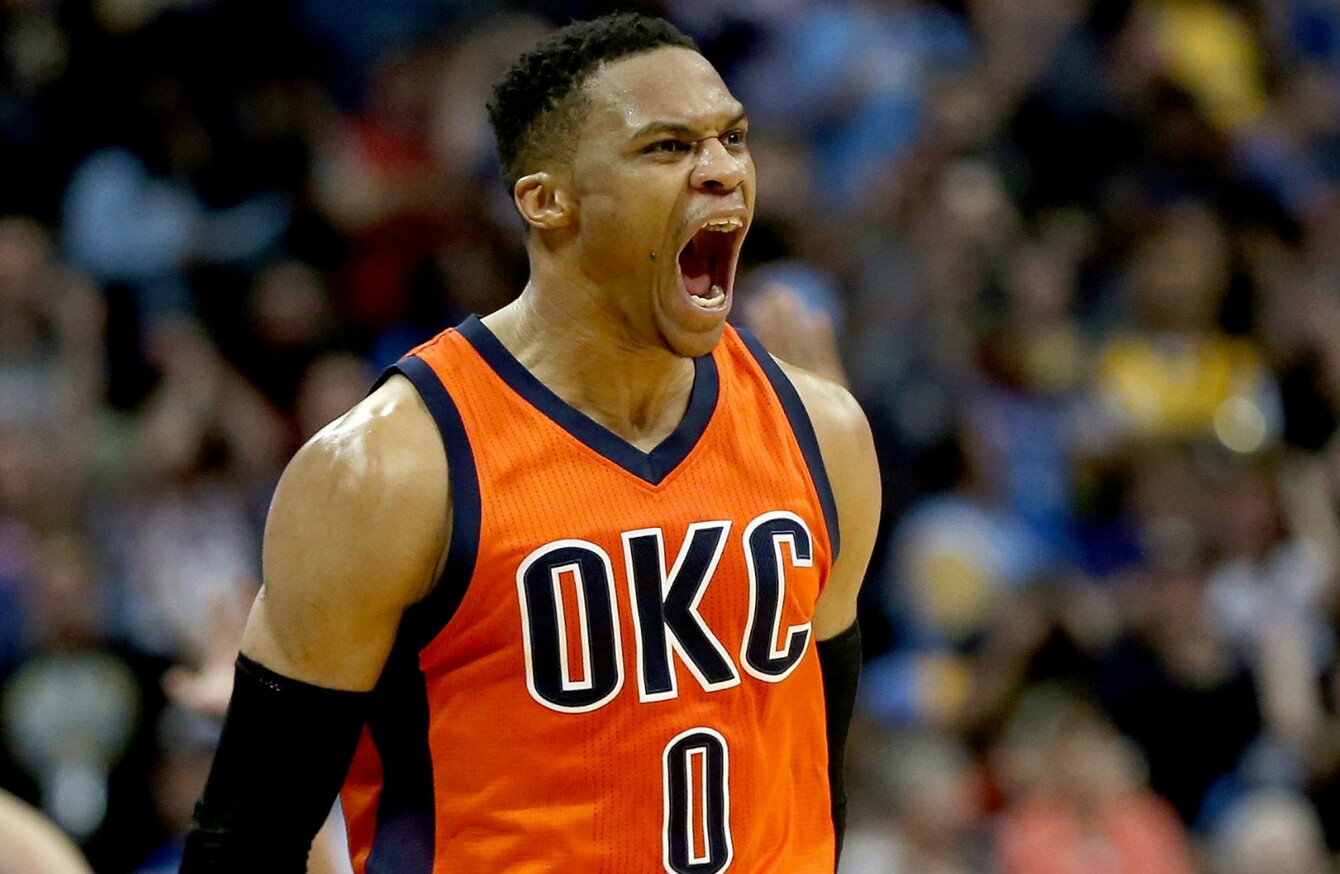 Oklahoma City Thunder point guard Russell Westbrook was named MVP last night.
Oklahoma City Thunder point guard Russell Westbrook was named MVP last night.
OKLAHOMA CITY THUNDER guard Russell Westbrook capped a record-breaking season by being crowned the NBA's MVP.
Westbrook made history during the 2016-17 regular season as he broke Oscar Robertson's triple-double record with 42 and now he has the hardware to reward his accomplishments following last night's NBA Awards show in New York City.
The six-time All-Star, who averaged a triple-double this past season, also led the NBA in total points scored, while averaging 31.6 points, 10.7 rebounds and 10.4 assists.
"I want to give a special thanks to all the fans of Oklahoma City. You guys have been riding with me from day one," Westbrook said during his acceptance speech.
Good games, bad games. Lifting me up. I'm so thankful to the fans there. Thank you guys.
"I want to thank my agent and my team. You guys do an amazing job sacrificing everything you do to make sure I can go out and compete at a high level."
MVP runner-up James Harden of the Houston Rockets averaged 29.1 points, 11.2 assists and 8.1 rebounds, after becoming the first player to post 2,000 points and assist on 2,000 points in a single season.
Before this season, the NBA's awards were given at various times throughout the postseason.
Elsewhere, Rockets boss Mike D'Antoni was named Coach of the Year while the NBA champions, Golden State Warriors, took home five awards, including the Defensive Player of the Year in Draymond Green.
Top Performance of the Year went to Klay Thompson for his 60-point game in 29 minutes and Kevin Durant won Best Playoff Moment for his clutch three-pointer in game three of the NBA Finals.
Assist of the Year went to Green and Steph Curry, while Bob Meyers walked away with the Executive of the Year.