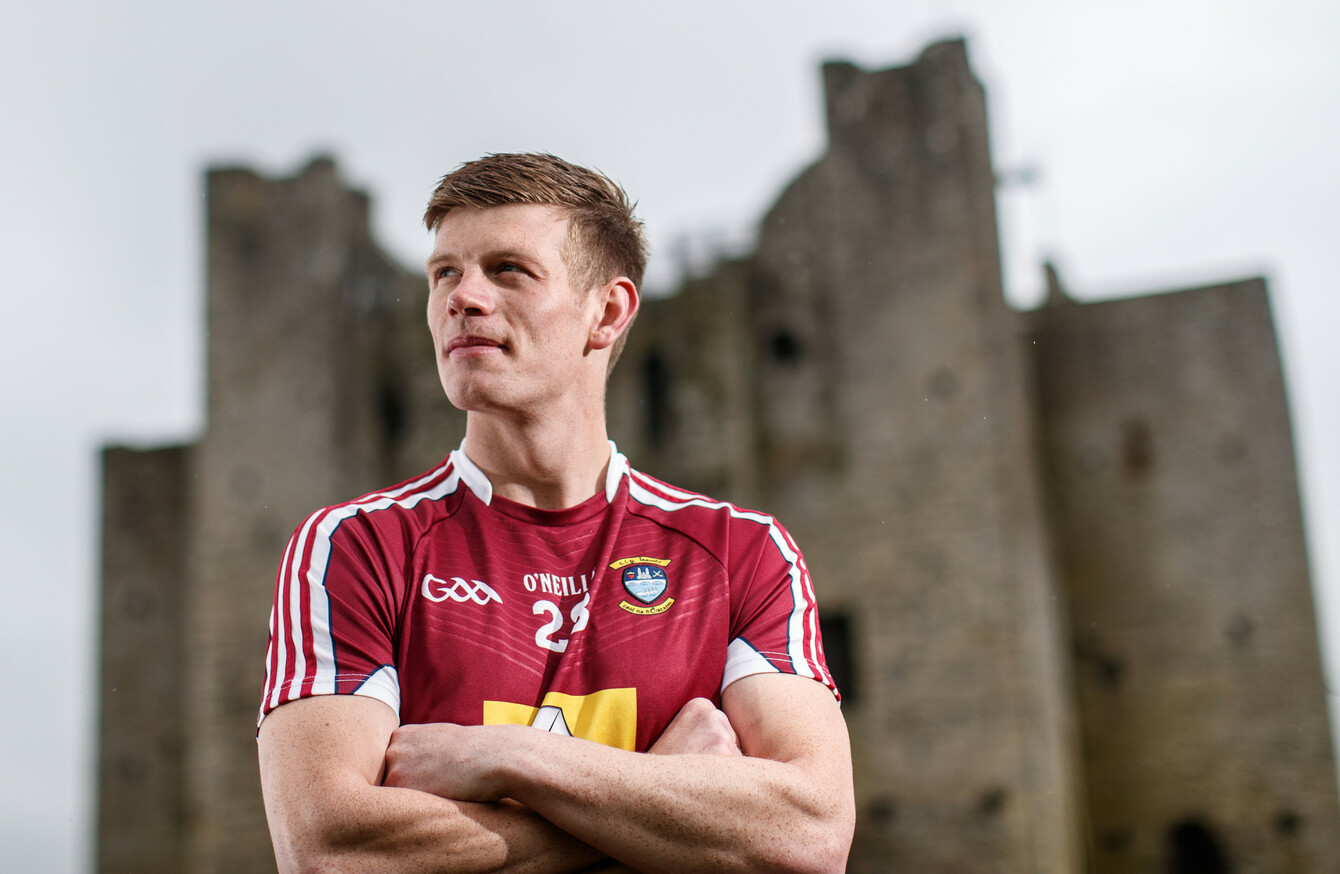 Westmeath footballer John Heslin.
Image: James Crombie/INPHO
Westmeath footballer John Heslin.
Image: James Crombie/INPHO
BEFORE HIS 2018 summer commences, rewind to the final act of his 2017 winter.
St Loman's were on the cusp of landing their first Leinster senior club football title.
It wasn't as if they had one hand on the trophy that December day in Portlaoise, more like they were on the podium and prepared to hoist the silver in the air.
Six points up by the 58th minute, five points in front entering injury-time and within minutes of a landmark result.
Then Kildare's Moorefield mounted a fairly staggering revival, posted 1-3 on the board and left the Mullingar club reeling.
John Heslin is getting set for Westmeath's first championship venture of the year and yet the madcap finale of that club match still lingers.
"That defeat will stay with me. I'll be thinking about that situation. How is it applicable to what I'm doing now and can I learn from that last couple of minutes in closing out that game?
"You can watch it back – I'm not going to watch it back – and you'll never see a calamity of errors like we saw that day. The game was over, we thought it was over and it just wasn't.
"So hopefully we can learn from it but look we've had results in the opposite way over the last number of years. We would have won our first (Westmeath) title in 50 years in 2013 and the semi-final, we took the game out of Garrycastle's nose.
"But it was opposite emotions were felt that day. Look you have to give a bit to get a bit I suppose. We did give a lot when we lost to Moorefield but hopefully we can come back a better team for it."
With a long punishing season culminating in such disappointment, there may have been a natural temptation to close the door on Gaelic football for a while. Rather than wallowing in the pain of defeat, Heslin opted to get back on the pitch a few weeks later.
"A defeat like that you're always looking to get back out. I'd rather have played a game the week after and then take a break. You could lose a game like we did, and I wouldn't wish that on anybody, you want to get back out and just get rid of that and get going again.
"I'm eight years with Westmeath this year now, with the U21s before that and it's always constant. Look it's a good complaint in the sense that I'm with a good club and we're going so long.
"Other lads could be knocked out in July or August and could have four months off. It is a good complaint but it'll probably take its toll at some stage I imagine."
Off the pitch he's preparing for life to become frenzied as well. Heslin has been working in Trim for Teagasc as a research officer but has moved to MSD Animal Health in Leopardstown, as a product manager for cattle and sheep products.
"I grew up on a farm. Quantity surveying was a thing I was going to do and then building went bust. The advice was always do what you like, I loved farming.
"I'm a part-time farmer at home, then just went from that. When you do something that you like, you'll do well at it so."
Aside from a job switch, there is also the matter of a PhD that has been hanging over him and which he is aiming to sign off.
"It's to do with reproductive physiology in heifers, the effects of nutrition and genetics on their physiology. I'm four years into it now.
"Now when we're getting down to the crunch time. I'm taking this new job outside of Teagasc, combining that and the PhD, so my evenings will be taken up with the library and then football will be tough to do then. It's a long process but it'll be done.
"Next six, seven months will be tough and I don't know what it'll mean for me and football, we'll have to wait and see. I'll enjoy this season as much as I can.
"I want to get it done before January to be honest, it's hanging over you, you need to enjoy your life as well. I've eight years done of college now, it's long enough."
The onset of the championship sweeps into a view after a league which was the first in seven that Westmeath did not enjoy promotion or suffer relegation. That yo-yo existence has created plenty drama and vivid memories.
In the thorny debate between league versus championship, where does Heslin stand?
"That's a very good question. Do I answer that honestly? I probably prefer the league to be honest with you. Why? Because it's games thick and fast.
"You've seven games there at least, you could potentially only play two championship games. You're playing at your level, it's more exciting and every game means something. You're watching all the other results, is it going our way or not?
"How many people will honestly care about Westmeath and Laois around the country? Not too many. But if we play Laois in Division 3, there'd be a lot more people interested in that game because it affects five other counties. I think a lot more can be done with the league."
There's another issue in the GAA that he does not hesitate sharing his views on.
"I wouldn't be in favour of having April for the club at all. I'd be in favour of a set county season and a set club season. If you want run club games throughout county season but club player only league or something.
"Where does it make sense? I think Westmeath are training since November. You train, play the league and all of a sudden for a four-week training bloc you're not there, you're with your club.
"You go to any sport in the country or in the world and say for four weeks ahead of your biggest game of the year, you're going to be with another team for the four weeks before that. Where's the logic behind that?
"Now I know and we all can appreciate that without the club there'd be no inter-county scene. I'm part of St Loman's Mullingar, very dedicated to my club but there's a time and place to play county, and there's a time and place to play the club. I think a lot more can be done fitting the two of them into the calendar year."
"Say the Westmeath hurlers were out 6 May but they were supposed to be with their clubs for the month of April after training for four or five months. You take any inter-county player when he steps in with his club, he's not that same type of player.
"He could be asked to carry the mantle with his club and then you've to try to get him back into the county scene thinking of his job with the county which could be different and that takes weeks to get right."
Yet the onset of a Leinster campaign does not dull his enthusiasm either. Westmeath's 2004 success was an epochal moment for the county and a shining memory from Heslin's youth.
And in his playing days that crazy comeback win over Meath three summers ago in Croke Park will always stand out.
"Ah sure it'd be the highlight of my career, of course it would because it meant so much to everybody.
"Beating Meath in Croke Park that day, people would tell you that our training for the last five or six years would have been worth it for that moment.
"Why? Because they wouldn't have experienced too many moments like that. I wouldn't be part of the old thinking that championship is everything but it still is huge and very important.
"I do enjoy the Leinster championship, don't get me wrong. We got to the Leinster final and there's nothing better than it you know."
And as they head to Tullamore this evening, that is the goal for Westmeath football again. Dublin are stowed away on the other side of the draw.
Surmount the hurdle of Laois and a provincial showdown is on their radar once more. Heslin will keep looking forward.
The42 is on Instagram! Tap the button below on your phone to follow us!
#Open journalism
No news is bad news
Support The Journal
Your contributions will help us continue to deliver the stories that are important to you
Support us now