Wexford 4-23
Kilkenny 5-18
Ronan Fagan reports from Chadwicks Wexford Park
WEXFORD MADE A late dash to victory against Kilkenny at Chadwicks Wexford Park on Sunday to ensure their survival in the Liam MacCarthy Cup.
With Westmeath losing to Antrim, and Wexford having to avoid defeat, the spectre of relegation loomed large for the purple and gold in the 62nd minute after Eoin Cody (two) and Tom Phelan goals sprung Kilkenny into a 5-17 to 4-18 lead.
But a Lee Chin double sparked a closing Wexford flurry to one of the most prized victories in the county's history, as they stay up while Westmeath drop down.
Kilkenny, meanwhile, will be putting their provincial title on the line in the final against Galway after Dublin failed to get past the Tribesmen.
While traffic congestion led to a delay to the throw-in at Wexford, Kilkenny motored out of the traps as they left Wexford appearing dishevelled when generating a 2-7 to 0-5 lead after 17 minutes.
Eoin Cody netted Kilkenny ahead by 1-0 to 0-1 in the second minute when profiting from a fine burst by John Donnelly.
And Wexford's worst fears really took hold on six minutes when Martin Keoghan collected from Walter Walsh to crash to the home net (2-1 to 0-2).
But, despite wides hurting them, Wexford were roused when Jack O'Connor won a penalty after gathering a long puck-out, and Lee Chin maximised the 24th minute opportunity to smash the gap to 2-8 to 1-6.
TJ Reid shot back with a pointed free, but Wexford continued to be re-energised as Kevin Foley cut in from the right to angle home from a Rory O'Connor assist in the 26th minute (2-9 to 2-6).
Wexford's rash shooting had them six ahead on the wides. But Conor McDonald, Lee Chin (free) and Rory O'Connor mustered a string of scores to tie it on 2-9 apiece after 32 minutes.
McDonald threatened for a goal amid an exchange of points, while Wexford 'keeper James Lawlor was twice called into evasive action before springing a counter-attack from which Diarmuid O'Keeffe arrowed Wexford in front at the break (2-11 to 2-10).
Kilkenny claimed two of the first three points on the resumption to twice draw level, before Wexford quickly restated their intent when sinking 2-1 without reply to forge 4-13 to 2-12 ahead after 44 minutes.
Liam Óg McGovern etched his name on both goals, firstly springing into unguarded territory to collect a Conor McDonald delivery and bag a 3-12 to 2-12 lead on 40 minutes.
The Kilkenny goal escaped further damage – Lee Chin converting a '65 – before McGovern returned again on 44 minutes to force home after an initial save.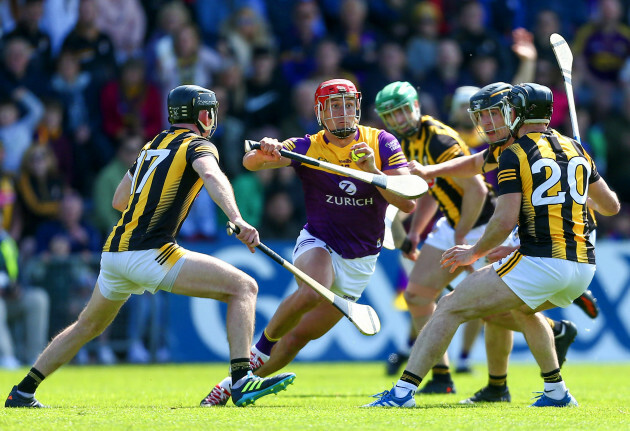 Ken Sutton / INPHO Lee Chin in action. Ken Sutton / INPHO / INPHO
Kilkenny were irked and shot back, with Eoin Cody bagging a second goal on 50 minutes to have it down to 4-13 to 3-13, before Tom Phelan also netted on 57 minutes to have them within 4-17 to 4-16.
The sides exchanged points before relegation-threatened Wexford were put on high alert when Eoin Cody sealed his hat-trick for a 5-17 to 4-18 transformation on 62 minutes.
But Wexford produced a decisive burst of points through Chin (two), Cathal Dunbar (line-ball) and Oisín Foley to claw to safety after the most harrowing of weeks for all concerned.
Scorers for Wexford: Lee Chin 1-10 (0-6 frees, 0-1 '65), Liam Óg McGovern 2-1, Kevin Foley 1-1, Rory O'Connor 0-4, Oisín Foley, Cathal Dunbar (one line-ball) 0-2 each, Conor McDonald, Diarmuid O'Keeffe, Liam Ryan 0-1 each.
Scorers for Kilkenny: Eoin Cody 3-1, Tom Phelan 1-4, TJ Reid 0-7 (4 frees, 1 '65), Martin Keoghan 1-0, Adrian Mullen, Walter Walsh, Billy Ryan, Pádraig Walsh, Alan Murphy, Conor Delaney 0-1 each.
Wexford 
1 James Lawlor (Ferns St Aidan's)
 5 Simon Donohoe (Shelmaliers), 6 Matthew O'Hanlon (St James'), 4 Conor Devitt (Tara Rocks)
26 Joe O'Connor (St Martin's), 3 Liam Ryan (Rapparees), 7 Ian Carty (Taghmon Camross)
 8 Diarmuid O'Keeffe (St Anne's), 9 Kevin Foley (Rapparees)
 10 Jack O'Connor (St Martin's), 11 Liam Óg McGovern (St Anne's), 12 Oisín Foley (Crossabeg Ballymurn)
 13 Rory O'Connor (St Martin's), 14 Conor McDonald (Naomh Eanna), 15 Lee Chin (Faythe Harriers)
 Subs:
21 Conor Foley (Horeswood) for Joe O'Connor (19)
20 Mikie Dwyer (Fethard) for McDonald, temp. (35-HT)
19 Cathal Dunbar (Naomh Eanna) for Jack O'Connor (54)
22 Conor Hearne (Shelmaliers) for K. Foley (65)
Dwyer for McGovern (68)
Kilkenny
1 Eoin Murphy (Glenmore)
 2 Mikey Butler (O'Loughlin Gaels), 3 Huw Lawlor (O'Loughlin Gaels), 4 Tommy Walsh (Tullaroan)
 5 David Blanchfield (Bennettsbrige), 19 Pádraig Walsh (Tullaroan), 7 Darragh Corcoran (Ballyhale Shamrocks)
 11 John Donnelly (Thomastown), 23 Walter Walsh (Tullogher Rosbercon), 8 Adrian Mullen (Ballyhale Shamrocks)
13 Martin Keoghan (Tullaroan), 10 Tom Phelan (Conahy Shamrocks), 26 Billy Drennan (Galmoy)
14 TJ Reid (Ballyhale Shamrocks), 15 Eoin Cody (Ballyale Shamrocks)
Subs: 
17 Conor Delaney for Butler (12)
12 Billy Ryan for Keoghan (14)
20 Conor Fogarty for Mullen (25)
21 Alan Murphy for Drennan (49)
18 Cillian Buckley for W. Walsh (66)
Referee: Colm Lyons (Cork).