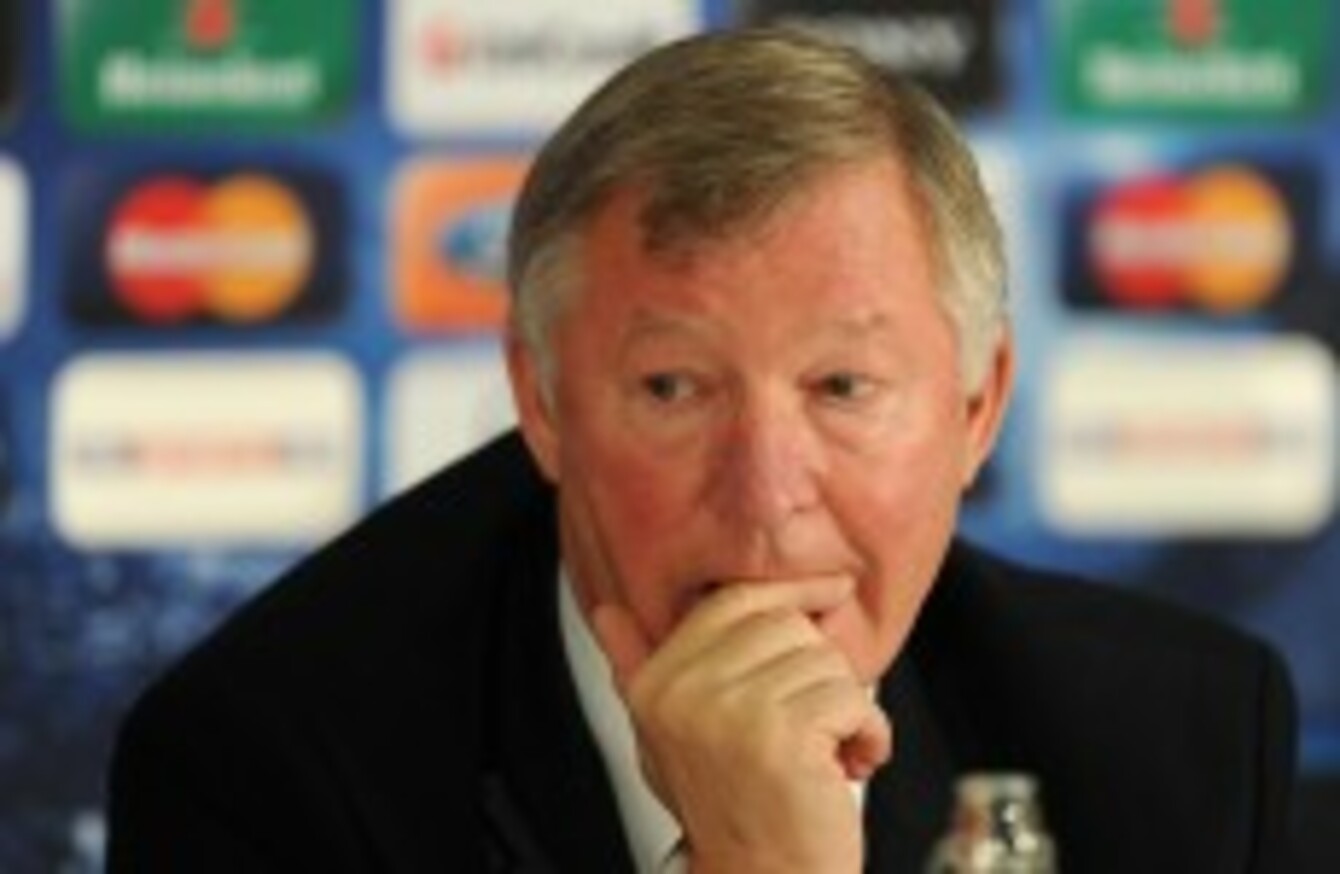 Alex Ferguson reflects on Rooney's decision Manchester United at the club's Carrington training ground this afternoon
Image: Martin Rickett/PA Wire/Press Association Images
Alex Ferguson reflects on Rooney's decision Manchester United at the club's Carrington training ground this afternoon
Image: Martin Rickett/PA Wire/Press Association Images
ALEX FERGUSON THIS afternoon confirmed that Wayne Rooney indeed intends to leave Old Trafford.
Refusing to take journalists' questions on the matter, he instead addressed the subject himself at the end of the routine press conference ahead of the Champions League clash with Bursaspor tomorrow night.
And it was not good news for Manchester United fans. Said Ferguson:
I can't answer questions about why Rooney is doing what he is doing. It doesn't matter a dickie-bird. But the player is adamant he wants to leave. But I can do no more than I'm doing at the moment … but we are leaving the door open.
Ferguson says he was disappointed that Rooney claimed his ankle injury was not hurt after the England v Montenegro game:
A scan showed he had a minor injury. We have done nothing but help him since he came to this club, that is why this is such a mystery to us. We've helped him with his private life and other matters … so we're as bemused as anyone can be because we can't understand why he would want to leave a club that is successful as we are in British football.
Ferguson insisted United chiefs did not get into detailed wage discussions  with Rooney but David Gill was prepared to offer a contract that would be
'difficult to benefit elsewhere'
.
This morning, United chiefs were said to be worried that Rooney could skip down Busby Way and out of their lives for no more that £5milllion.

After a much-publicised falling out with boss Alex Ferguson in recent weeks, Rooney informed  the Old Trafford hierarchy that he will not extend his current deal beyond the remaining 18 months and could take advantage of the 'Webster' ruling to leave on the cheap.
Reports the Daily Mail today:

This is the latest blow for United, who are already faced with the dilemma of selling Rooney in January for a big fee or risk losing him for nothing in 2012.

It can now be revealed that Rooney can end his contract early next summer under Fifa regulations – with United receiving only approximately £5m in return.


Using the Article 17 of Fifa's transfer rules – introduced after Scotland defender Andy Webster's complex move from Hearts to Wigan – Rooney can buy out the final year of his contract for the price of his annual salary, plus a small compensation fee.
Despite the fact that a post-Rooney environment promises to be a bleak one at Old Trafford, former Stretford End idol Roy Keane yesterday weighed in with his special brand of advice for old pal Wayne.
Players and managers fall out all the time. It is part of life.

If I was to offer advice to Wayne, who is a good lad, I would tell him to make sure he looks after number one. Players are pieces of meat – that's how I look at it. When your time's up, your time's up.
Watch the video here
If being a piece of meat, Royston, means earning an eye-popping £300k in basic weekly wages, then pass the barbecue sauce and lather me up.
Here's home-made footage of the presser, via Balls.ie