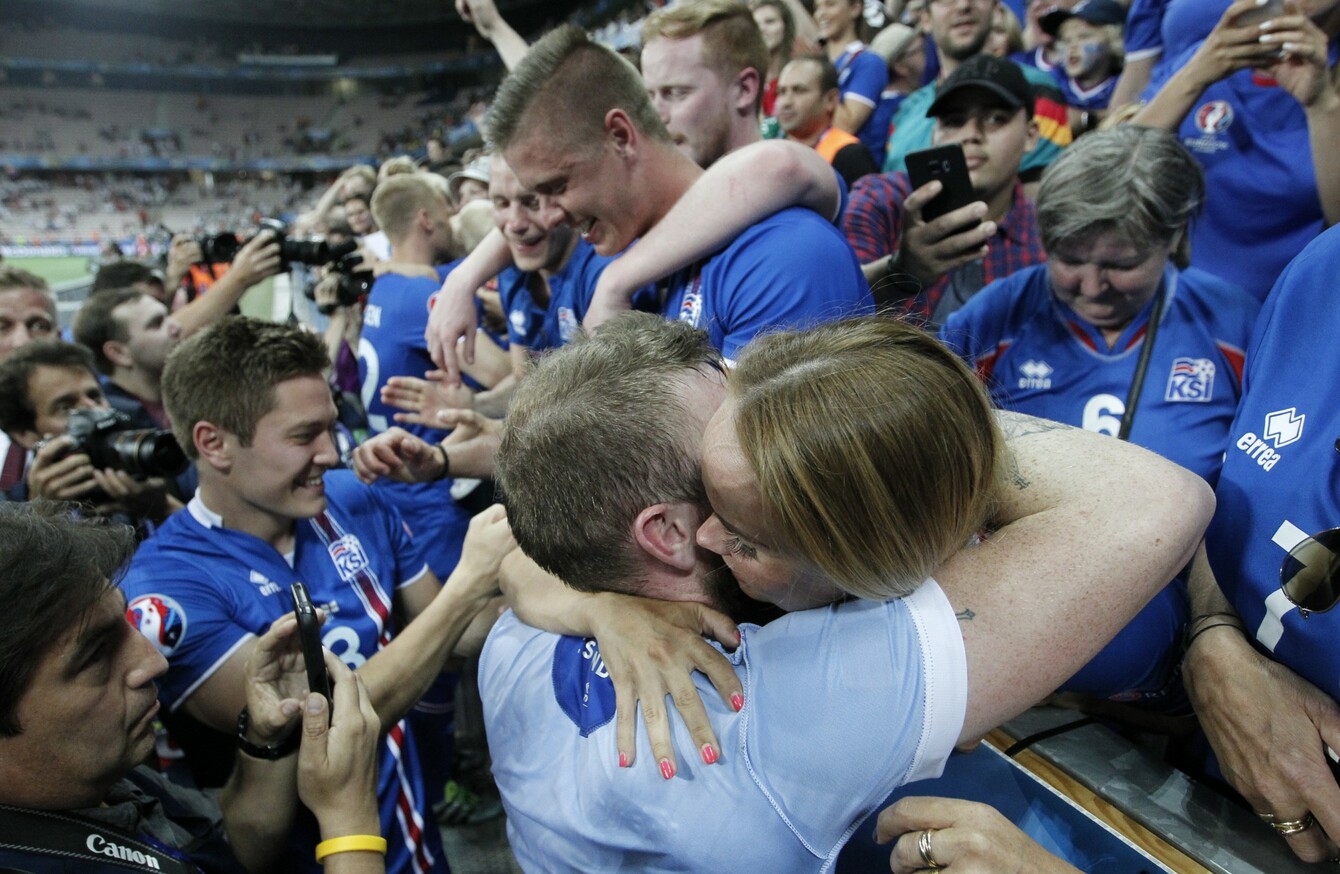 Iceland's players celebrate with fans at the end of the Euro 2016 round of 16 match against England.
Iceland's players celebrate with fans at the end of the Euro 2016 round of 16 match against England.
IT'S HARD TO believe that Wales' 2-1 defeat by Australia at the Cardiff City Stadium in front of just 6,378 fans (in a ground with a capacity of 33,280) was less than five years ago.
The result saw Wales slip to 117th in the Fifa rankings. In August 2011, they were officially deemed to be worse at football than Guatemala, Guyana and Haiti among many others.
What has happened since then is the stuff of dreams. Now, they have made history. They are among the top-four sides in Europe. And they are two games away from one of the greatest footballing shocks ever.
"Don't be afraid to have dreams. Four years ago, I was as far away from this as you could imagine. And look what's happened," an emotional Chris Coleman said after seeing his side pull off a stunning 3-1 quarter-final victory against Belgium in Lille last night.
The 46-year-old coach wasn't exaggerating. Four years ago, Wales played their first competitive match under Coleman, with the tragic death of previous manager Gary Speed — a friend and ex-teammate of Coleman's — still relatively raw.
Ironically, the match was against the same opponents they triumphed at the expense of last night, Belgium, but on this occasion, the game ended in a 2-0 home defeat.
And while there was no shame in getting beaten by what was, even then, a talented Belgium side, it was a different story four days later.
Wales were humiliated 6-1 by Serbia, their worst defeat in 15 years, as an all-too-familiar narrative of failure and embarrassment began to unfold.
Now hailed as a managerial genius, Coleman's Wales record at the time read: played four, lost four. Inevitably, there were calls for his resignation. Luckily for all concerned, the Welsh FA decided to be patient and stick by their man.
Coleman subsequently made some big calls, including taking the captaincy away from young Arsenal star Aaron Ramsey and handing it to uncompromising Swansea defender Ashley Williams. The former Fulham and Crystal Palace player was promptly rewarded with his first victory as national coach — a 2-1 defeat of Scotland.
Further setbacks followed. The Welsh team's hopes of qualifying for the 2014 World Cup were ended following an uninspired 2-1 loss at the hands of Macedonia. Again, Coleman came under pressure.
Yet an improvement in their last two qualifiers encompassing a 1-0 win in the return fixture against Macedonia and a 0-0 draw with Belgium provided scope for optimism.
Everything finally fully clicked into place amid the Euro 2016 qualifiers. Wales qualified quite comfortably, inspired in particular by a stirring 1-0 home defeat of Belgium.
And since Euro 2016 began, Coleman's side have been largely a joy to behold. Save a nervy 2-1 loss to England when they were patently below their best, the Welsh stars have played some fantastic football, scoring more goals (10) than any other team in the competition.
Yet with a population of roughly three million people, it is natural for other small footballing countries such as Ireland to compare and contrast their situation with Wales' current position.
One of the lessons the Boys in Green could conceivably take from the Welsh side is their tendency to blood talented players from a very young age.
Gareth Bale (16), Aaron Ramsey (17), Chris Gunter (17) Sam Vokes (18), Wayne Hennessey (20) and Ben Davies (19) all began their international careers in their teens or shortly thereafter and have all become a bedrock of the side since.
Ireland have just one friendly as it stands (home to Oman on 31 August) before their first World Cup qualifier (away to Serbia on 5 September). However, surely there would be no harm in gradually introducing the promising likes of Jack Byrne (20), Callum O'Dowda (21), Kevin Toner (19) and Chris Forrester (23) into the set-up.
In addition, perhaps even more miraculous than Wales' triumph is the story of Iceland's emergence from the depths of international football.
With a population of just 332,000, similar to that of Leicester (a city that also knows a thing or two about miraculous footballing upsets), they managed to knock England out of Euro 2016 during the week.
Their unique status and limited resources are perhaps best epitomised by facts such as goalkeeper Hannes Thor Halldorsson also having worked in film and directed the country's Eurovision song entry four years ago, while co-manager Heimir Hallgrimsson still works part-time as a dentist.
Having been ranked 133rd (even lower than Wales) four years ago, they are now one spot below Ireland in 34th. As well as England, they have overcome sides of the calibre of the Netherlands in recent times, and remain unbeaten at this year's Euros, winning two matches and drawing two.
While Ireland had a good Euros overall, they were at times let down by a distinct lack of confidence in their game — think of the opening encounter against Sweden, where they almost seemed hampered rather than boosted by taking the lead, or the Belgium match, where they appeared intent on trying to cling on for a much-needed draw from the opening minute onwards.
One trait of Iceland that stands out is their gargantuan self-belief. As a recent article published in Howler magazine explained of the Holland game:
"On that night in October, they'd have to be better than a Dutch team that was virtually unchanged from the side that had finished third at the 2014 World Cup in Brazil just a few months earlier.
"If you meet somebody from Iceland, they're almost delusional about their ability," says Dadi Rafnsson, the director of youth coaching at Breidablik, an Icelandic Premier League side. "When (the national team) lines up against Holland, we're not thinking, we'll try not to lose so bad. We're thinking, we're going to beat them."
What also works in the team's favour is the remarkable organisation with which they play, honed as part of a system with which the players are well accustomed to at this stage.
Also from the aforementioned article: "Iceland had gotten off to a surprisingly good start in Euro 2016 qualifying, recording 3–0 victories over both Turkey and Latvia, and were tied at the top of Group A with the Czech Republic. In the changing room below the stadium, Iceland co-managers Lars Lagerbäck and Heimir Hallgrímsson were impressing upon their players the need to stick to the same tactics that had helped achieve the earlier results: discipline, winning one-on-one battles, fluidity on the counterattack.
"It doesn't matter who we play or what the score line is, we try to never change our priorities," Hallgrímsson will tell me later. "We do not think of ourselves as a small country in these moments. We know we don't have the individual players of Holland or Turkey. We win on unity and hard work and organisation, and we have to be better than everyone else in these areas."
At Euro 2016, the Irish team were also hard-working and organised up to a point, but game management let the side down at times. It was telling that all of the six goals Ireland conceded were in the second half i.e. as they were beginning to tire from relentless running. Four of those goals were in the troublesome period between the 60th and 75th minute of matches, according to recent stats released.
The Irish team leaked goals in quick succession against both France and Belgium, suggesting chaos and panic setting in after an initial setback. Moreover, the Sweden game featured an inability to deal quickly enough with the growing threat down the Ireland's opponent's right-hand side, ultimately culminating in Ciaran Clark's unfotunate own goal and denying the Boys in Green all three points. These errors are the kind which are entirely avoidable and can be attributed to inexperience or naivete at this level.
Irish football could also learn a thing or two from Iceland in terms of player development. If their model is anything to go by, education is key.
A separate article in The Guardian by Barney Ronay notes: "Arrigo Sacchi famously suggested elite coaching should be open to people from any walk of life, from elevator operators to stockbrokers. At the end of the last century the Icelandic FA put this into practice. Bolstered by the TV money pouring into every Uefa country, Iceland set up an open, hugely popular training scheme. Currently this nation of 335,000 has around 600 qualified coaches, 400 with Uefa B licences, or one per 825 people. To put this into context, in England this number falls to one per 11,000.
"The result is a spread of expertise right down to the lowest level. "Here you need a Uefa B licence to coach from under-10 level up and half of the Uefa B licence to coach under-eights," Dagur Sveinn Dagbjartsson of the Icelandic FA says. This isn't simply box-ticking. The Uefa B is one step off the level needed to coach a professional team in England. Yelling dads it ain't."
There is seemingly a level of inclusivity and selflessness about coaching and football structures in general in Iceland that others would do well to emulate.
There are also several other clever pragmatic touches about the way football is run in the country that, on their own, would be insignificant, but together form part of something greater than the sum of its parts — kind of like the national team itself.
Ronay's article goes on to mention how: "On the way to visit the Breidablik academy, the Guardian's Icelandic photographer leads us to a small school in Breidholt, a deprived area by Reykjavik standards. And there it is, a sheltered, faux grass rectangle tacked on to the neat little low-rise buildings and packed out with kids playing mixed games at break time. Football often gets a bad rap for its wastefulness and greed, its inane use of all that foaming, sluicing cash. It seems, though, there may actually be a choice in all this."
Yet for all the intriguing details about player development and underage structures that Irish football could take from its two improbably successful counterparts, perhaps Wales and Iceland's triumphs say more about the rest of Europe than themselves.
These two countries have no right to be among the top-eight sides of Europe on the basis of talent or resources. And a number of factors have contributed to their success, not all of which are positive.
Are there any great sides in international football now? Certainly none seem on a par with the acclaimed Spain team that won back-to-back major tournament trophies between 2008 and 2012.
Perhaps international football has also lost some of its appeal? Club football and the money involved means many players are increasingly prioritising the domestic game. At the end of an intensive season, it seems imaginable if not necessarily justifiable that many of the best players in the world simply want their holidays to come as soon as possible, rather than feeling thrilled with the prospect of wearing their country's colours for umpteenth time.
In addition, look at all of the sides at the Euros and most will be weak in at least one area of the pitch — the dearth of top-quality strikers across Europe is surely the best example of this trend.
Furthermore, over the past year, Ireland have played five of the eight Euro 2016 quarter finalists in competitive matches — Germany, Italy, Belgium, Poland and France. They beat both the Germans and Italians, and it was only against Belgium — a game which crucially, O'Neill's men could afford to lose — where they were truly outclassed.
Consequently, it seems that the gap between the great and the good international football teams is now narrower than ever.
Ireland, for all their limitations, should have little to fear even against the so-called big footballing nations, with the 2018 World Cup qualifiers fast approaching. As Iceland, Wales and even the Irish side to a lesser extent have shown, nowadays in international football, simple qualities such as grit, heart and determination can take teams a long way.
The42 is on Snapchat! Tap the button below on your phone to add!