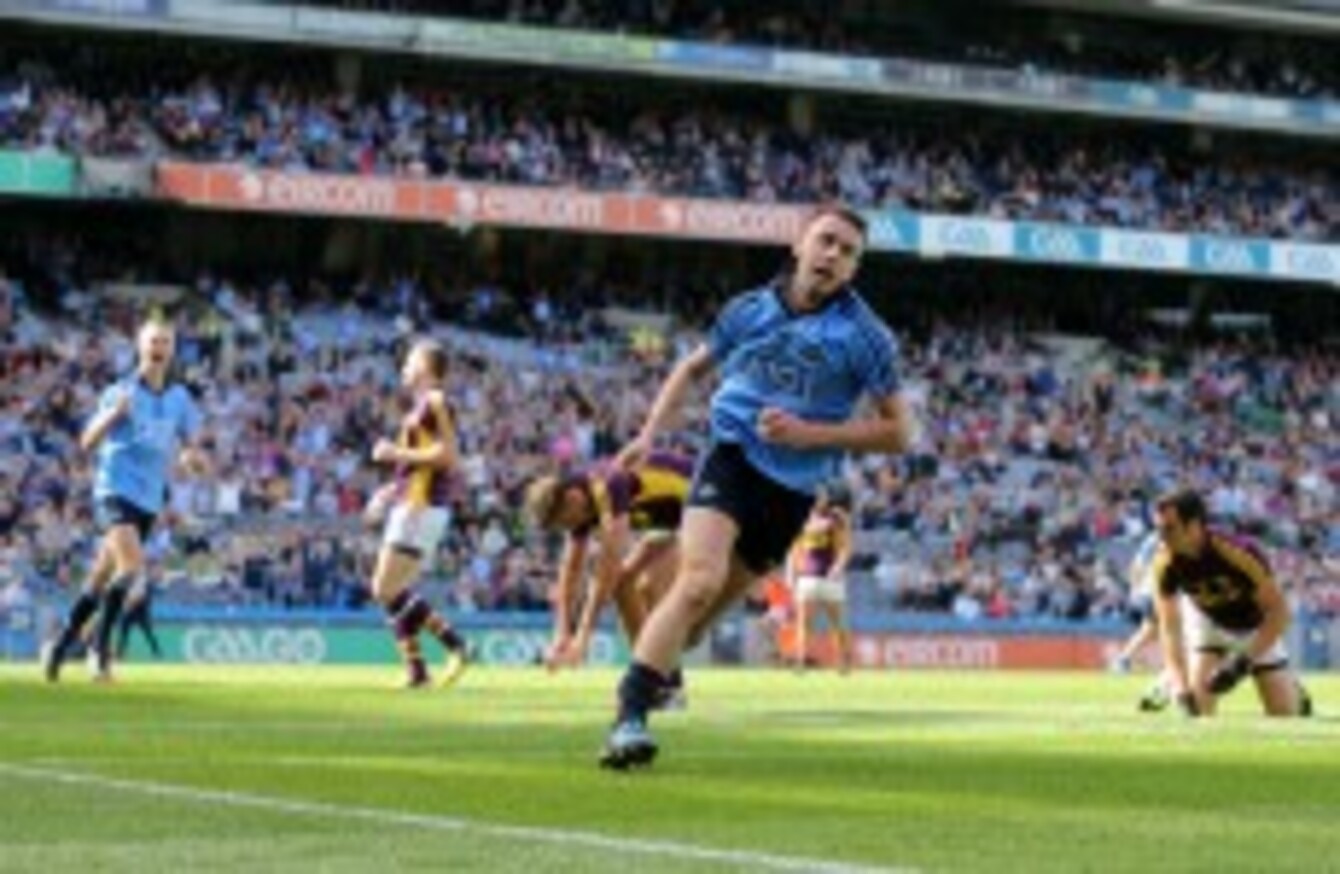 Cormac Costello is the bookies favourite to be named Young Footballer of the Year.
Image: Cathal Noonan/INPHO
Cormac Costello is the bookies favourite to be named Young Footballer of the Year.
Image: Cathal Noonan/INPHO
THE YOUNG FOOTBALLER of the Year is one of the most coveted prizes in the GAA. Recent winners include Cillian O'Connor, Aidan Walsh and Michael Murphy – all of whom have gone on establish themselves as some of the top players in Ireland.
So who leads the way to follow in their footsteps? We've looked at the five players most likely to win the award.
Cormac Costello, corner-forward (Dublin)
Costello has yet to start a championship game for Dublin, but his stunning impact from the bench puts him in pole position to win this award. The young Whitehall forward has bagged 1-10 from play as a substitute and typifies the abundance of talent Dublin have to call upon from the sidelines.
Costello was Dublin's top-scorer up until the quarter-finals and while he is unlikely winning a start place in Jim Gavin's plans, a continued scoring impact from the bench makes him the leading contender for this award.
Source: Ar an taobh líne/YouTube
Verdict: If Costello can continue his impact-sub role then he is the favourite to succeed Jack McCaffrey as Young Footballer of the Year.
Odds: 5/4
Ryan McHugh, wing-back/forward (Donegal)
Ryan McHugh has quickly emerged as a key man in this Donegal side on their march to the All-Ireland semi-finals. The 20-year-old was man-of-the-match by some distance as he claimed his first ever Ulster title last month.
McHugh's pace, skill and stamina have seen him settle quickly into a roving wing-forward role under McGuinness – although he operated at wing-back in the early rounds of Ulster. He has been extremely impressive in assuming a position vacated by his older brother Mark, who opted out of the panel earlier in the year.
Verdict: Should McHugh stand out against the Dubs he has every chance of collecting the award, though he may be reliant on a quiet performance (or two) from Cormac Costello.
Odds: 11/4
Patrick McBrearty, corner-forward (Donegal)
McBrearty was tested early on the the summer when, while struggling to find his form, he found himself dropped for the Ulster final against Monaghan. But it proved a master-stroke by McGuinness when McBrearty kicked three vital scores on his introduction to secure the win.
McBrearty tagged on another two scores against Armagh but, with Colm McFadden worryingly low on confidence, Donegal will need more from the 21-year-old the if they are to progress any further.
Verdict: Rightly behind Costello and McHugh in the pecking order but don't rule him out just yet.
Odds: 4/1
Shane Walsh, centre-forward (Galway)
Shane Walsh has been one of the shining lights in this year's championship and would be in front of the queue for this award if Galway had progressed any further.
Equally adept with either foot, he simply glides over the surface while in possession and social media was sent into a frenzy with one of his deft pieces of skill against Tipperary. Walsh's playmaking abilities were the prime reason for Galway's rise back to the last eight. He has all the qualities to be a truly great footballer.
https://vine.co/v/M0gU2jKWlUm
Verdict: It's a little harsh on Walsh that he at is such long odds for the prize, but Galway's early exit hardly helped. An outside shot.
Odds: 11/2
Colin O'Riordan, wing-back (Tipperary)
Tipperary dual star O'Riordan was outstanding in his debut campaign. The 18-year-old showed maturity beyond his years throughout the season, but no more so than in Tipp's qualifier defeat to Galway, where he scored 1-2 from play.
A fine ball player and excellent under the breaks, Tipperary unearthed a real gem in the JK Brackens defender.
Verdict: Very unlikely to win the award, but that's not to take away from an outstanding season by O'Riordan. He has two more years at U21 and will no doubt contest it again in the future.
Odds: 33/1