WE'RE KNOWN FOR our humour, passion and colour around the sporting world thanks to countless away days through the years.
From London to Edinburgh, Cardiff to Paris, Irish sports fans have followed teams to foreign stadiums to lend their famed support and lift the team for season after season. And they've had fun doing it.
Here's why the Green Army are world champions when it comes to supporting our own.
1. We'll get there one way or another
If there's a flight to be caught or connecting train or ferry to be booked, we'll book it. Like the guys who paddled down the river in Cardiff in October to make kick off:
2. Once there, we're clued in from the anthem
As Roy Keane once insisted 'we're not here for a singsong', but the pre-game anthem is always belted out. Whether it's Ireland's Call or Amhrán na bhFiann, the Irish will be in full voice. And we'll even join in with La Marseillaise.
Fun fact: The world champions knew they were on to a loser in Dublin last year when this Irish football fan saluted down the camera to 60million watching Germans.
https://vine.co/v/e0AVAPauntw
3. We come prepared
Tickets? Check. Passport? Check. Tin whistle to play during breaks of play? Check, obviously.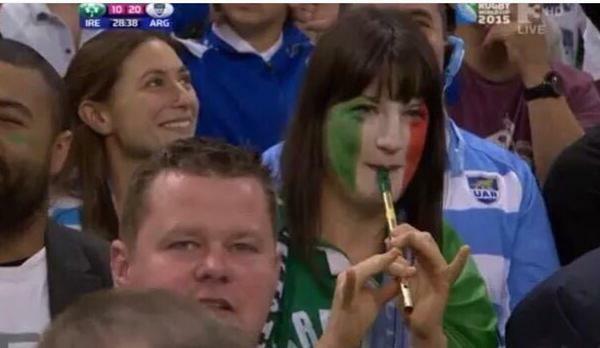 Yeow!
4. Win lose or draw, we don't forget about sportsmanship
If Kipling warned to treat two imposters — triumph and disaster — just the same, we're sharing a drink with them after the final whistle and discussing the game.
The rapport with the Argentine fans in Cardiff after Ireland's World Cup exit was typical:
5. We're ambassadors for our country
There's always time for an Irish history lesson in the guise of The Fields of Athenry.
hiphoppopable / YouTube
And we're friendly!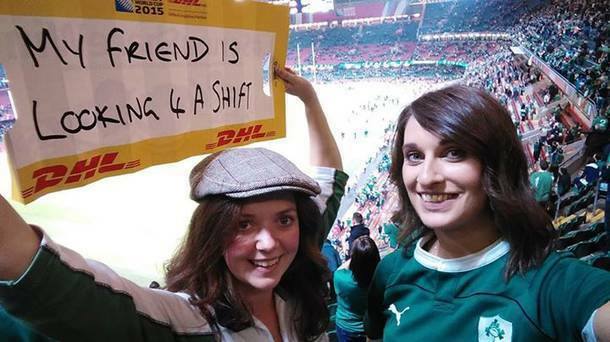 facebook facebook
6. There'll always be a lad in a GAA jersey
Like, always. This young Kerry fan, for example, turned up on Sky's US Masters coverage a couple of years ago. Bravo.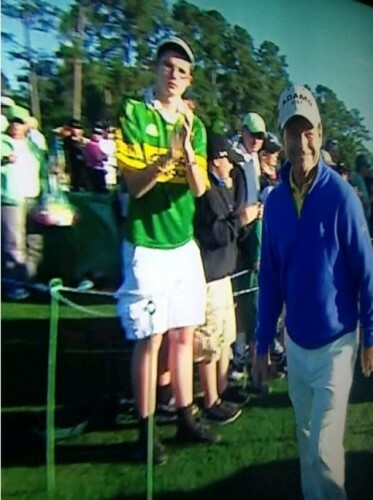 It's unknown what Tom Watson makes of Finuge's chances in the championship next year.
7. In fact, dressing up is very important in showing our support
You want to make a good impression, so suitable attire is key. From sombreros to leprechaun suits, Irish fans always make an effort when it comes to the threads.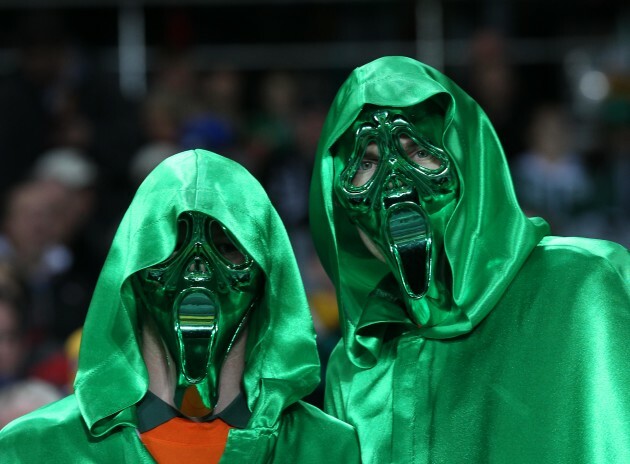 Billy Stickland / INPHO Billy Stickland / INPHO / INPHO
Inpho / Billy Stickland Inpho / Billy Stickland / Billy Stickland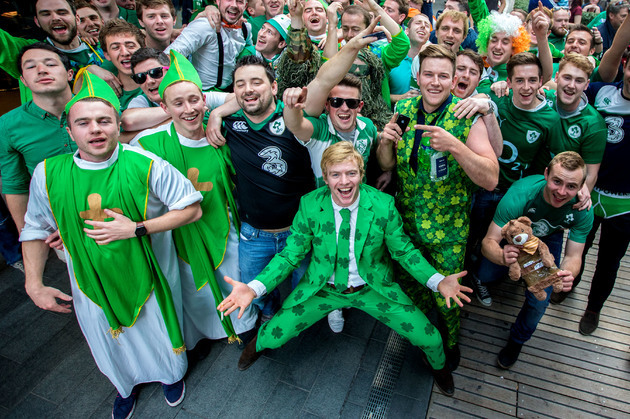 James Crombie / Inpho James Crombie / Inpho / Inpho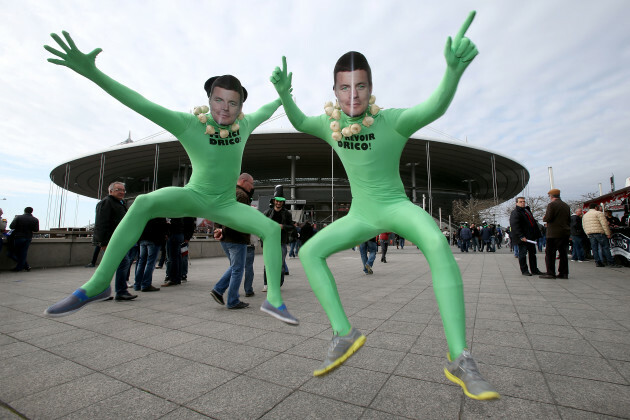 Dan Sheridan / INPHO Dan Sheridan / INPHO / INPHO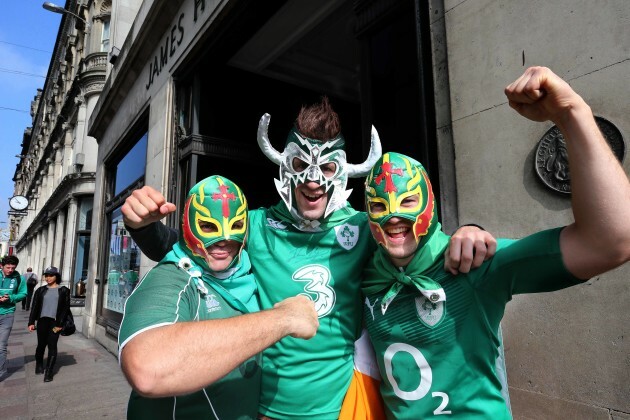 Billy Stickland / INPHO Billy Stickland / INPHO / INPHO
8. We don't take ourselves too seriously
The game may be serious business — ask Joe Schmidt — but the supporters always have some fun.
9. We communicate to the world through the medium of flags
Davy Keogh has been saying 'hello' to the football family for decades with his famous, well-travelled banner. And the rest of us are happy to drape tricolours with the name of our local pub, a favourite player or something like these messages from the tribunes of the globe's best stadiums.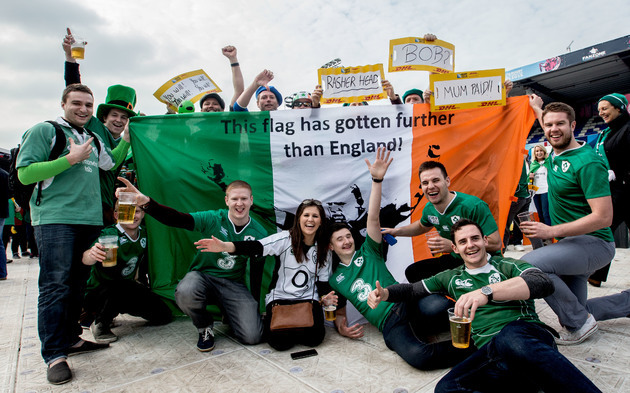 James Crombie / Inpho James Crombie / Inpho / Inpho
Facebook / Irish People Living In New Zealand Facebook / Irish People Living In New Zealand / Irish People Living In New Zealand
10. We'll get stuck in
Not for us sitting outside cafés in the hours before a game. No, we'll organise an impromptu game of rugby. Like this scrum down outside Wembley last September: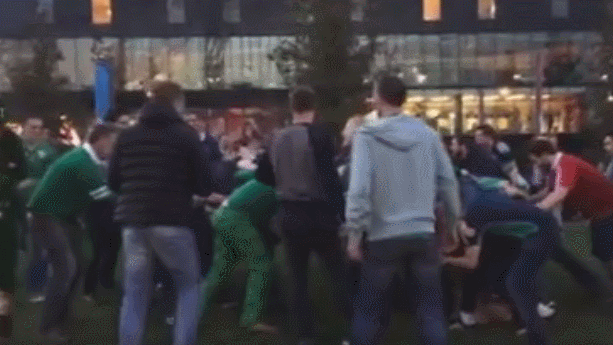 facebook facebook
 Aer Lingus, the Official Airline of the Irish Rugby Team, backs the boys in green, as they go for 3 in a row, in RBS 6 Nations 2016. Let's bring #HomeAdvantage wherever we play. Find out more at aerlingus.ie today.
And now, check out our tribute to the Irish team and unique fans, who bring that little bit of Irish magic with them, that #HomeAdvantage that can even make away games, feel like the hallowed turf of the Aviva Stadium.
Aer Lingus / YouTube