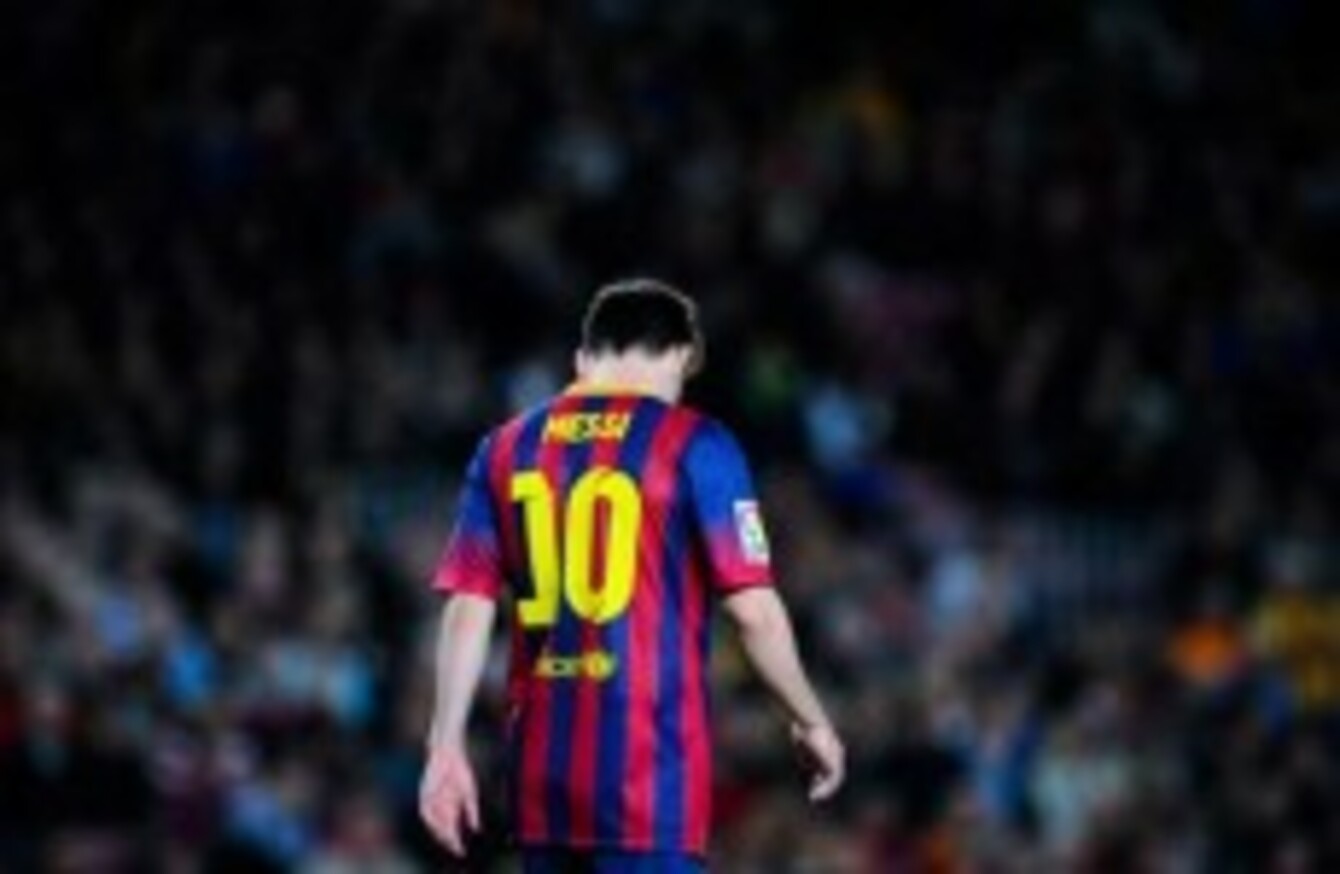 Rumours that Lionel Messi is unhappy at Barca have intensified of late.
Rumours that Lionel Messi is unhappy at Barca have intensified of late.
A DIFFERENT DISCOURSE. Lionel Messi's claims that he no longer knows whether his long-term future lies at Barcelona are fruit of the forward's growing frustration at the Catalan club. Once a marriage made in heaven, Messi and Barca could now be set for an unhappy break-up.
The Argentine attacker has always said he wants to retire at Camp Nou or at least stay until late in his career before ending up at boyhood club Newell's in Argentina, but he has now changed his tune. On Tuesday, he told Argentine sports daily Ole that he does not know what the future holds. And it was no coincidence.
Amid the criticism under compatriot Gerardo Martino, Messi contemplated leaving Barca last season and even expressed his concerns to former coach Tito Vilanova in a visit to the former Blaugrana boss before his death in April.
Vilanova convinced Messi to stay less than a week prior to his passing but the player and his team still studied an offer from Paris Saint-Germain and would now be open to considering a move next summer or in the near future.
However, former president Joan Laporta will seek to intervene in order to ensure the Argentine is at the club for his increasingly likely return to the Camp Nou hotseat in the 2016 elections.
With Laporta initially in charge (until 2010) and Pep Guardiola on the Barca bench, Messi quickly reached his peak and the Catalan coach summed up the Argentine's importance to the team when he said: "Barcelona are on form when Messi is on form and for Messi to be on form, he has to be happy."
Right now, however, he is not.
The forward fell out with Guardiola towards the end of the Catalan's four-year reign after a heated discussion over the coach's team selection for the 2-1 Clasico defeat at home to Real Madrid in April 2012, but has endured many more troubled times since Pep's departure two months later.
One of Guardiola's principal reasons for leaving Camp Nou was a lack of harmony with the Barca board presided over by Sandro Rosell.
Messi's relationship with the board – now led by Josep Maria Bartomeu after Rosell resigned in January – is cordial at best. With previous president Joan Laporta, there was a genuine rapport, but that never returned under Rosell and the player has long suspected that the club may decide to sell him.
"With Neymar signed, I would have thought about selling Messi," Barca legend Johan Cruyff said last year following the Brazilian's arrival from Santos. And Barca have thought about it, although the club's transfer ban has made this possibility less appealing from their side.
"The pressure on Messi is enormous," Cruyff added. "Everyone who goes to the stadium wants to see his wonders, but for those wonders to come off, the team has to be working effectively."
And while Guardiola bought players like Alexis Sanchez to complement Messi, the Argentine believes the current board signed Neymar as an eventual replacement – so keen were they to create a winning team far removed from the one which triumphed under Laporta.
Messi was also unhappy that Neymar — at the age of only 21 — was brought in on a higher wage and signing-on fee prior to the Argentine's renewal late in 2013. Messi is also surprised that the former Santos forward is about to be offered a new contract to improve those terms after little over a year at the club.
Source: iNJRHD/YouTube
Compare that to the clumsy quotes last year by Barca vice-president Javier Faus, who claimed the club had no intention of renewing Messi's contract, which prompted the Argentine to hit back and say the economist "knows nothing about football". Leo did subsequently sign an improved deal, but the episode did not go down at all well with Barca's best player.
Publicly protected by Guardiola and Laporta, Messi does not perceive the same support from the current board and is unhappy at the lack of institutional backing he has received over the last couple of years. As the finest footballer in the history of the Blaugrana, he feels the club could do much more to make him feel comfortable.
What are they
really like?
Rare insights on sport's biggest names from the writers who know them best. Listen to Behind the Lines podcast.
Become a Member
Messi has also grown tired of what he sees as disproportionate criticism for his performances since 2012-13, when his injury problems started, and believes he is being made an example of by the Spanish justice system in his tax fraud case.
Things aren't all rosy on the pitch, either. Messi cut a forlorn figure in the recent win at Almeria as he was forced to drop deep in search of the ball and has told Luis Enrique that he wants Xavi in the team.
That has forced a change of tactics from the Asturian coach in recent times, but has also seen the former Barca midfielder lose credibility in the dressing room following a loss of identity and damaging defeats against Real Madrid and Celta Vigo.
Messi said that Barca have "sufficient quality players to win trophies this season" but remains unconvinced both by Luis Enrique and the current sporting project. And while he fully understood the departure of his close friend Jose Pinto last summer at the age of 38, he could not fathom why Barca would allow both Cesc Fabregas (with whom he and partner Antonella Roccuzzo enjoy an excellent relationship) and Alexis to move on.
So even though the forward's father, Jorge, has said his son wants to remain at Camp Nou and the player himself said in his now infamous interview that "if it were up to me, I would stay forever", Messi will study offers to leave the Catalan club unless efforts are made to ensure his happiness.
A ray of hope for Barca fans, however, is the probable return of Laporta. The former club chief is expected to make contact with Messi in the coming days to tell the Argentine he hopes to build a future project around the four-time Ballon d'Or winner. With presidential elections due in 2016, the second coming of one of Leo's great allies could be the determining factor in keeping him at Camp Nou for many more years yet.
By Ben Hayward, Goal.com