Updated Sunday at 4.30pm
AFTER BECOMING THE only participant to correctly predict the result of all six games during our regular season NFL Pick Six feature, who better to try navigate their way through Wild Card Weekend than Connacht coach Dan McFarland.
Cincinnati Bengals @ Indianapolis Colts – Sunday, 6.05pm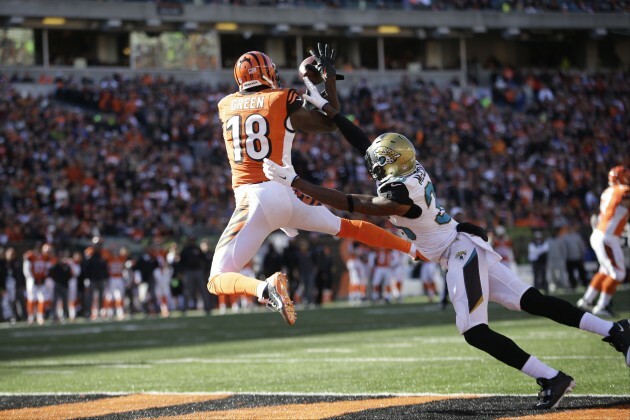 AP / Press Association Images AJ Green is a doubt for the Bengals on Sunday. AP / Press Association Images / Press Association Images
DM: I think most things point to the Colts winning this but having no running game whatsoever really, really hinders them. They've been a completely different team since losing Ahmad Bradshaw to injury earlier this season.
On the other side Andy Dalton can't win a playoff game for love nor money and AJ Green's availability (or not) could be key. Having said that, I'm very impressed with their run game, especially their H-Back Ryan Hewitt who can play tight end and full back while Jeremy Hill has looked really good over the last few weeks.
So I'm going for the upset here and going to pick the Bengals.
TS: I have to disagree with Dan here too. I've been a big fan of the Bengals and even Andy Dalton but how can you back them in a playoff game – and a playoff game on the road – at that after everything we've seen from them over the last few seasons?
There weren't many games as one-sided as when Indy got the better of the Bengals 27-0 in October and I don't see how Dalton and company – even with their scarily good run game – get four touchdowns better on Sunday.
The only thing that worries me is that the Bengals have gone from six point underdogs to three point underdogs this week and when Vegas moves that much, you have to expect something is afoot. Still, Andrew Luck has to stop throwing picks at some point so the Colts for me.
Detroit Lions @ Dallas Cowboys – Sunday, 9.40 pm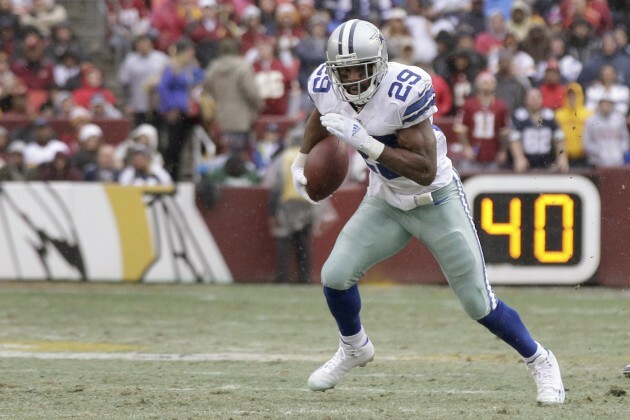 Mark Tenally / AP/Press Association Images DeMarco Murray could face his stiffest test tonight. Mark Tenally / AP/Press Association Images / AP/Press Association Images
DM: I've got to go for the Cowboys. In my mind, Ndamukong Suh shouldn't be playing. In some ways it does put a nasty taint on the sport and for all the NFL's bleating of upholding standards and making role models of players, when push comes to shove, they just folded and have let him play.
Even with Suh there though, I definitely think the cowboys will win. This is the one I'm most confident of. I also think that Dallas' aerial attack is so good they don't actually need Murray, the threat of Murray is enough.
TS: Somebody has to win this bloody game even though the Cowboys have only won one playoff game in 17 years while Detroit has just one postseason victory to its name in the 48 years of the Super Bowl era.
For me this game comes down to one battle, that between the Dallas offensive line and Detroit's front four. If the Cowboys can continue to create running lanes for DeMarco Murray, they'll win this game at a canter. If Detroit can stuff the run, force Dallas into passing in long third down situations, the Lions can sneak it.
It's also worth remembering that all four of the Cowboys' losses this season came at home.
********Yesterday's picks********
Arizona Cardinals @ Carolina Panthers – Saturday, 9.35pm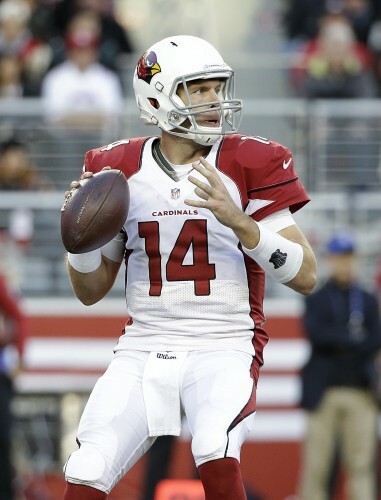 Marcio Jose Sanchez / AP/Press Association Images Can Ryan Lindley lead the Cardinals to a playoff win? Marcio Jose Sanchez / AP/Press Association Images / AP/Press Association Images
Dan McFarland:  I have to go with the Panthers but I feel really sorry for the Cards as they've been devastated with injuries. They're now on their 3rd choice quarterback in Ryan Lindley and it's a big ask for a player like him especially with Andre Ellington not there to help in the backfield. They're really going to struggle.
On top of that, you have the Panthers at home and Cam Newton playing much better. The fact I'm predicting a team with a losing record will win shows just how many problems the Cards have.
TheScore.ie: When things are going well earlier this season, the Cardinals had one of the best run defences in the league. However, over the last five weeks of the regular season, they have given up more yards on the ground than any other team in the league.
Over that same stretch, Carolina's Jonathan Stewart has averaged just less than 100 yards per game. That stat alone should be enough to see the Panthers through to the Divisional round and that's before taking into account that the Cardinals are scoring less than 13 points per game since Lindley took over at quarterback.
Don't get me wrong, I wouldn't be surprised if Arizona took advantage of a Cam Newton error to win this game 16-14 but I have to agree with Dan and take the Panthers.
Baltimore Ravens @ Pittsburgh Steelers – Sunday, 1.15am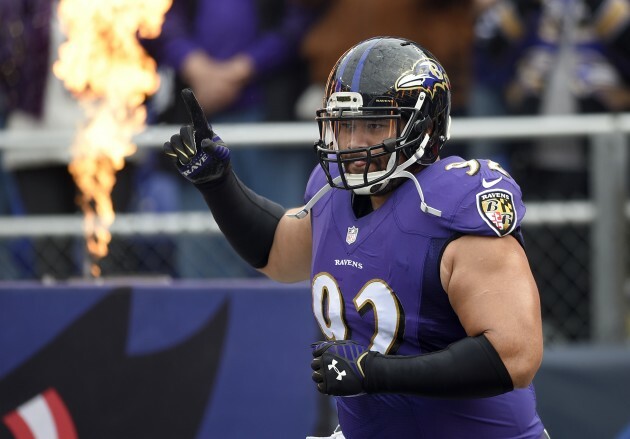 Nick Wass / AP/Press Association Images Nick Wass / AP/Press Association Images / AP/Press Association Images
DM: Antonio Brown was telling everyone during the week that Le'Veon Bell would play but that was obviously just wishful thinking. Bell drove my fantasy team to win the league so it's really disappointing he's not playing. When the Steelers played the Ravens earlier this year and Ben Roethlisberger threw for six touchdowns, Bell didn't really churn up many yards rushing but he was fantastic at protecting Big Ben in that game. Pittsburgh will miss that.
That said, I'm still going with the Steelers. Josh Harris only carried the ball four times the other night but he has shown he has pace when they hand him the football. The key difference will be Antonio Brown versus the Ravens secondary though. It's awful.
TS: Amid the drama of them sneaking into the playoffs last week, it's very easy to forget that four of the Ravens' 10 wins came against teams in the pathetically bad NFC South and the last time they beat a team with a winning record – Pittsburgh as it happens – came all the way back in week two.
Coupled with the fact there's a good chance I could get a game in the Baltimore secondary, the only thing stopping me from absolutely nailing my colours to the Steelers mast is the absence of Bell in the backfield. He's been one of the most exciting players in the league this season and – even though the Ravens pass rush is not as feared as it once was – his absence will increase the pressure on Big Ben to make big throws.
Baltimore have won nine playoff games under John Harbaugh, seven of those have come away from home. For that reason, I'm picking the Ravens, just.
Originally published Saturday at 12.30pm.