1. Will Ireland rue omitting Sean Maguire?
WHEN SEAN MAGUIRE spoke to The42 in December 2015, the player would have been forgiven for feeling down in the dumps.
A move to England with West Ham had not worked out, while a subsequent stint at Dundalk had been similarly disappointing as the young striker struggled for first-team football.
It is a testament to his character, however, that despite these setbacks, Maguire came across as a very positive person.
"I just want to be playing games, and once I'm playing games and enjoying myself, I think the goals will take care of themselves. When I'm playing regularly, as I was with Waterford and Accrington, I play well and score goals," he said at the time.
Fast forward a year later and his confidence had clearly grown, after enjoying a phenomenal season with Cork City that saw him finish the season as the league's top scorer with 18 goals.
I'm only 22. I know I'm good enough to play at a higher level in England. I went over at a young age and I know I'll get back there one day," he said, subsequently backing up his words in impressive fashion.
With Cork seemingly running away with the title, Maguire has been pivotal in 2017. Already, he has 16 league goals — nearly matching last year's tally by the halfway point of the Irish season.
Inevitably, there has been a clamour for Maguire to be called into the Ireland squad. His stunning display replete with a match-winning hat-trick at Oriel Park on Friday night against the club that let him go only reinforced calls for his inclusion at international level.
At yesterday's press conference, Martin O'Neill explained why Maguire was absent from the Ireland squad.
I can consider a lot of things, but at the end of it all, putting someone so young and so inexperienced into the Austria game would be a really tough ask, a really tough ask," the 65-year-old coach stated.
Such talk isn't new from O'Neill, who hasn't been shy to go against popular opinion during his Ireland tenure. Not so long ago, there were plenty of calls for Richie Towell to be included in the Ireland squad, after his superb run of form with previous club Dundalk.
O'Neill felt the free-scoring midfielder wasn't ready for international football at the time and the manager has arguably been proven right, with Towell's career stalling since moving to Brighton owing to a mixture of injuries and an inability to break into the Seagulls' first XI.
Similarly, O'Neill was reticent to hand Daryl Horgan and Andy Boyle call-ups when the pair were performing admirably in the League of Ireland, and only did so after a series of impressive displays by the duo in the Europa League last year.
Moreover, even with non-League of Ireland players, O'Neill has not always rewarded excellent club form.
Preston's Greg Cunningham and Wolves defender Matt Doherty won their clubs' respective player-of-the-year awards last season, but both have been largely ignored thus far at international level, with the latter yet to win a senior cap. Sheffield Wednesday's Keiren Westwood, meanwhile, has been regularly hailed as the best goalkeeper in the Championship, but seems unlikely to get a chance against Austria, despite Darren Randolph's current struggles at West Ham.
For O'Neill, club form isn't everything, and international experience often trumps domestic displays. With Maguire, that certainly appears to be the case and the Irish boss is hardly being unreasonable to suggest the in-form 23-year-old doesn't deserve a place in the team's starting XI due to a lack of experience.
Yet there is a case to be made for the Preston-bound star to at least warrant inclusion in the squad.
Excelling in the League of Ireland, of course, isn't necessarily a guarantee that he can thrive at a higher level — plenty of domestic footballers have struggled to replicate their form when given the chance to play in England. But would it really do any harm to give Maguire a run out for 20 minutes against Uruguay tonight? Ireland have just three natural strikers in the current squad – Jonathan Walters, Daryl Murphy and David McGoldrick — with the latter two likely still recovering from the Mexico match on Thursday.
Murphy has done well for Ireland in the past — leading the line brilliantly for 70 minutes in the famous Euro 2016 win over Italy and scoring the crucial equaliser away to Serbia more recently.
If Jon Walters reverts to the role he invariably plays for Ireland wide on the right, then the Newcastle man will almost certainly start up front, and few could argue with that selection given his past form.
But for argument's sake, let's say the hypothetical Murphy experiment doesn't work and Ireland find themselves 1-0 down with 20 minutes remaining against Austria.
The Boys in Green could have a choice from the bench between McGoldrick who has managed five goals from 33 appearances for Ipswich this season, or Maguire, who has 16 goals from 17 League of Ireland matches.
Confidence is vital for a striker and the 23-year-old is the only Irish forward at the moment — with the exception of Cillian Sheridan perhaps — who can be described as playing at the top of his game, even if it is at a lower level than the alternative options.
In addition, with Shane Long absent through injury, there is a conspicuous absence of speed in the Irish attack. Maguire could have offered pace to an otherwise quite lethargic forward line. He represents something different to the qualities that Walters, Murphy and McGoldrick possess.
Ireland's only goal in their previous encounter with Austria came from Wes Hoolahan providing an exquisite through ball to James McClean on the counter-attack. Imagine the damage Hoolahan and the lightning-quick Maguire could potentially do to the somewhat sluggish Austrian backline.
O'Neill said at yesterday's press conference that, prior to Friday night, the last time he saw Maguire live was in the FAI Cup final against Dundalk, where the star himself admitted he played poorly despite scoring the winning goal.
The Irish boss noted how much he had "improved" since that scrappy 1-0 win as he watched on last Friday, and you have to wonder if O'Neill also privately suspected he had made a mistake amid Maguire's dazzling display at Oriel Park.
2. Can Robbie Brady put indifferent Premier League form behind him?
Bryan Keane / INPHO Bryan Keane / INPHO / INPHO
Robbie Brady hasn't had the best of times since joining Burnley for a club-record fee in the January transfer window. He has started just seven out of a possible 15 Premier League matches for the Clarets, completing 90 minutes on only three occasions — an underwhelming return thus far on the £13 million his side reportedly paid Norwich for his services.
Ex-Ireland international Ronnie Whelan has been among those to criticise Brady, with the Liverpool legend urging both the Dubliner and teammate Jeff Hendrick to show the type of form they displayed at Euro 2016 in the Premier League.
As far back as March, Ireland's Player of the Year was acknowledging that his transition into the Burnley side had been less than seamless.
It's just been a little bit different for me to the football I've been playing at Norwich," he said. "It's nothing I can't handle and nothing that's going to faze me. I've started on the bench the last two games but I've been doing everything since he left me out the first time to try and learn quick and get myself back in the team… If I keep going the way I'm going I'm more confident I will get myself back in.
"I think the Premier League is a higher intensity the way it is, the way Burnley play is 110% per game. I'm not saying I don't give 110% but it's just a different way of playing — I'll get used to it in time."
Reflecting on Burnley's campaign yesterday, Brady admitted the season had been "stop-start" from a personal viewpoint, but added: "I love coming back here to play and I am really looking forward to the games."
And these words certainly are backed up by instances in the past. Irish players, even when struggling at club level, have traditionally tended to perform above themselves at international level.
Jeff Hendrick had a similarly stop-start season at Derby last year, but went on to become arguably Ireland's best player at the Euros.
Moreover, a little over 15 years ago, a certainly player by the name of Jason McAteer, who had not started a game for his club Blackburn in five months, excelled and scored a famous winner against Holland in a vital 2002 World Cup qualifier at Lansdowne Road.
Brady's club situation is nowhere near as dire as McAteer's was back then, but he will be hoping to have a similar impact to set up what would be another memorable home win next Sunday against Austria.
3. Stephen Quinn epitomises Irish spirit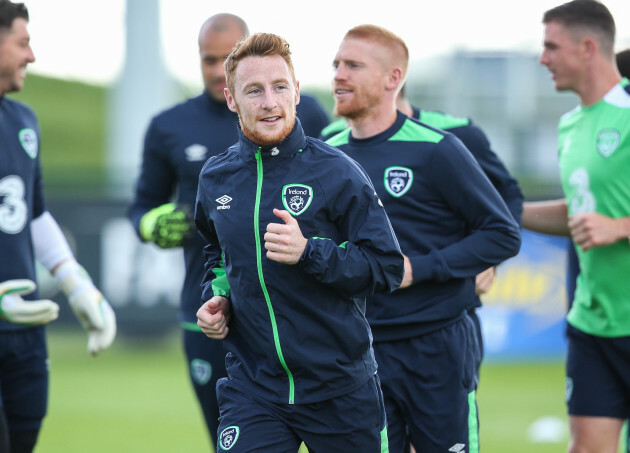 Gary Carr / INPHO Gary Carr / INPHO / INPHO
Opposition managers, in particular, have a tendency to use the term 'spirit' in praise of the Irish team.
Often, it comes across as more than a little condescending, and seems a sign they also believe there is a shortage of talent within the side.
Yet though many fans may not want to believe it, both sentiments are essentially true. The Irish team does lack talent in key areas but often compensates for this flaw with good old-fashioned attributes such as work-rate and self-belief.
What enables these characteristics to shine through, more than anything, is a happy dressing room, and judging by their largely positive displays in the World Cup qualifying campaign so far, O'Neill seems fortunate enough to have a humble and content group of players at his disposal.
One footballer who encapsulates the feel-good factor around the squad is Stephen Quinn. The 31-year-old Dubliner has had what could legitimately be described as a nightmare season.
The former St Pat's youth player has started only one of Reading's 49 Championship games. He has just watched his side miss out on Premier League promotion by losing the play-off final against Huddersfield on penalties. Furthermore, he last played a competitive game in October, missing much of the year through injury.
Quinn would be well within his rights to go off on holiday right now and put this miserable campaign behind him. But instead, Martin O'Neill revealed yesterday that he had actually asked to train with the Irish squad, despite having no chance of playing any of the games and having been seldom used at international level since the Derry native took charge of the team.
"I don't think it's even been in doubt that players do want to come," the Irish boss said yesterday, when asked if his stars would prefer to be on their holidays right now.
I'll give you an example, we have young Quinn who has not played for some considerable time just asked would it be alright to come and join in for the week — he knows the players, it is a chance to get some fitness. He won't be considered obviously for the games. He just wanted to come. I don't want people to think this is just a free-for-all and anybody can turn up, because you might have some of the older players, who have retired 15 years, (arriving). But overall, the atmosphere has always been pretty good."
Even if Quinn never plays a competitive game at international level again, it's attitudes such as his that have — as much as anything else — contributed hugely to a harmonious environment and helped the Irish side to regularly punch above their weight in recent times.
4. What sort of shape are Uruguay in?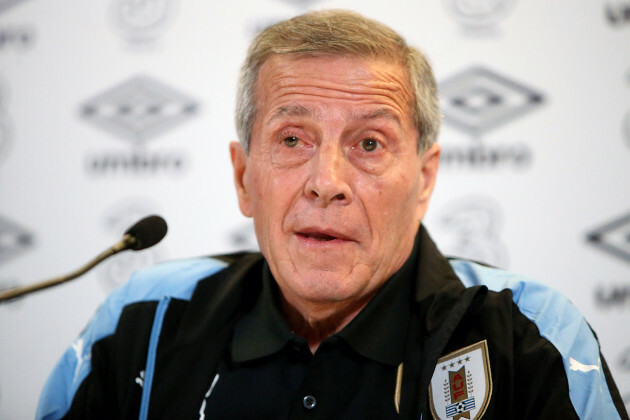 Oisin Keniry / INPHO Uruguay manager Oscar Tabarez. Oisin Keniry / INPHO / INPHO
Uruguay come in to tonight's game against Ireland without key player Luis Suarez, who was ruled out with a thigh injury.
However, even in the absence of the Barcelona attacker, they have one world-class striker to choose from in the form of PSG's Edinson Cavani, who has 38 goals from 91 international caps.
The Uruguayans also have some accomplished defenders within their ranks. Liverpool fans may not remember Sebastien Coates too fondly, but the centre-back has impressed since moving to Sporting Lisbon, while 22-year-old José Giménez has been regularly starring for Atletico Madrid over the course of the past three seasons now and looks to have a bright future ahead of him.
The team did not set the world alight at last year's Copa America, losing two out of three matches amid a group stage exit, though they find themselves in a reasonably healthy position in the CONMEBOL World Cup qualifiers, as they sit third inside the automatic qualifying spots with four matchdays remaining. That said, they are only ahead of Chile on goal difference and sit one point above fifth-place Argentina.
Martin O'Neill is consequently expecting a tough game this evening.
It's the way that we have gone about the friendly games here in the last couple of years," he said. "We have tried to choose as tough opposition as possible, and I hope that continues, because we'll learn more from that than we would do against lesser teams."
But in contrast to the aforementioned passion displayed by O'Neill and Quinn among others in the Irish camp, Uruguay boss Óscar Tabárez sounded less enthused by the prospect of tonight's game at the visitors' press conference yesterday.
"It's quite difficult to play in June in this type of fixture," he explained.
Because all of the domestic tournaments are over, the players needs to rest to begin again next season.
"But also it is a good opportunity to meet the players because we usually only see them every two months. So we will respect the game for our opponents and the fans and we want to bring our best team possible."
The42 is on Instagram! Tap the button below on your phone to follow us!