"WE EXPECT MORE from ourselves than anyone else."
CEO Willie Ruane's words on the ambition of Connacht stayed in the mind long after he helped to launch the province's 'Vision and Strategy: 2016-2020′ document in the Aviva Stadium.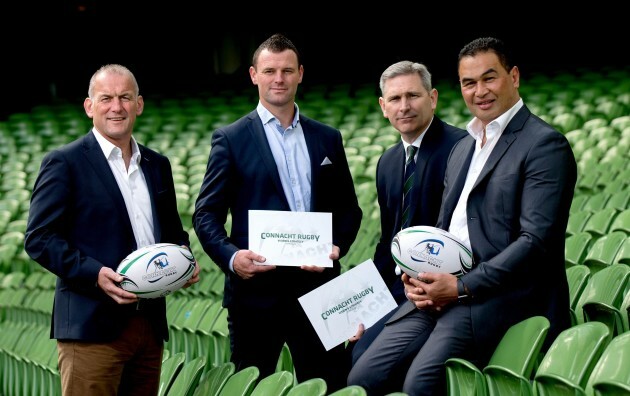 James Crombie / INPHO Connacht have ambitions of further growth. James Crombie / INPHO / INPHO
Ruane has genuinely attainable ambitions for Connacht's progress in the next four years and the men around him in the national stadium yesterday, namely Pat Lam, Eric Elwood and Nigel Carolan, are all on the same page.
Keen to make best use of the opportunity and profile afforded to them by their superb season in the Guinness Pro12, which has led to Saturday's home semi-final against Glasgow, Connacht presented their vision to the IRFU and the assembled media.
Their targets stretch across areas like finance, governance and commercial but perhaps of most immediate interest are the province's rugby goals in the next four years.
Champions Cup qualification every season is a minimum expectation, while Connacht have also set a target of reaching the knock-out stages of the European competition at least once before 2020.
Lam stated that the province are targeting a Pro12 win next season to follow up this campaign, and Connacht have also set an objective of having an average of 30% indigenous [i.e. Connacht born and bred] representation in their squads moving forward.
The bar has also been set at achieving an average of four players in Ireland's national team match day squads by 2020.
Of course, history was made in that regard this season when Ultan Dillane, Nathan White, Finlay Bealham, Robbie Henshaw and Kieran Marmion were all on the field at the same time in the Six Nations clash with Italy.
"I would like us to be a very significant part of the Irish team on a consistent basis, so that having five players on pitch at one time isn't something that stands out, it's the norm," said Ruane yesterday.
"That the game across the province has grown to a very large extent and that the experience that those kids are having is something that they absolutely cherish and want to continue playing the game."
That Connacht's objectives should include a goal that involves the national team is no surprise, given that their 'grassroots to green shirts' philosophy is driving this entire four-year vision.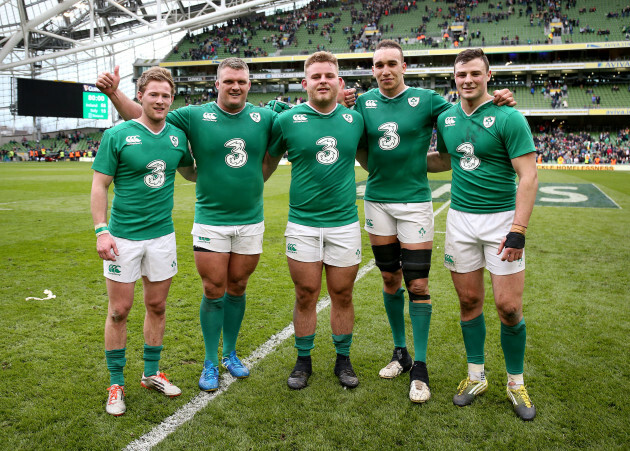 Dan Sheridan / INPHO Connacht's historic day during the Six Nations. Dan Sheridan / INPHO / INPHO
The green shirts refer to both Connacht and Ireland, but the relationship between the two has become increasingly positive. At a time when Leinster are dissatisfied with the IRFU and its performance director David Nucifora, Connacht are delighted with his influence on the game.
IRFU funding for Connacht has increased in recent seasons, admittedly from a relatively low starting point, while Nucifora has aided their recruitment of a handful of players, most recently Cian Kelleher from Leinster.
Nucifora's motivation in desiring increased player movement between provinces is, of course, the prospect of an improved national team, but the IRFU and Connacht seem to be very much aligned at present.
"I'm only in the job two years but I honestly cannot say enough about the support they've given us thus far," said Ruane.
"Whether that's David Nucifora, whether it's Scott Walker, whether it's Philip Browne, all are playing a really important role in what Connacht are going to achieve and what we want to achieve.
"We're in constant dialogue with them, the plan today was presented to the IRFU, it was presented to David and everyone in the different departments to make sure we're fully aligned. It's not a coincidence that we're aligned because we all believe in the same things."
Connacht have benefited from Nucifora's work in helping move Kelleher west next season, but Ruane points out that the Australian's desire not to see 'stockpiling' of players in one position at any of the provinces could work the other way in future.
The Connacht CEO stresses that he "fundamentally" agrees with Nucifora's ideas about ensuring the best Irish players are all playing as often as possible.
"You have really good players in a certain position and all of a sudden you have a block of players. It works both ways. But do I buy into the fact that for Irish rugby to be a success the best players have to be on the pitch, without a doubt."
Connacht cosying up to the IRFU may prove beneficial to their aims of building a new 10,000-capacity stadium in the near future, with Ruane pointing out that support from the union and other stakeholders will be essential to financing that plan.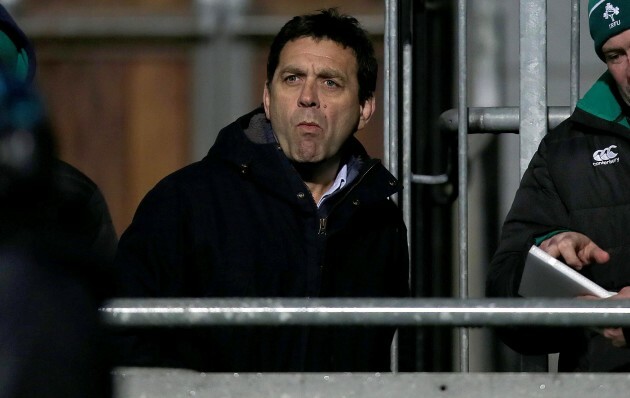 Donall Farmer / INPHO Connacht's relationship with Nucifora is strong. Donall Farmer / INPHO / INPHO
Connacht have had to decline countless supporters searching for tickets for Saturday's sold-out semi-final against Glasgow and that was also the case for the recent games against Munster, Leinster and the Scots.
7,800 people will be at the Sportsground to witness Saturday's clash, but the province did consider moving to the tie down the road to Munster's Thomond Park. Head coach Pat Lam wasn't in favour of leaving their Galway cauldron, however.
"We had a good chat about it because, while there obviously is the commercial aspect to it, there is the bigger picture," said Ruane. "We wanted to make sure that Pat was clear that this was a decision that shouldn't be driven by anything other than a desire to win.
"I think our own supporters deserve that, as much as anything else. We want to play in the Pro12 final and then when we're in the Pro12 final, we want to win it. Anything that distracts from that, or has potential to do that, was ruled off the page pretty quickly."
There have been suggestions that Connacht might hitch their plans for a new stadium to Ireland's bid to host the 2023 Rugby World Cup, and the need for infrastructure there, but Ruane suggested that may not be the ideal route.
Exclusive Six
Nations Analysis
Get Murray Kinsella's exclusive analysis of Ireland's Six Nations campaign this spring
Become a Member
The concern is that the province would end up with a 25,000-seater stadium that is half empty many weekends.
Connacht may end this season with their first-ever Pro12 title and even if they don't, it's likely that their emerging stars will attract attention from offshore.
Continuing to bring through home-grown talent will be essential and the province's strategy for the next four years includes targets in that department.
60% of academy inductees moving into the professional game, four academy-originated players in the Ireland matchday squad by 2020 and four players per season moving from the academy into the pro sport are among them.
Connacht were unsuccessful in holding onto Robbie Henshaw, their highest-profile academy product yet, beyond the end of this season but Ruane believes that will not become the norm.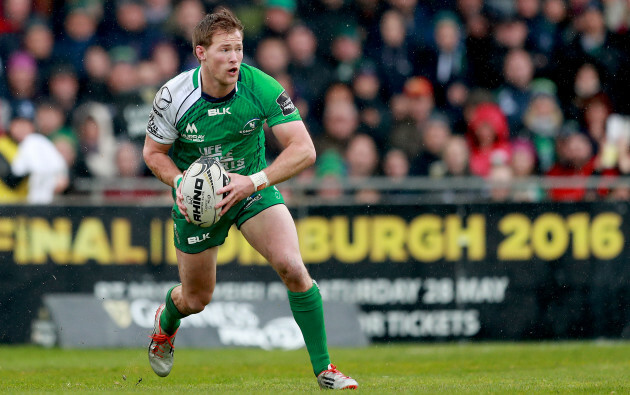 James Crombie / INPHO Last year saw Marmion sign on until 2018. James Crombie / INPHO / INPHO
"The reality is in the last two years we have had a huge amount of players who have come off contract and been re-contracted," said Ruane. "They are actually committing in their droves.
"Something like 23 players were off contract this year, and almost every single one of those that we wanted to keep actually signed up. There are players out there who other clubs are already trying to speak to, but they have committed.
"Kieran Marmion wasn't without options; he is an Irish international but he wanted to be part of Connacht into the future. And that's the work we focus on, not the ones that for whatever reason aren't here next year.
"All the others that are here, that's a really positive statement about where we're at at the moment."
Indeed, Connacht are in a good place and if Ruane has his way, it's only the beginning.
The42 is on Snapchat! Tap the button below on your phone to add!