BBC BREAKFAST'S MIKE Bushnell loves a good hug.
Bring it in.
The sports presenter apologised this morning after hugging one of the guests, tennis star Marion Bartoli, when he was called out by Charlie Stayt back in the studio.
If the hug alone wasn't awkward enough, he went into a big explanation as to why he did it.
Oh NO.
You're one of the cuddliest people I've ever met. So I had to hug you again this year. You exude warmth and charisma and it's natural to hug, and I'm a huggy person. I don't think Marion was offended by it?
Ground. Swally us up.
BBC News / YouTube
So there you have it, if anyone says you're too touchy feely, give them a lengthy spiel about how warm they are.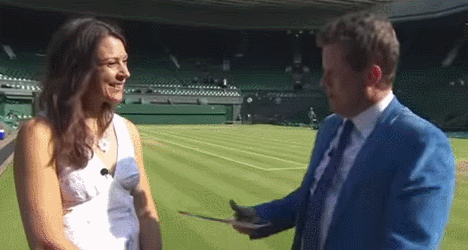 Written by Nicola Byrne for DailyEdge.ie