FROM A POSITION where qualification had looked a procession, Ireland went into the final game of the USA '94 group needing to beat Northern Ireland or draw and hope one of either Spain or Denmark came out on top in their showdown in Seville.
If that wasn't enough tension, events off the field actually amplified it to unbearable levels rather than render it irrelevant. Three weeks before the game, the Shankill Road bombing killed 10 civilians as well as the IRA member who prematurely set off the bomb. Two weeks before, UFF paramilitaries burst into the Rising Star bar in Derry and shouted 'trick or treat' before shooting eight people dead.
In Roy Keane's autobiography, he claims some of the English-born players — including Alan McLoughlin — needed some of the background explained. McLoughlin refutes this.
"I was very conscious of it. Both my parents are Irish. I lived in Manchester until I was 19. I completely knew the situation and was no more detached from it than someone living in the South of Ireland. Nothing needed to be explained to me. But in saying that, it hits you like a ton of bricks when you're in the middle of it. The day before we played, we trained on the pitch and some local lads ran up to the fence as we arrived. They put their hands up pretending to shoot us, like with their fingers, and that hit home.
"Jack insisted on the same routine though. I don't think security were particularly enamoured with us but we insisted on going for a walk on the golf course. There was the threat of a bomb in the hotel so there were tense times. We had armoured personnel, people carrying weapons on the buses dressed up as players. It was difficult and there was the little niggle in the back of your head, 'is someone going to do something stupid?'"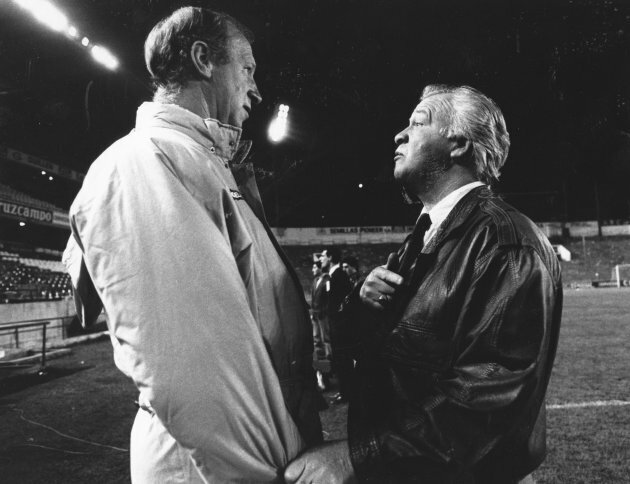 Managers Jack Charlton of Ireland and Billy Bingham of Northern Ireland beforehand. Pic: INPHO/James Meehan
Charlton as ever had his own choice of words.
"'Let's get fucking in, fucking out, get the result and get fucking home.'
"No team-talk needed really. A quick resumé on Northern Ireland, quick thing on set-piece, but impose yourselves on them. That was it."
Until they got out there. Then came the catcalls and a whole lot worse. Much of it was saved for the unusually placed Belfast native Alan Kernaghan like 'you fucking English bastard, I hope your mother dies of cancer'. A mere 9,900 Northern Ireland supporters — dotted by 100 undeterred Republic fans — created a spiked wall of noise. And one that seemed to close in on those on the sidelines.
"The safest place was on the pitch," says McLoughlin. "The bench was literally a bench. I could hear it and feel it right behind me. You didn't dare look around and make eye contact. The venom in their eyes shocked me. I remember thinking 'this isn't natural'. You just get on with it and pray at some stage you get onto the pitch. That was the safest place to be, you could drown out all the noise."
Undoubtedly subdued by both the sound and Northern Ireland's driven display, Ireland struggled to do as ordered and impose themselves. On the sideline, however, Charlton was stuck on the specifics. Houghton most of all. Any time the star of Stuttgart squandered another ball or chance, Charlton seemed to scream to no-one in particular, 'Look at him!' Look at fucking Raymond. Off, get him off. Get him fucking off!'
McLoughlin was to get onto the pitch. Just as he came on though so many jeers turned to spiteful cheers as Jimmy Quinn leapt to score a flying volley. America looked a lot further away across the Atlantic.
Again though, it's odd what goes professional's minds in such extreme surroundings.
'I hadn't scored for Ireland at this stage and I was getting mighty pissed with this. I'd hit the bar once or twice and came close to scoring but badly wanted to."
So did Ireland, but nothing was happening. "Jack said, 'get on, influence the game, get forward, see if you can mix it up and keep getting in the box and create something.'"
Eventually he did. With 14 minutes to go, Eddie McGoldrick was hauled down on the right. Irwin chipped the free-kick in only for Gerry Taggart to clear… but not far enough.
"All I remember is the free-kick coming into the box. Big Quinny did me a right favour. He blocked Iain Dowie. And I was a good finisher — 106 goals in my career saw I was — and I practised and practised. I knew what I did to get the ball down quickly from chest to volley was done perfectly. Then it was a matter of relaxing and hitting it as best I could. I had to hit it with my left because I was being closed down on my right. To be fair, that switch takes confidence in itself. And as soon as it left my foot I knew Tommy Wright had absolutely no chance. It was always going away from him. And it was gone in a flash."
Westward ho once more. Not that such a thought even entered McLoughlin's mind at that moment.
"The reaction from me wasn't really, 'Oh I'm going to get us to the World Cup'. It was 'thank fuck I've scored at last.' And that was it. That was the emotion. Because it had been playing on my mind. I was a goalscorer, had one in every five games in my career . And I'd gone over three years without scoring was getting mighty pissed off. The implications of that goal only sank in as the game dragged on."
Youtube: Harry316
Dragged on is probably the wrong phrase because McLoughlin admits it was a blur.
"As I said, there are only a few things about it all I remember. And the next was the final whistle, people jumping on you, but then that agonising wait to see if we'd got the right result."
At the same time Ireland were prematurely punching the air, Denmark were laying siege to the Spanish goal as they looked for the draw that would have put both sides in Seville through… but, unaware of events in the North, neither could take the chance. After 10 minutes, early Danish pressure saw Andoni Zubizaretta inexplicably roll the ball to Barcelona team-mate Michael Laudrup just yards in front of him. Having forced himself into a foul, Zubizaretta was off and 23-year-old Santiago Canizares was on for his international debut.
For Sofia '87 read 'Seville '93 as Ireland's hopes again rested on an international novice. Canizares hadn't even time to warm up but didn't have to wait long to feel the heat. He produced save after unlikely save. And on the hour, something even more improbably happened. Peter Schmeichel flapped at a corner to allow Fernando Hierro an open goal. It would be enough for Ireland… so long as Canizares stayed strong.
He did but was still fortunate a number of Danish players didn't — Claus Christiansen missed from six yards and Kim Vilfort from three.
YouTube: llaauuddrruupp
"People were saying we were through," says McLoughlin. "Then someone else said Denmark had equalised but, when it happened, it was amazing."
Afterwards, McLoughlin told Ger Canning, "That was for my wife and little girl Abby."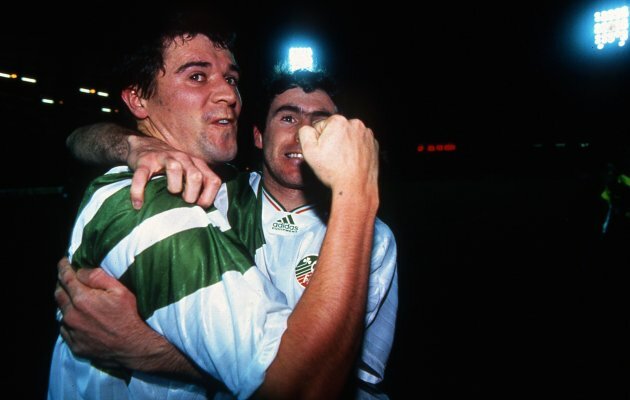 Ireland's Roy Keane celebrates with Alan McLoughlin after the game. Pic: INPHO
Some of the Northern players would be similarly grounded.
"A few shook your hand, said 'well done, hope you have a great tournament.' Some just didn't want to know which is understandable. The first thing Jack said was, 'Right, let's get the fuck out of here, let's get back to Dublin and celebrate.'
"We landed in Dublin and there were thousands at the airport. It was one o'clock in the morning and we went straight out on the piss. I hadn't slept but I still had to get back to Portsmouth for training the next morning. I ended up getting a taxi to the airport and then straight to the training ground. Jim Smith took one look at me and said if I didn't perform on Saturday I wouldn't be going to Ireland again so I had to get to bed fairly sharpish. The wife wasn't happy either but I needed to put in the performance on the Saturday because they paid the wages. I think I did okay!"
Initially it looked like the goal was going to transform McLoughlin's life and career. Charlton spoke afterwards of how he had 'justified his existence'. Every media outlet in the country wanted him. So did the American embassy. McLoughlin and his wife were invited to Ballsbridge for the World Cup draw. But, having driven Ireland to America, McLoughlin frustratingly returned to a role as passenger once there.
"It was a slight disappointment. Obviously Italia '90 was a shock so anything was a bonus."
With the yearning to play, the post-career pressures and the grafting — as he puts it — does McLoughlin have any regrets himself?
"Well watching that goal in Windsor Park always helps clear my head. Funnily enough, I don't even have it on tape. I watched it recently on YouTube. And I'm very lucky to be in a select group of players — Ray twice, Dave O'Leary, Packie, Jason McAteer for the goal against Holland — that will always be remembered for something iconic. I never reached the dizzy heights of, say, John Sheridan. But I'm always remembered for scoring that goal. And it was a great goal. I couldn't have hit it any better. You're remembered for iconic moments and I'm thankful I've managed to pull one out of the bag.
"It was worth the ride."
This is an extract from Miguel Delaney's book, From Stuttgart to Saipan, which you can buy here.