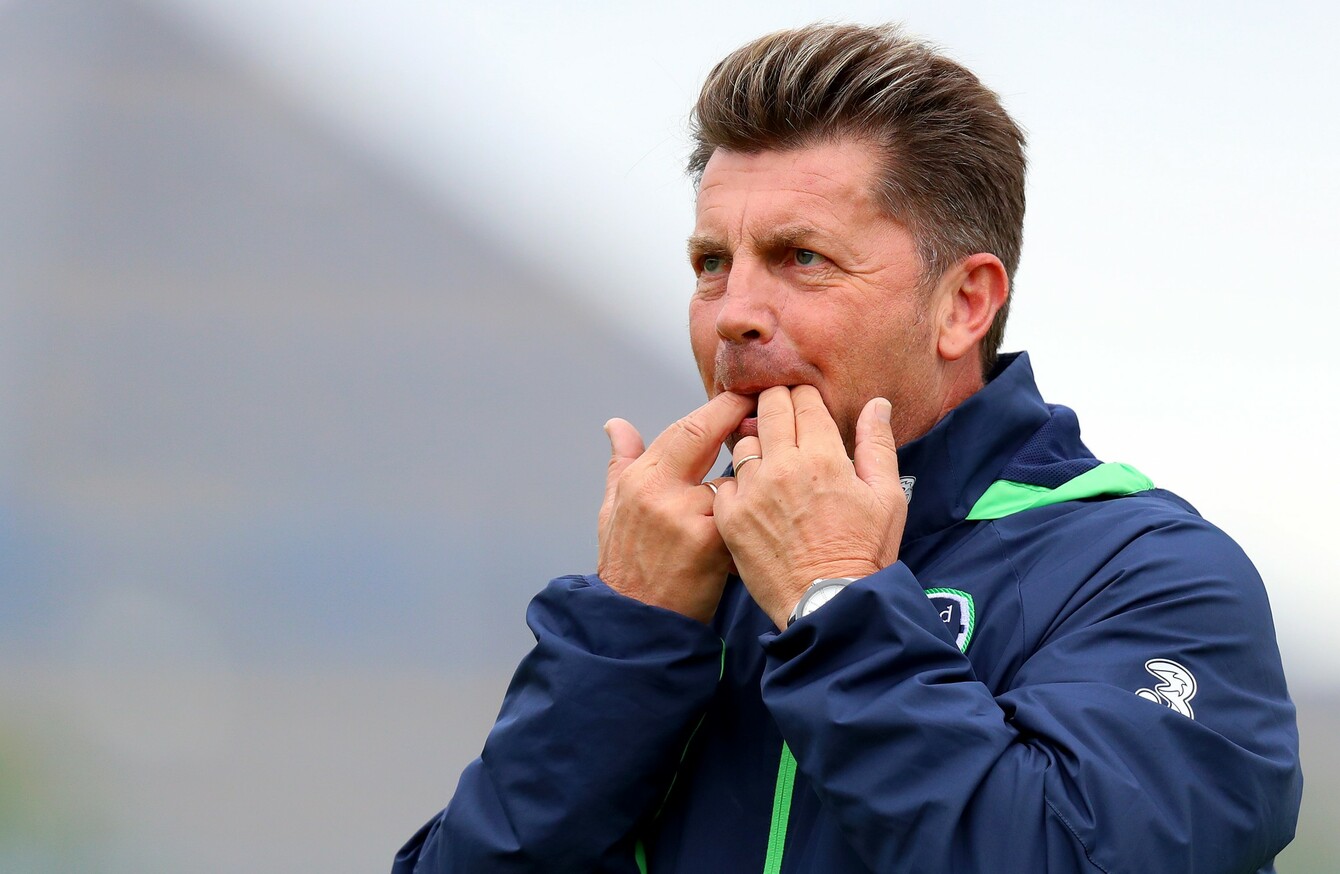 Image: Oisin Keniry/INPHO
Image: Oisin Keniry/INPHO
WOMEN'S NATIONAL TEAM manager Colin Bell will use Ireland's upcoming friendlies against Iceland and Scotland to prepare for what he anticipates to be a tricky qualifying campaign for 2019's World Cup in France.
Ireland have been drawn against Northern Ireland, the Netherlands, Norway and Slovakia in Group Three, and will begin their qualifying campaign in Belfast in September.
Manager Bell predicts a tough game against Iceland later today in Tallaght Stadium, a side which will contest this summer's European Championships, noting that scheduling games against top level opposition will be crucial to preparations for September's opening fixture against Northern Ireland.
"It's very important", he said speaking yesterday. "We don't really have that much time until we play against Northern Ireland. It's now June and that game is in September, it sounds quite long but in terms of FIFA windows and the possibility to get together we just have these two camps now.
"These games are very important to expose possible weaknesses in our own team, to prove to the girls that we are capable and that if we do the right things we can beat everybody and compete against everybody."
Bell has overseen five games since taking over from Sue Ronan in February, winning three. Sunderland's Stephanie Roche will be unavailable for today's friendly, but the Ireland manager maintained it was important to keep the 27-year-old striker in the camp.
"Unfortunately she came to the squad injured after her last match with Sunderland, but I wanted to keep her in-camp, first of all so we could take care of her and give her a check up and second because she is an important player. It was important for me to keep her in the squad.
"We have to adjust our team a little bit to accommodate. I'm still thinking it through, we were testing out one or two things today and hopefully we can find the right answer.
"We are still in this phase of keeping it tight and putting more emphasis on the defensive work than the attacking, just to have stability. We need it now against two top teams in Iceland and Scotland – they will expose any problems that we may have or still do have.
"But we want that stability and then take it to the next phase where we can create more chances when we do have the ball. We need more players that are able to score goals and want to score goals and to be able to get into positions to score. There's a lot of work to be done still."
Bell called a number of new faces into his squad for Ireland's friendlies. Peamount United's Heather Payne starred in the recent U17 European Championships, with the forward receiving her first senior call-up alongside UCD Waves' Dearbhaile Beirne.
Shelbourne duo Alex Kavanagh and Roma McLaughlin have also been called up from the WNT U19s, while Cork City goalkeeper Amanda Budden also enters the squad as cover for Marie Hourihan and Emma Byrne.
Bell says the spate of new call-ups is part of his plan to raise competition levels within the squad.
"I did bring in some new fresh faces to increase competition and to prove to everybody that we do have some really talented players coming through in both the U17s and the U19s and even lower", he said.
"There is a lot of talent coming through at the moment and I want to be able to pave the way for them, but we also need the experience which Megan (Campbell) and Niamh (Fahey) can bring.
"I want to show that if players are performing well and consistently for their clubs, then they have a chance to be called up. For everybody who takes things seriously and wants to be the best player they can actually be, my door is wide open."
He expects a tough game against Iceland, who are preparing for next month's Uefa European Championships which begin on 17 July versus France. They are currently ranked 14 places above Ireland, 18th in the FIFA World Rankings.
"They are very physical and they have been together for four or five years. The coach has been there for that length of time. They are a very small nation that are getting the maximum out of their resources – both in men's and women's football.
"They will be physical and hard-working. A typical viking-mentality."
Bell is four months into his tenure as Ireland manager and admits he is enjoying the role significantly.
"I've enjoyed it every single day so far. It has been really, really exciting. I've been travelling around a lot, seeing a lot, getting to know lots of people and learning a lot.
"This is the place I want to be, I love the job. I want to be as successful as I can be with the girls. That is my aim, to serve them. I want to do my best to make these girls as successful as they can be."
Ireland play Iceland in Tallaght Stadium tonight, with kick-off at 7.30pm. They travel to Scotland for their second friendly on 7 July before facing Northern Ireland in the first game of their World Cup qualifying campaign on 19 September.
The42 is on Instagram! Tap the button below on your phone to follow us!