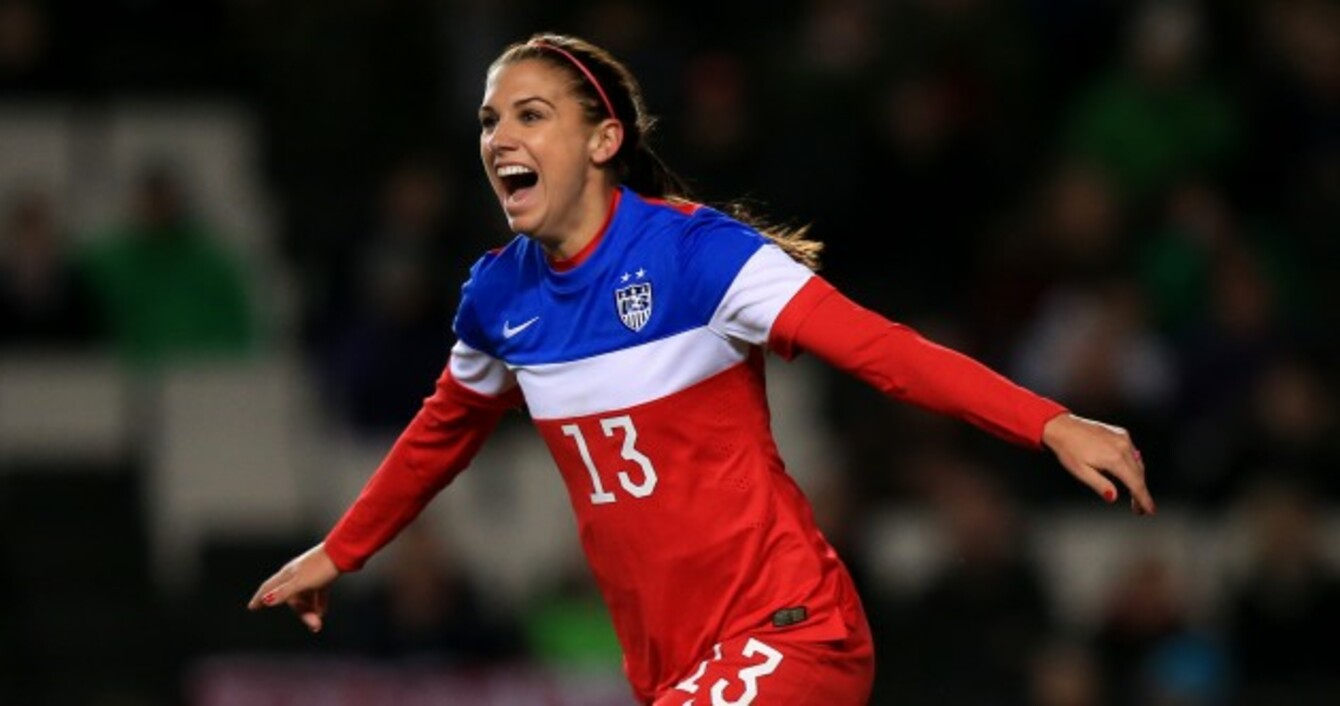 Image: John Walton/EMPICS Sport
Image: John Walton/EMPICS Sport
Eoin O'Callaghan reports from Canada. 
IT'S A ROMANTIC notion – hopping a train in a strange place, staying on it for a while and seeing where it takes you. As I hurtle north to cover the Women's World Cup, it seems a neat metaphor for Canada as it readies itself to host this summer's tournament.
In a sports-mad country, football has always struggled to make much of an impact here. Unlike the United States, where the 1994 World Cup left a substantial and tangible imprint in the form of Major League Soccer, Canada has never had much of a jumping-off point. The timing has never been right. In 1986, when they did reach a World Cup, there was no domestic game in North America to build upon. Instead there were the embers of the thrilling but doomed NASL – that glorious plaything for the high-profile megastars, so drunk on excess and so befitting of its 1970s heyday.
Canada had its NASL moments – between 1976 and 1979, the country tasted league success on both coasts as Toronto Metros-Croatia and Vancouver Whitecaps were crowned champions. The country welcomed superstars like Eusebio but the interest rapidly faded. Last year, I spoke to Henk ten Cate – former assistant coach to Frank Rijkaard at Barcelona – about his time in Canada in the early 1980s. He spent a season with the Edmonton Drillers – the city renowned for its hockey team, the Oilers, and for having launched the career of Wayne Gretzky – the greatest player of all time.
"It was different – absolutely different", remembered ten Cate.
"Sometimes we played in baseball stadiums with the pitching mound still there in the middle of the park. I happened to play on Astro Turf for the first time and I remember one game in Boston – against New England Tea Men – it was 40 degrees Celsius so you burned your feet on the surface – it was horrible. But I had a fantastic time over there. We travelled throughout the continent and when you played an away game, you'd spend two weeks on the road and play three or four. It was adventurous but hardly any people came to watch the games and that was a disappointment. I think it was the biggest reason that soccer didn't make it then."
With the steady success of MLS – a mild-mannered, sober and much blander version of NASL – things are much better now but there are still only three Canadian teams competing in the league: Toronto FC, Vancouver Whitecaps and Montreal Impact. All three cities have a rich history with the game but the Women's World Cup presents a great opportunity to reach out to other communities across the vast, sprawling landmass and bring them on board, building relationships and an interest that will last longer than a fleeting few weeks.
Toronto is not a host city, deciding to bring the 2015 Pan-Am Games to town in July instead. With big-hitters like Vancouver and Montreal certain to offer plenty for football fans who flock there for games, it will be intriguing to see how more low-key cities embrace the World Cup. For Winnipeg and Moncton in particular, the competition will either spark something special or struggle to elicit much of an interest. And it's those areas – let's call them the swing states – that could prove decisive in the long-term success and development of football in the country.
But what a tournament to get behind, though. With the men's game relentlessly linked to cynicism, commercialism, corruption as well as a growing disconnection between organisations and their supporters, the women's game is a complete contrast. The games are open, expansive and entertaining.
Where the men are growing increasingly weary of the international game, seeing it as an unwanted distraction that gets in the way of possible club success, this is the pinnacle of the women's game. The superstars, the high-profile athletes like Alex Morgan and Abby Wambach of the USA, Christine Sinclair from Canada, the magnificent Brazilian Marta or Nadine Angerer of Germany – they're all known because of their performances for their countries. Their club teams, the people that pay their wages, are largely irrelevant. They're celebrated as national heroes. It's a throwback, really. And it's romantic. A return to the roots of the game, when the only opportunity to watch the world's best came from tuning into a World Cup. You had heard so much about the players, finally it was time to sit down and take it all in.
Of course, these players have repeatedly had to struggle to be heard, a reflection of wider society. They have dealt with the collapse of their leagues on multiple occasions. They have dealt with playing in half-empty college football stadiums, the field graffitied with the logos of the regular tenants. They have dealt with the transition to a watered-down version of a domestic championship. They have dealt with dwindling attendances and a lack of interest, in spite of how enjoyable and successful World Cup tournaments are.
But, despite the setbacks, the women's game continues to grow. This year, the World Cup will have 24 teams with eight making their debut. Over 900,000 tickets have been sold already – the record is 1.2 million. That's not bad at all.
Canada has a complex relationship with the game. Let's hope the next four weeks lead to something special, something long-term.
The 2015 Women's World Cup gets underway with the hosts Canada taking on China later today. Kick-off is 11pm GMT and there's live coverage on BBC 3, beginning at 10.30pm.