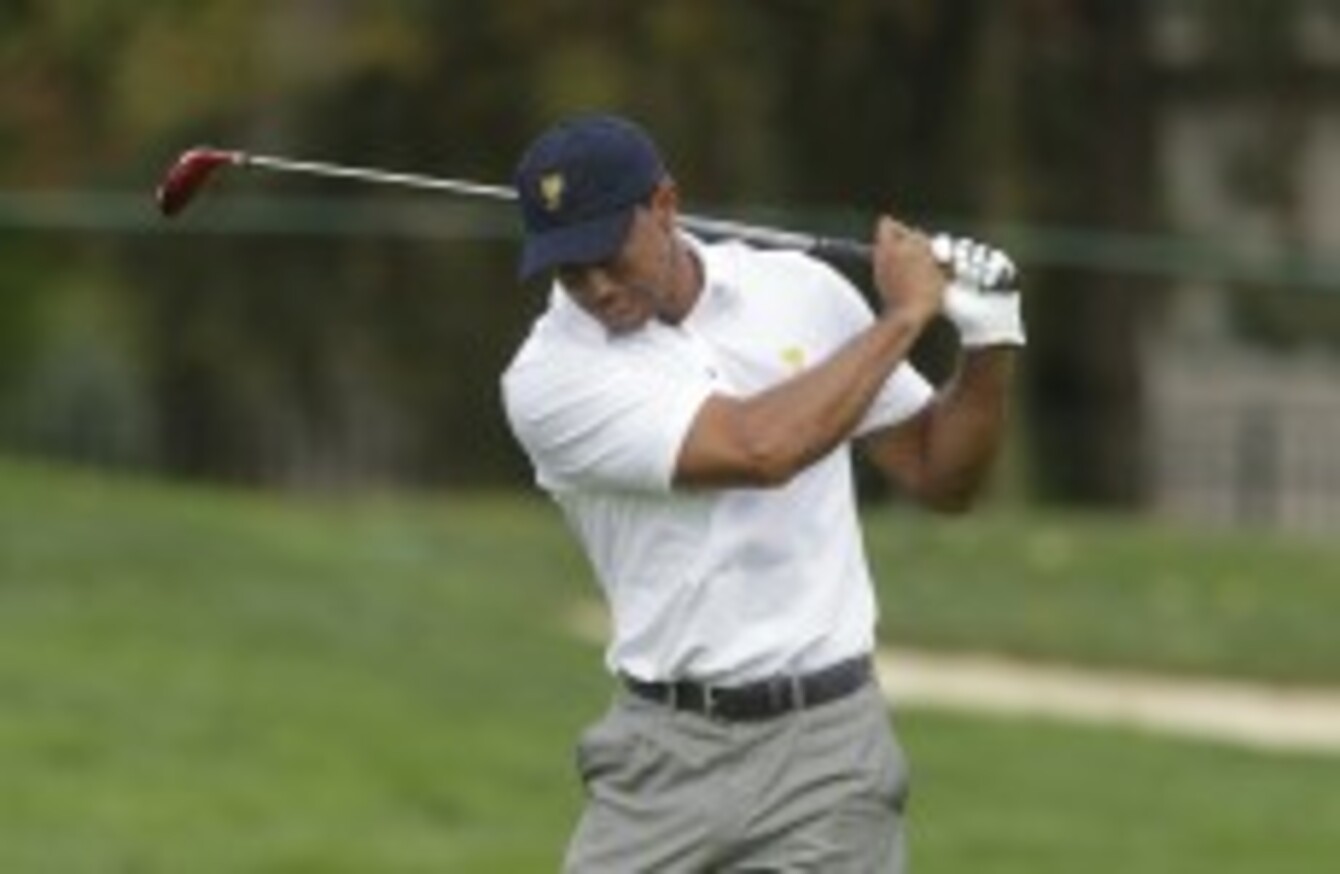 Tiger Woods has said that it's up to The Golf Channel to take action.
Image: Jay LaPrete/AP/Press Association Images
Tiger Woods has said that it's up to The Golf Channel to take action.
Image: Jay LaPrete/AP/Press Association Images
TIGER WOODS SAID it was up to the Golf Channel to deal with a TV analyst who accused him of bending the rules, as the threat of legal action receded Monday.
The 14-time major-winner broke his silence on the stormy issue before teeing off in the 'Match at Mission Hills', a two-man exhibition showdown against Rory McIlroy in China.
Woods's manager had hinted at libel action against the Golf Channel's Brandel Chamblee after he accused the world number one of being "a little cavalier with the rules".
"All I am going to say is that I know I am going forward but then I don't know what the Golf Channel is going to do or not, so then that is up to them," Woods said in Haikou.
"The whole issue has been very disappointing as he (Chamblee) didn't really apologise and he sort of reignited the whole situation.
"But so as far as I am concerned I'm going to put it behind me and move forward, so the ball really is in the court of the Golf Channel and what they are prepared to do."
Chamblee initially took to Twitter to apologise to Woods, but he then inflamed the issue again by saying he stood by the accusation, which he made in an article for golf.com.
In the article, Chamblee gave Woods an 'F' grade for this season and also recounted an anecdote about when he was caught cheating in a maths test at school.
Woods has been hit with a number of penalties this year, most notably at the US Masters when he flirted with disqualification over an improper drop.
Woods's manager Mark Steinberg, who raised the prospect of court action in a statement attacking Chamblee's article, also said any further action would be taken by the Golf Channel.
"I'm all done talking about it and it's now in the hands of the Golf Channel," said Steinberg.
"That's Tiger's view and that's mine, and all we want to do is move forward and whether the Golf Channel moves forward as well, then we will have to wait and see.
"We've now said our piece, and those who know me know that I don't put out statements very often, and I said what I said so let's just see if both parties now move forward."
Woods arrived in Haikou near 9:00 pm (1300 GMT) on Sunday night after a 22-hour flight from Florida via Anchorage, Alaska and then a 12-hour flight to Hainan Island.
He was playing for the first time since being a member of the victorious USA Presidents Cup team three weeks ago.