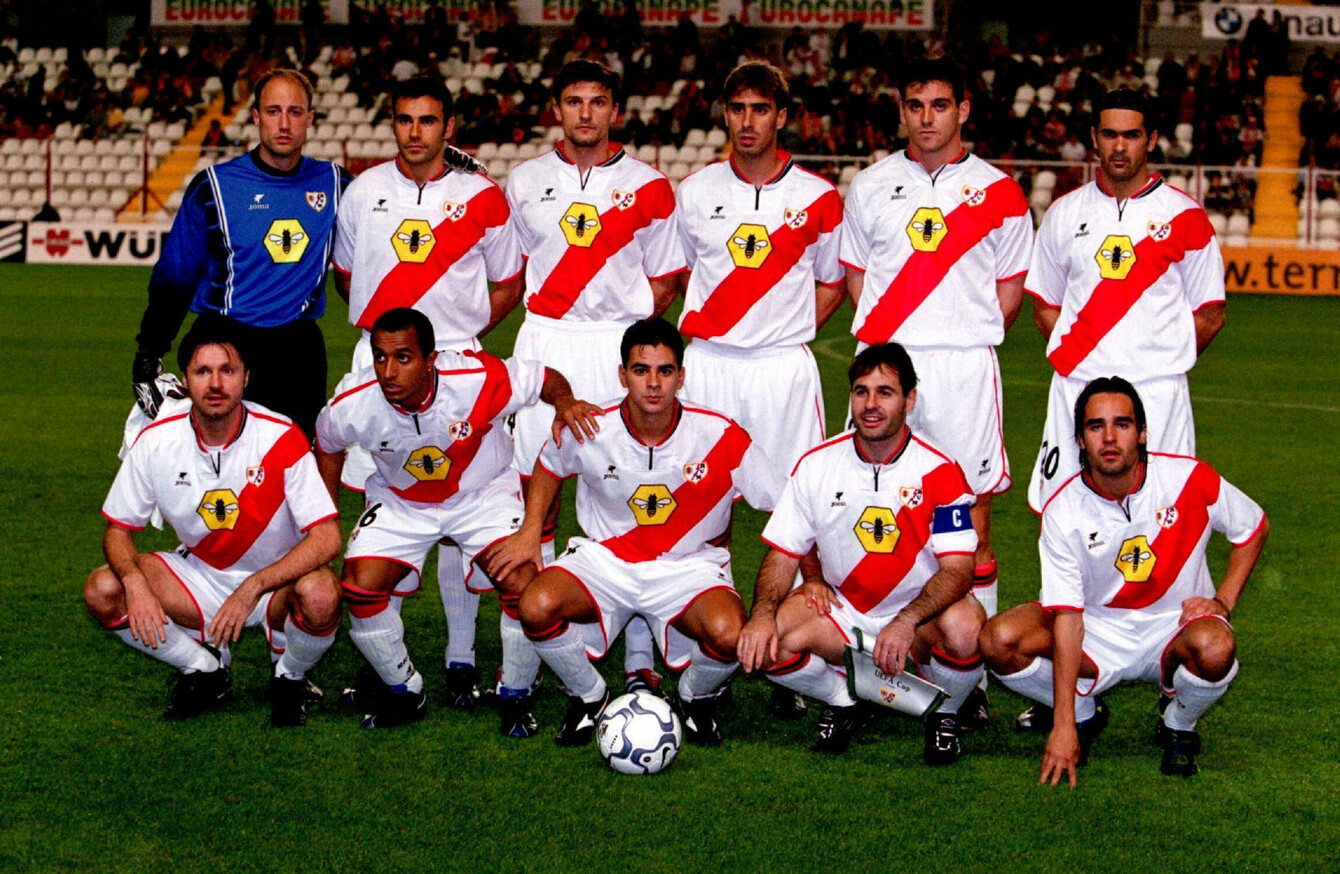 The famous red stripe of Rayo Vallecano.
Image: EMPICS Sport
The famous red stripe of Rayo Vallecano.
Image: EMPICS Sport
HIPSTER IS A dirty word.
It wasn't always that way, back when your grandparents were young the likes of James Dean and Bob Dylan were recognised as hipsters but the word, ironically enough, went out of fashion.
That is until the mid-00s when it became a catch-all phrase for anyone who was counter-culture before morphing into a word that defined, well, just about anyone you couldn't categorise.
For football fans, hipster has referred to those claiming Second Captains is too mainstream or whose Mastermind topic would be the managers of FC St Pauli.
It also applies to those in this part of the world who follow the fortunes of Spanish outfit Rayo Vallecano, much to the amusement of locals in Vallecas, the municipality of Madrid in which the club are based.
"It's kind of weird," says Robbie Dunne, an Irish journalist working for Diario AS in Madrid and author of new book, 'Working-Class Heroes: The Story of Rayo Vallecano'.
"We're so close to Spain — and this is one of the things that drew me to writing about Rayo — but we don't really know anything about it because the language is obviously different and, also, they don't really know anything about us because they've everything they want here [in football terms].
"Back in Ireland, people tend to lean towards the Premier League etc, but, even still, an awful lot of people would know about Rayo.
"But when I went to Vallecas or went on away trips with the fans, they were grilling me as to why this foreigner would want to write a book about Rayo.
"And, even in Madrid, they laughed at me for writing about Rayo because they're 'nobodies' in Spain. I tried to explain that they're a fascinating football club but they just didn't get it."
For Dunne, choosing to write about Rayo was as much a way to be taken seriously as a young Irish journalist trying to find employment in Spain as it was a love for the club, though that has come with the project.
"I loved sports, but never really thought there might be a possibility of making a career from it. I was working in computing but didn't really like it.
"I went back to college and studied journalism and I had little bits and pieces of Spanish but I wanted to learn more. My girlfriend is from Madrid and we'd always talked about living in Spain so I finally decided to go.
"I knew I needed to find some kind of project to keep me going as I wouldn't get a job straight away but, if I had a book, it would be a great calling card or something I could put on my CV.
"I hadn't a clue how to write a book but talked to a few people about how to go about it and I actually ended up getting a job in journalism with Diario AS so I was writing the book and working at the same time.
"Having Diario AS on my CV meant that people were more likely to talk to me anyway, so it did help.
The reason I picked Rayo is that I wanted a team that were both interesting but also accessible. I could write about Real Madrid but I'm not going to get any interviews or add anything to the conversation.
"Rayo was that lovely little intersection between being really, really interesting and accessible."
Their fervid fan base is one reason Los Franjirrojos are not your ordinary football club.
Earlier this year the fans forced the team to abandon the signing of Ukrainian Roman Zozulya after images emerged of him wearing a t-shirt that multiple Spanish outlets reported as being the symbol of neo-Nazi group, Pravyi Sektor.
Zozulya's top actually had the Ukrainian crest on it but he did not play for the club and, by pure coincidence, will actually play in the Campo de Fútbol de Vallecas for the first time this weekend when he lines up for Albacete.
The fans, however, cannot be faulted for their behaviour in 2015 when they joined forces with Rayo players to re-home 85-year-old Carmen Martinez Ayudo after she was evicted from her house by police.
Ayudo's son had used her flat as security on a loan, without telling her, and the lender had come looking for the property.
Source: Rayo Vallecano de Madrid/YouTube
"We're not going to stand around and do nothing, we're going to help this woman," said then-coach Paco Jemez.
"Not just me but the technical team and the players. We'll give her a hand to find a place where she can live in dignity and not feel abandoned."
During the next home game the supporters unveiled a giant banner with the words:
The evictions of a sick state, the solidarity of a working-class neighbourhood."
This type of behaviour doesn't surprise Dunne.
"For whatever reason, they're very class conscious," he says.
"They're very aware of their social and political class and I wanted to dive into how a place and group of fans become so self-conscious like that. So I spoke to historians and sociologists and — do you know when people say 'the game is gone?' — well, the sociologist told me we never owned it in the first place.
"But Rayo's fans are trying to fight against the current of modern football. The ultras, the Bukaneros as they're called, are very left-wing. They're anti-fascist, anti-homophobia, pro-women's rights and they lend their hand to social causes all the time.
"They very much branch out from just football. I tried to find which came first, the social consciousness or the football club and it really is difficult to figure out because the football club is defined by Vallecas and Vallecas and its people are defined by the football club and you can really feel that when you're there."
On the field, Rayo are still very much influenced by Jemez, even though he left the club following their relegation from La Liga in 2016.
That's because current boss, Michel, played under him with Rayo. That said, Dunne believes the new boss is slightly more practical than the old one.
"I spoke to colleagues here in AS from Argentina and they would tell me that Vallecas is the closest thing you'd get to the atmosphere in Argentinian football and they've also got players that would play an Argentinian style.
"The likes of Roberto Trashorras, for example, he'd be considered a very similar style player to Juan Sebastian Veron or Juan Roman Riquelme.
"Rayo of course, the reason they have the red stripe on their shirt is because they fell in love with that River Plate side from the 1930s and 1940s, and they've really embraced an attacking, all-out football style.
"Then Jemes takes over and he's this larger than life character who is not afraid to take on Zinedine Zidane because he hasn't finished his coaching badges, even going as far as saying he wouldn't consider him a colleague until he did.
"They were beaten 10-2 by Real Madrid, and had two players sent off, but they didn't abandon their attacking style of play or their ideology.
Of course, that's a little bit stupid but there's something beautiful about it too.
"I interviewed Sid Lowe for the book and he said we can be excused for falling for teams like Rayo because there is something romantic about that kind of philosophy.
"Michel, of course, was a disciple of Jemes as he was director of the youth team when Jemes was there.
"They do play a lovely brand of football but it is a little bit more pragmatic and the fact he's from Vallecas means he understands the fans and understands how the team needs to play."
Source: COPA90/YouTube
Ultimately, what is it that Dunne thinks makes Rayo and their fans so special compared to other Spanish teams?
"I'd actually argue they're different from any other team in Europe," he says.
"One is that they're the last of 'the Barrio teams', the village teams. As part of the book I tried to understand what that really meant.
It basically means they're the last of the teams in Spain to represent a neighbourhood. For example, you have Valencia, and there's Valencia and Levante but they both represent the city.
"It's the same in Madrid with Real and Atletico, but they just represent the city while Rayo represent the area of Vallecas in Madrid. The people here identify with that.
"Of course, there are other clubs that are left-leaning like FC St Pauli, etc, but they tend to get good press whereas the Bukaneros often get bad press here in Spain and I think that is something that creates an us against them mentality for the team and its fans that is unique among that type of club."
'Working-Class Heroes: The Story of Rayo Vallecano' is available now.
Subscribe to The42 podcasts here: