MIKEY STAFFORD reports from Rio de Janeiro
AS THEY CELEBRATED the penalty shootout victory with their fans in the São Paulo rain there was no mistaking the Argentinian players for anything but tired and emotional.
A gruelling 120 minutes against the Netherlands, the stress of spot kicks and the eventual relief as they qualified for their first final in 24 years had taken its toll.
Meanwhile, at their custom-built complex in Bahia, the German players will have been watching the drama unfold with their feet up, relaxing after their semi-final stroll past Brazil more than 24 hours earlier.
The hosts were undone by their emotions in Belo Horizonte on Tuesday night, allowing the loss of Neymar to dominate the build-up and when the German goals started to flow a seemingly drained Brazil had no response.
Were he wearing yellow in the Mineirao, you could not imagine Javier Mascherano allowing things to get so bad. The Barcelona midfielder is too savage a competitor, as he showed when he recovered from a sickening first half blow to the head to brilliantly coordinate the defence and, in particular, shadow the Netherlands' danger man Arjen Robben.
When Maxi Rodriguez powered the fourth and final penalty beyond the reach of Jasper Cillessen his team-mates sprinted from the centre circle to hail the winger and goalkeeper Sergio Romero.
Everyone except Mascherano, who dropped to his knees and wept tears of joy at reaching a World Cup final at his third attempt.
"A lot of us are waiting for this. This is my third World Cup maybe, I don't know, if it is the last one. You never know. Now I am very quiet, because we did the job. Now we will see what happens because now we are going to play against a big team, but we did the job," said Mascherano, who believes keeping emotions in check will not be a problem come Sunday at the Maracana.
We have the tranquility of having given everything, of having performed like we had to. That forms part of this group. It's been so many years but, well… now, there in the eyes of the world is our country, our flag, returning to a World Cup final. I hope we can win on Sunday.
"I think the only thing we have to avoid is thinking about the scale of the situation. I believe no one can take this away from us, returning Argentina to the final of a World Cup," added the former Liverpool and West Ham midfielder.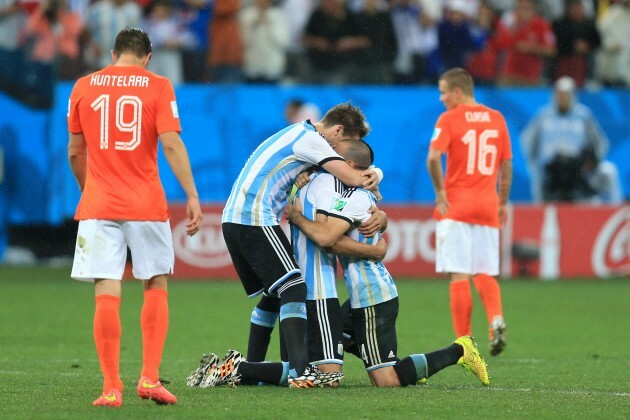 PA Wire / Press Association Images Mascherano is hugged by team-mates after the penalty shootout. PA Wire / Press Association Images / Press Association Images
To contain the rampant Germans, Alejandro Sabella's team will have to play with even greater diligence, organisation and discipline than they did against the Netherlands. In 120 minutes of football they committed only 10 fouls and picked up a single booking, while their compact shape limited the Dutch to three shots on target, the first of which came from Robben in the 99th minute.
The back four received wonderful protection from the midfield but Manchester City full-back Pablo Zabaleta highlighted the conductor Mascherano.
"He is our leader, playing as a midfielder, 100% working so hard for the team. You always need a player like this, he is not just a player he is like a manager on the pitch.
He is always talking about the players' positions tactically. I am very proud for him because he has been to two World Cups and was out at the quarter-final, now he has a chance to win."
Like Mascherano, Zabaleta took a blow to the head against the Dutch — even posting a picture on Twitter afterwards of his bloodied lip — and he acknowledged the dressing room was full of battered, bruised and exhausted players who must recover before Sunday to play their seventh match in four weeks.
"It's important now for us to take a rest as we have played today 120 minutes. Germany did not run so much in their game yesterday, just for 30 minutes," said Zabaleta with a smile, adding there was a "lesson for us from Brazilian game".
"It was strange. I don't think anyone expected this result," he said. "Even if you concede goals before 15-20 minutes you need to keep calm and keep playing the way you have been playing for these six games because a football game is just 90 minutes."
In South Africa, Argentina were the victims of a bad defeat themselves at the hands of Germany at the quarter-final stage, but goalkeeper and shootout hero Romero believes this team are far more unified than Diego Maradona's side were four years ago.
"We hope to do things better than we did that day. We've grown a lot. From the first game [of this World Cup], there's been criticism and the team has changed, but the team puts their lives on to that pitch, they kill for each other.
"That's important. We're a group. You can see it on the pitch. Everyone runs for everyone on the pitch," said the Monaco goalkeeper.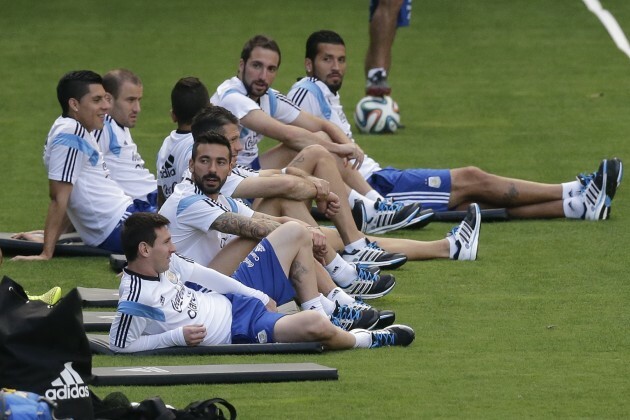 Victor R. Caivano Victor R. Caivano
With eight goals in six World Cup matches — and just two in 330 minutes of knockout football — Argentina cannot claim, even with Lionel Messi, to be as potent an attacking threat as their final opponents but Mascherano believes Argentina have already displayed the defensive ability to stem the flow of goals.
"[Germany] are formidable, they have technique, potential, style. They beat Brazil so well but we'll have to be very concentrated, not give them space. We know that, with space, they're so dangerous. We played with our heads today, tactically perfect," he said.
"We want to enjoy the moment. It's been so many years and, certainly, it will be very difficult to replicate this. That's the reality. For that, we can't get carried away. We have to put in the best possible match against Germany," added Mascherano before sounding a note of optimism.
"I have had 11 years where we have seen a lot of things but haven't seen the light, but tonight we started to see it."