Hello! And welcome to our live coverage of this afternoon's World Cup final.
It's here, it's here, it's finally arrived! Like Christmas morning, All-Ireland final day or even FAI Cup final day you just can't help but get stupidly excited by the arrival of a big occasion like this.
After one month and 64 games of highly competitive, VAR-controversy creating, goal-scoring, hair-raising action, we've reached the World Cup final. Does it get much bigger than this?
It's been an excellent World Cup in the grand scheme of things and only with the passage of time (eliminating any recency bias) can we rank it among all the others that preceded it. Was this the best World Cup of them all? It's an impossible question, really.
But today's final is a prime example of one of the defining aspects of what made Russia 2018 so brilliant — big upsets.
FIFATV / YouTube
No-one could have predicted Croatia making it all the way to Moscow when the competition got underway, and yet here they are one game away from the greatest sporting achievement in the nation's 26 year history. Luka Modric & Co face a formidable test, however, against an unbeaten France side.
Despite a gluttony of star names like Paul Pogba, Antoine Griezmann, Ousmane Dembélé and Kylian Mbappé this team just hasn't produced the kind of heart-stopping displays we might have wanted.
That said, they have been admirably effective in their passage to the final. Didier Deschamps has crafted a perfectly-balanced side which grinds teams down and gets the job done in a nonchalant and brutally cool-headed demeanour.
Not since Germany in 1954 has there been a 'shock' winner of the World Cup. Is that about to change today, or will Les Bleus be adding a second gold star to those beautiful blue shirts?
Kick-off is just under an hour away at 4pm!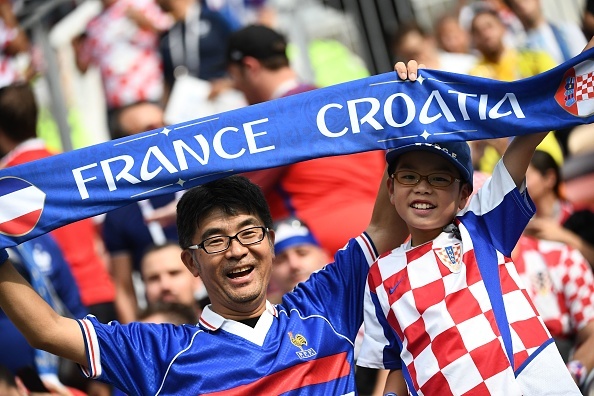 AFP / Getty Images AFP / Getty Images / Getty Images
It's the biggest game in world football, but who's going to come out on top this afternoon and be named World Cup champions for 2018? Let us know below!

The42 is on Instagram! Tap the button below on your phone to follow us!