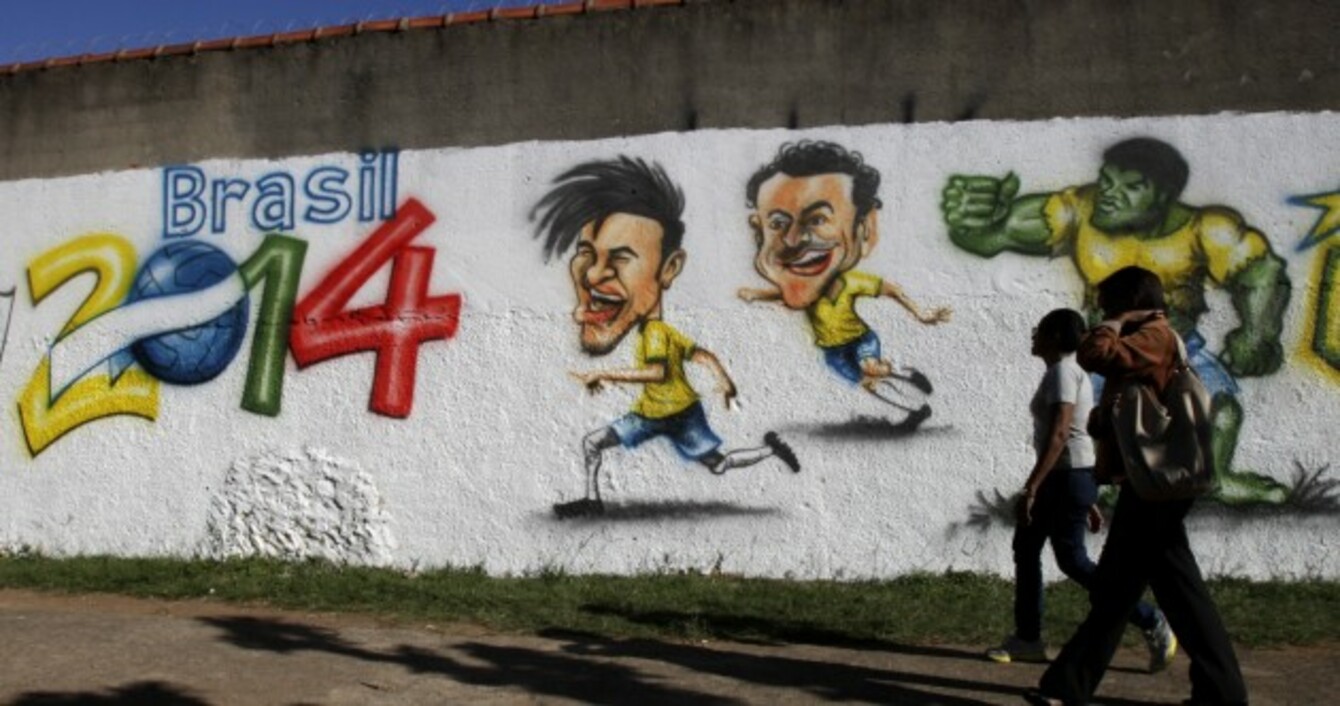 Image: Shuji Kajiyama
Image: Shuji Kajiyama
THIS AFTERNOON IN São Paulo Brazil coach Luiz Felipe Scolari and his talisman Neymar will face the press ahead of tomorrow's opening match against Croatia in the Itaquerao Stadium and the host nation is hoping that media glare will stay on the Selecao until the final on July 13.
Nothing but Brazil's sixth World Cup will be considered a success for Big Phil, who was brought back for a second stint as national manager in 2012, replacing Mano Menezes, for the express purpose of winning a World Cup on home soil.
"Felipao" is loved in his home country for winning Brazil's last World Cup in Japan and Korea in 2002 and his reputation is unlikely to be tarnished by what occurs in the next four weeks. The lion's share of the burden will rest on the slender shoulders of the man seated next to him this afternoon, and his well-recompensed, European-based team-mates.
Barcelona forward Neymar is the undoubted poster boy of a squad in which every outfield player, bar strikers Fred and Jo, plays in Europe.
Scolari's 2002 vintage relied on the goal-scoring prowess of global superstar Ronaldo, who netted eight goals in the tournament 12 years ago, and while Fred may not shift as many jerseys he has a happy knack of scoring crucial goals — his last came from the seat of his pants in last week's typically humdrum pre-tournament friendly win over Serbia.
More importantly, the unselfish Fred links the play and holds the ball up for his supporting trio of Hulk, Oscar and Neymar. Oscar's Chelsea team-mate Willian is breathing down his neck, but whatever attacking combination Scolari stumps for, Brazil look capable of scoring the goals that will see them out of a group containing Croatia, Mexico and Cameroon.
However, as Spain and Italy's most recent triumphs in South Africa and Germany respectively illustrate, negotiating the knockout stages requires a stingy defence. Between them the last two winners conceded one goal in eight knockout games — a Zinedine Zidane penalty for France in the 2006 final.
David Luiz is still considered something of a loose cannon at Stamford Bridge, but Scolari adores his effervescent centre-half, who is buttressed by the presence of captain Thiago Silva alongside him. La Liga superstars Dani Alves and Marcelo are fine full-backs whose attacking tendencies are accommodated by the presence of Luiz Gustavo and, most likely, Tottenham's Paulinho in withdrawn midfield roles.
Brazil won last year's Confederations Cup while still conceding three goals. They scored 14 in their three matches, displaying a propensity for attack that mirrored trends at the highest level of club football since 2010.
Spain won their first World Cup scoring just eight goals, four less than Italy managed four years earlier and 10 less than Scolari's Brazil vintage of 2002. The 2010 Champions League was won by Jose Mourinho's Internazionale, who scored 17 goals and conceded just eight in 13 games.
Since then Barcelona (2011) have scored 30 and conceded nine, Chelsea (2012) scored 25 and conceded 13, Bayern (2013) scored 31 and conceded 10 before Real Madrid scored a whopping 41 and conceded 10 in claiming their beloved Decima this season.
Bayern and Real's European titles were triumphs for solid defence and lightning quick counter attack, with the possession-based game of Barcelona and, this season, Pep Guardiola's Bayern, looking out of step.
A glance at the betting suggests the market sees the World Cup reflecting developments in the club game, with Brazil, Argentina and Germany the favourites to claim the trophy ahead of defending champions Spain, who will once again rely on the midfield mastery of an ageing Xavi, along with Andres Iniesta and David Silva, to deny opponents possession.
Health warning
Vicente del Bosque has the power and finishing prowess of Diego Costa to call upon now but Spain are effectively approaching this tournament in the same manner as their last three — and we know how they fared in those.
So, if football has indeed changed, who is best placed to profit from the rise of the counter-attack? If Brazil's attacking options make them a threat on the counter then Argentina should carry a health warning.
Doubts over the fitness of Boca Juniors link man Fernando Gago aside, Alejandro Sabella's side will be lethal on the break, provided a defence marshalled by Napoli's Federico Fernandez and Ezequiel Garay of Benfica holds firm.
Angel Di Maria is fleet of foot and happy to run all day, supporting the front three of Lionel Messi, Gonzalo Higuain and Sergio Aguero. Any of the three would be a good bet for the Golden Boot, except they will be sharing a field with the other two. Playing all three matches in the cooler south, near to home, they should comfortably top their group and avoid meeting the hosts before the final.
Irish fans know all about Germany and the damage their attack can inflict, although that 6-1 win in the Aviva Stadium was more constant attack than counter attack. A very accomplished defence and world class goalkeeper in Manuel Neuer are a solid base for Joachim Low's collective pressing game. The loss of Marco Reus is a blow but a bigger concern is a tough group, featuring Portugal, USA and Ghana, who they will play in the most difficult conditions Brazil has to offer in the north east.
Come second in the group and a quarter-final collision with Argentina in Brasilia looks likely.
Portugal looked excellent last night in New Jersey but the quality and commitment of the opposition has to be take into account. As they proved at Euro 2012, when Cristiano Ronaldo fires, Portugal are a threat and they are noteworthy of a mention among the other runners and riders.
Getting out of Group D will be the trick for England, Italy and Uruguay. After that a likely second round tie with either the Radamel Falcao-less Colombia or Greece offers the chance to progress to the last eight, where the knockout credentials of Uruguay and Italy cannot be lightly dismissed.
England's record in the latter stages of tournaments is poor but perhaps our close proximity and familiarity blinds us to their performance in qualification, where Roy Hodgson's team scored 31 goals while conceding just four, a goal difference bettered in Europe only by Holland, with 34 goals for and five against.
A nasty draw alongside Chile and the defending champions could still see Dutch boss Louis Van Gaal take up his new role at Old Trafford before the end of the month. France and Switzerland could be the European teams to surprise with how far they go but a tournament on South American soil is crying out for a "local" team to spring a surprise.
Uruguay are the defending Copa America champions and beaten World Cup semi-finalists last time out but the core group of players are ageing and Luis Suarez at anything less than 100% is an impediment they could not overcome.
The bridges of Amazon county
Chile's defence is questionable but they play a high pressing, all action, wing-based game that could overwhelm the Dutch and trouble the Spanish. Should they manage to top the group they could conceivably run to a quarter-final or even the semi.
A second-placed finish could potentially see Arturo Vidal, Alexis Sanchez and Eduardo Vargas take on Brazil in Belo Horizonte in the round of 16. A lot of water will have passed under the bridges of the Amazon before that happens but it is an enticing prospect.
Big Phil has done it before, he knows winning a World Cup is not easy and dangerous teams like Chile have to be overcome.
But he has won the World Cup before and there's a good chance he will do it again.