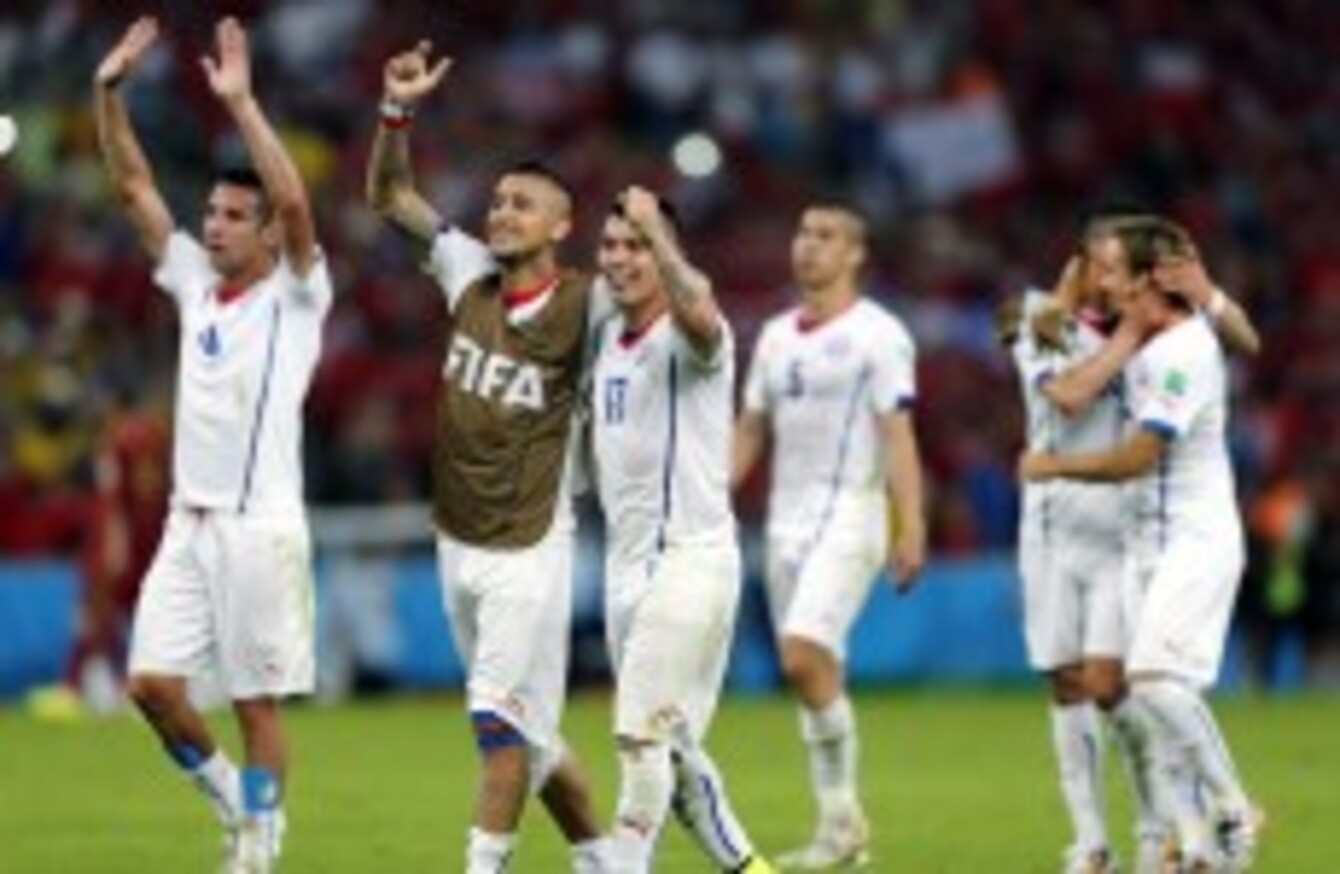 Chile's players celebrate the win over Spain.
Image: Frank Augstein
Chile's players celebrate the win over Spain.
Image: Frank Augstein
RUGBY SUPPORTERS ARE very often at pains to point out the stark differences between their own beloved sport and football.
The diving and simulation around contact can be hugely frustrating for those who enjoy the physical elements of rugby but with a brilliant World Cup in action in Brazil, the question of what rugby can learn from football is continually on our minds.
These are, of course, two massively different games and the lessons will for that reason be as much philosophy-based as tactical. That said, many rugby coaches and clubs are open to a cross-pollination of ideas from other sports, and are therefore likely to watch the World Cup with one eye on self-improvement.
Chile have been among the most interesting teams so far in Brazil, beating Australia and Spain in their two opening games by playing with an energy and zest that has been sorely lacking in some of the more high-profile nations' performances.
The genius of Marcelo Bielsa [a disciple of video analysis and statistical evidence] is still all over a team he left in 2011 after four years in charge. In his stead, Jorge Sampaoli has continued the good work and added important elements.
Perhaps Bielsa's greatest legacy is the pressing high up the pitch, the same stifling pressure that directly led to Eduardo Vargas' goal against Spain. Chile swarm the opposition defenders and midfielders, shortening the amount of time they have on the ball and forcing them to make quick decisions.
The idea is to prompt mistakes in an area of the pitch that allows Chile to immediately benefit and it's certainly something rugby can relate to. Many defensive lines in rugby are now about stifling line speed, showing that intention to force the opposition into errors in a position on the pitch that allows an instant counter-attack.
Professional players have made vast progress in terms of their athletic potential; should all rugby coaches be demanding the same constant pressing intensity that Chile have shown in recent years?
Sampaoli's side are full of attacking intent, even if they are more controlled now than under Bielsa. Every player buys into the philosophy and there is a sense of fun about being part of the Chilean side.
The players patently enjoy the ambitious, attacking approach; can the same be said of all rugby teams? There is pace, energy and a selflessness in Chile's style, with the likes of Alexis Sanchéz constantly looking for a better-placed teammate to pass to.
Movement off the ball creates so many of their attacking opportunities, again something that can infuse our thoughts on rugby. The Chileans work incredibly hard running off the ball to find space; are our players doing the same in rugby?
Speaking of wings, Chile's wing-backs are vital fulcrums for their team. Eugenio Mena and Mauricio Isla bomb forward consistently, but they also act as the hubs on either touchline around which much of their side's best passing movements develop.
What are they
really like?
Rare insights on sport's biggest names from the writers who know them best. Listen to Behind the Lines podcast.
Become a Member
Which rugby coach can think outside the box in this fashion? Does the out-half always have to be the fulcrum of his side in attack? Can we innovate in terms of the expectations on players in defined positions?
Chile have been more than the sum of their parts in recent years, surely a lesson for rugby again. The likes of Gary Medel and Francisco Silva are by no means poor club players, but they grow in stature and assurance as part of the Chilean collective.
The World Cup provides us with almost endless opportunities to watch some of the best professional athletes in the world playing, and some of the greatest sporting brains setting their teams up tactically.
While there are elements of the sport that grate with rugby die-hards, there are certainly lessons and inspirations to be taken too.
Have you picked up on any tactics, mindsets, techniques or ideas at the World Cup that rugby can learn from? Or are the sports just too different to share ideas?