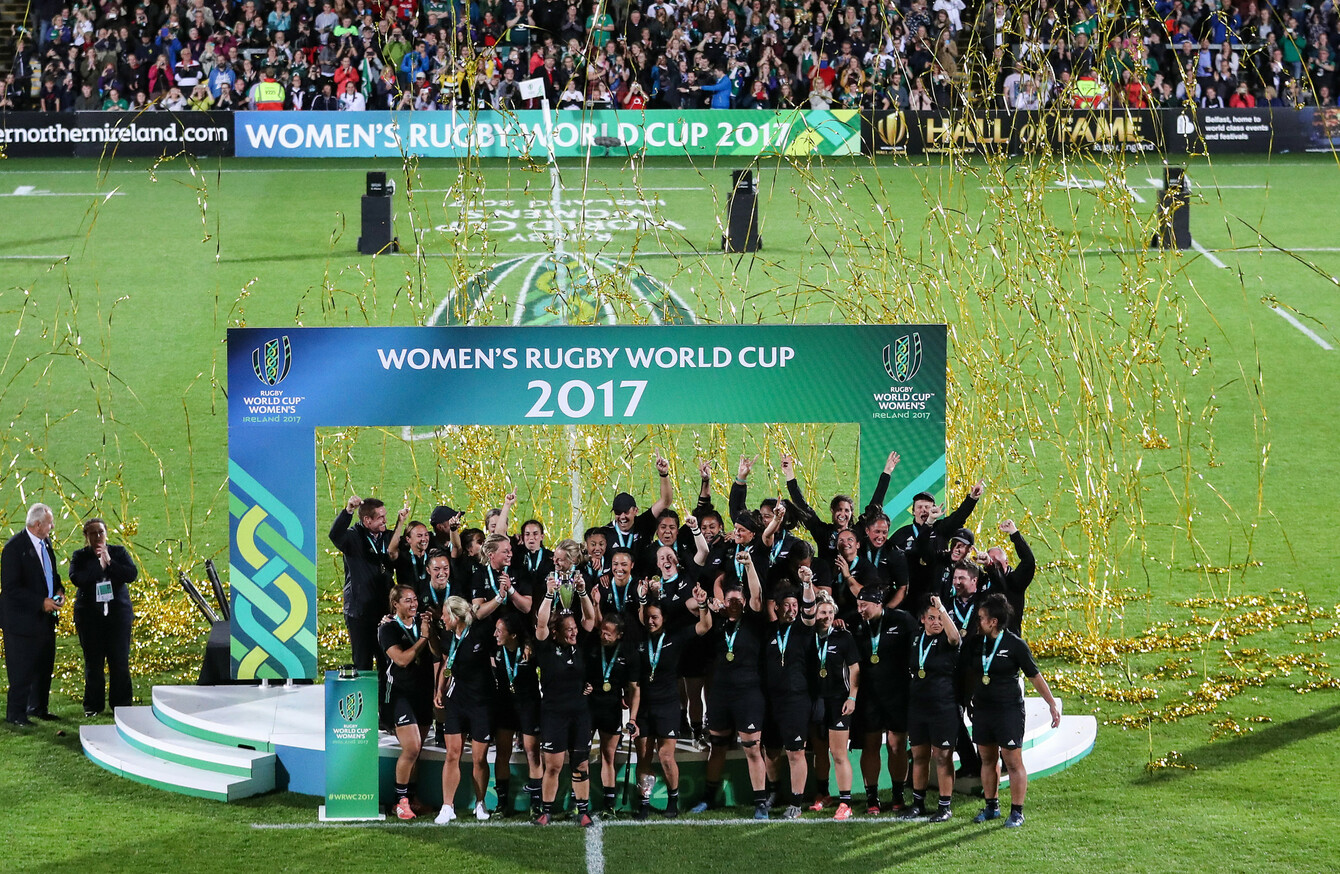 New Zealand celebrate their WRWC win.
Image: Billy Stickland/INPHO
New Zealand celebrate their WRWC win.
Image: Billy Stickland/INPHO
WORLD RUGBY HAVE announced some 'historic' reforms, accelerating the global development of women in the game both on and off the field.
According to a release issued by the governing body yesterday, the aim is to have at least one-third women's representation on World Rugby Council (its highest decision-making body) from next year.
There will be an increase to the number of people sitting on Council, from 32 to 49 — with the 17 new representatives to be women.
According to the statement, this 'will not result in any changes to the existing voting rights of unions or regional associations on Council'.
It continues: "The ground-breaking reform will give the 11 unions and six regional associations, who currently have an additional vote but no additional representative, the right to send an additional representative to Council subject to that person being female."
This historic decision, led by chairman Bill Beaumont, comes at a time where all positions on Council are currently held by men.
"This is a major milestone in the progression and growth of World Rugby and the global game," Beaumont said.
"The reform is historic, reflective of our ambitions and long overdue. If we are to promote and nurture the growth of women in rugby then change must be led from the top."
"I look forward to welcoming their new representatives from rugby and beyond so that together we can work to further rugby worldwide. It is clearly a fantastic start and opens the door to even greater female representation in Council and across rugby in the future."
The 2017-25 Women's Plan – also ratified by at the same meeting – includes a review of the international competition calendar with a view to better balance the Sevens and 15s games.
Ada Milby, secretary general of the Philippine Rugby Football Union, has become the first woman appointed to Council under the reform, after being elected by Asia Rugby at the weekend.
She said:
"Not only does this reflect the drive for women's leadership to be accepted at all levels of the game, but it is a strong statement and call to action for other sporting codes to show that when you are fully committed to gender inclusion, the solutions may manifest in ways not previously considered."
World Rugby general manager of women's rugby Katie Sadleir added:
"Building on the success of the recent Women's Rugby World Cup in Ireland, the decision to increase the representation of women on Council to more than a third is transformational for rugby. It will change the way we govern the sport going forward, making a difference not just for women in rugby but for all of rugby.
"By ensuring women have a voice on our highest decision-making body, we will benefit from more balanced decision-making, setting standards not only for our sport but also helping to drive the agenda in sport governance globally."
"Supported by our ambitious 2017-25 Women's Plan, we are set to fast-track the development of women in rugby on and off the field of play, and inspire future generations of young people around the world."
The42 has just published its first book, Behind The Lines, a collection of some of the year's best sports stories. Pick up your copy in Eason's, or order it here today (€10):
The42 has just published its first book, Behind The Lines, a collection of some of the year's best sports stories. Pick up your copy in Eason's, or order it here today (€10):