WELL THIS IS awkward.
According to Yaya Toure's agent, the Ivorian is contemplating walking out on Manchester City this summer after feeling mistreated by the club.
Jon Super / AP/Press Association Images Jon Super / AP/Press Association Images / AP/Press Association Images
Dimitry Seluk told The Sun: "Yaya is so upset he's thinking of leaving City. There are a number of things that have happened that have left Yaya feeling bitterly upset. He must concentrate on the World Cup now. But City have treated him with disrespect and have really hurt him."
Despite his client having signed a new long-term deal last year, Seluk hinted that the disagreement goes beyond a financial one and, bizarrely, relates to Toure's recently turning 31.
Seluk alleges that on the day in question (May 13th), while the team celebrated their Premier League success in Abu Dhabi at an official event, no one wished Toure a happy birthday.
Seluk claims the club's behaviour was disrespectful and hinted that Toure could be open to a move elsewhere as a result.
What happened at his birthday meant the club don't care about him. It was proof. They can say whatever they want, 'Oh, we like him but we forgot'. 'Forgot'? About Yaya? The player who helped you to be two-times Premier League champions? The guy who helped you win the FA Cup and League Cup?"
But, Seluk clearly doesn't follow Manchester City on Twitter. If he did, he would've seen this post, from the club's official account, on 13th May.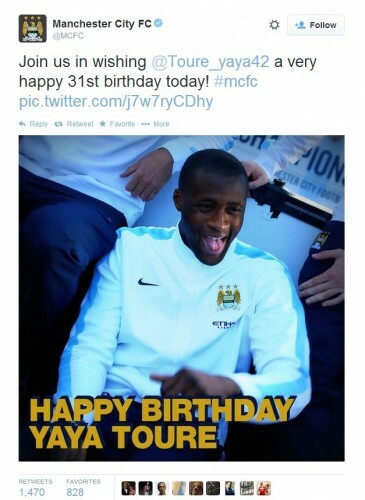 Manchester City FC Manchester City FC
And, perhaps Seluk hasn't seen the official City video posted to the club's YouTube channel on the same day.
As the team make their way to Abu Dhabi, the flight staff aboard the plane present Toure with a cake, lovingly decorated with the City crest and serenade him with a rendition of 'Happy Birthday'. Unfortunately, Samir Nasri appears far more interested in what's happening than Toure, who's too engrossed in his laptop to even acknowledge what's going on around him.
Manchester City FC / YouTube