IT'S THE ALLURING question which hangs tentatively in the balance — will Zlatan Ibrahimovic be at next summer's World Cup in Russia? Not to get caught up with the euphoric tide of 80s nostalgia that is the popular Netflix television show, but Stranger Things have happened.
Indeed the 1980s was when the Swede grew up in the harsh, mean streets of Malmö, robbing bicycles and causing all sorts of Zlatan-patented mischief. Back then there were few sports stars to look up to in the realm of Swedish football, so, 11 league titles and a legacy unlike most others later, he made an icon of himself.
Generations of Swedes young and old have long looked up to the 6'5″ colossus as he often-times single-handedly dragged Sweden along to, and then through, international tournaments. They will continue to do so long after he has hung up his boots for the final time.
But now, however, following his international retirement after Sweden's exit from 2016's European Championships, his country has emerged from Ibrahimovic's irrepressible shadow to fashion a stunning achievement, something which was often deemed implausible, all on their own.
Next summer will mark the first World Cup in 60 years without the presence of Italy; however, this fact has glossed over the stunning accolade of the nemesis who made it so. Following a 1-0 play-off win over two legs, Janne Andersson's rejuvenated Sweden side came out on top against the Azzurri.
Led by the emerging greatness of RB Leipzig's 26-year-old Emil Forsberg (who scored 14 goals and recorded 20 Bundesliga assists last season) they will take their place among 32 of international football's top sides on the world stage in Russia in seven months' time.
Almost as soon as the final whistle was blown at the San Siro following Sweden's second-leg 0-0 stalemate with Gian Piero Ventura's ill-fated Italy — the result which booked their place at the World Cup — the agenda turned immediately not to praising the accomplishments of this new post-Zlatan Sweden, but rather to questions of whether or not, how soon, and precisely when Zlatan would go back on his international retirement in order to join his countrymen at one last World Cup of greatness.
Zlatan had long been the face of Swedish football and now perhaps it owed him a favour. A retirement present before his actual retirement — a chance to go out in a blaze of glory befitting of the cult of Zlatan.
The man tweeted his congratulations: "We are Zweden," he jibed with a photo of his former team-mates posing in jubilant celebration in Milan.
If that seemed tongue-in-cheek, then manager Andersson was not impressed with some of the questions put his way by reporters after their heroic result.
"This is incredible! This player has just stopped to play with Sweden one year and a half ago and we are still here talking about him," the manager said baffled when asked if  Ibrahimovic might return.
"Gosh, we need to talk about the great players we have in this team I believe. We have many heroes tonight.
"When Ibrahimovic was here with us we played a different style of football," he continued.
"Considering that he has decided to leave international football, he is a great champion, but we had to adapt and found another style."
Many have questioned whether or not it would take away from the accomplishments of this new Sweden side were the Manchester United striker to return to the fray. Would it be selfish on his part? Would it disrupt the success of Andersson's new system? Or does the side really, actually, owe it to him?
What it comes down to is whether or not the now 36-year-old Ibrahimovic can have a meaningful, positive impact.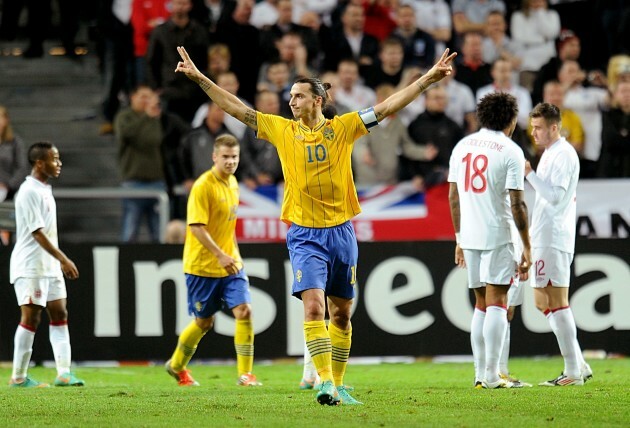 PA Archive / PA Images Last Tuesday marked the fifth anniversary of Ibrahimovic's four goals scored against England. PA Archive / PA Images / PA Images
The closest comparison found on these shores would be the choice of Martin O'Neill to bring Robbie Keane to last summer's European Championships.
The 35-year-played 23 minutes off the bench against Sweden and Belgium, but did not start any of Ireland's four games, including both the must-win showdown with Italy and the knockout stage meeting with hosts France in Lyon.
For the duration of that Euros qualification campaign Keane had been a periphery figure, with Shane Long and Jonathan Walters leading the line with goals in crucial wins against Germany and Bosnia.
Regardless Keane was picked as captain in the 23-man squad alongside Walters, Long and Daryl Murphy, with Kevin Doyle, David McGoldrick and Adam Rooney omitted at his expense.
It was never conceivably doubted that Keane would not be picked, even though it was accepted that he would not start in group games against Sweden, Belgium or Italy.
Despite this he played a significant role off the pitch as a senior experienced figure who brought the team together, much like that of 36-year-old John O'Shea during Ireland's 2018 World Cup qualification campaign which ended at the hands of Denmark on Tuesday.
It is unlikely that Ibrahimovic would be willing to play a bit-part role given his legacy and ego to be the best and always be the best no matter which side he stared in. Being forced to play second-fiddle to Lionel Messi even proved too much during his unfortunate spell at Barcelona.
But if Andersson were to extend the olive branch with the condition that he would not be guaranteed to start games, would that be sufficient for the striker?
Ultimately that is for Zlatan to decide. The forward made his long-awaited return to Jose Mourinho's United squad on Friday and could mark his anticipated comeback when they face Newcastle later this afternoon.
Ibrahimovic would argue that he could of course, without any conceivable doubt, make a positive impact in Russia to take Sweden out of their group and as far as possible beyond that.
At 35-years-old he scored 28 goals in all competitions as United claimed both the league cup and Europa League last season — a statistic he will lean on as the countdown to the World Cup begins.
He would certainly not be the first such footballer to come out of international retirement. Zinedine Zidane won France the World Cup in 1998 and made a stunning return to captain them all the way to the final in 2006.
So too did Zlatan's supposed nemesis Messi. The Argentine made a snap decision in June 2016 to hang up his boots for his country following their Copa America Centenario final defeat to Chile.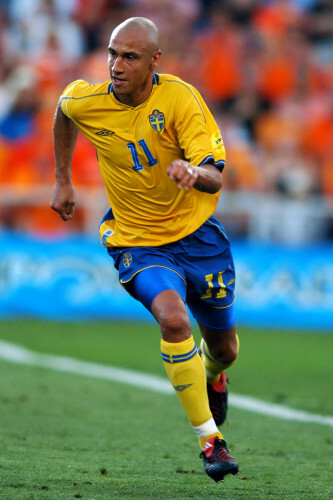 Tony Marshall Henrik Larsson came out of retirement ahead of Euro 2004. Tony Marshall
"The team has ended for me, a decision made," Messi said before going back on that morbid note and returning to the intentional scene just a week later.
But perhaps the most poignant reminder of not shutting the door completely for Zlatan will come from a fellow countryman. After leading Sweden to the knockout stages of the World Cup in 2002, Henrik Larsson called it a day.
But the allure of pulling on the yellow jersey a final time at Euro 2004 was just too much, as the Celtic ace made a stunning return to score three goals during the group stages to send Sweden once again through to the knockout rounds.
Indeed that was a tournament which introduced Zlatan to the worldwide stage with that unforgettable backheel against Italy — the continuation of a career bookmarked from start to finish by impossible, astonishing goals only he could have the temerity to execute.
The striker's remarkable career may require a final chapter to be written. Where Zlatan's individual brilliance had once led his country on his own, now his comrades have performed in his absence, giving their talisman the chance to go out with a bang.
The chance to push his international tally over the 70-goal mark is enticing, with the forward currently stuck on 63 — five shy of Robbie Keane.
In a career as striking and eccentric as the Swede's, where he must always push the envelope, exceed expectations and #DareToZlatan, stranger things have certainly happened.
The42 has just published its first book, Behind The Lines, a collection of some of the year's best sports stories. Pick up your copy in Eason's, or order it here today (€10):