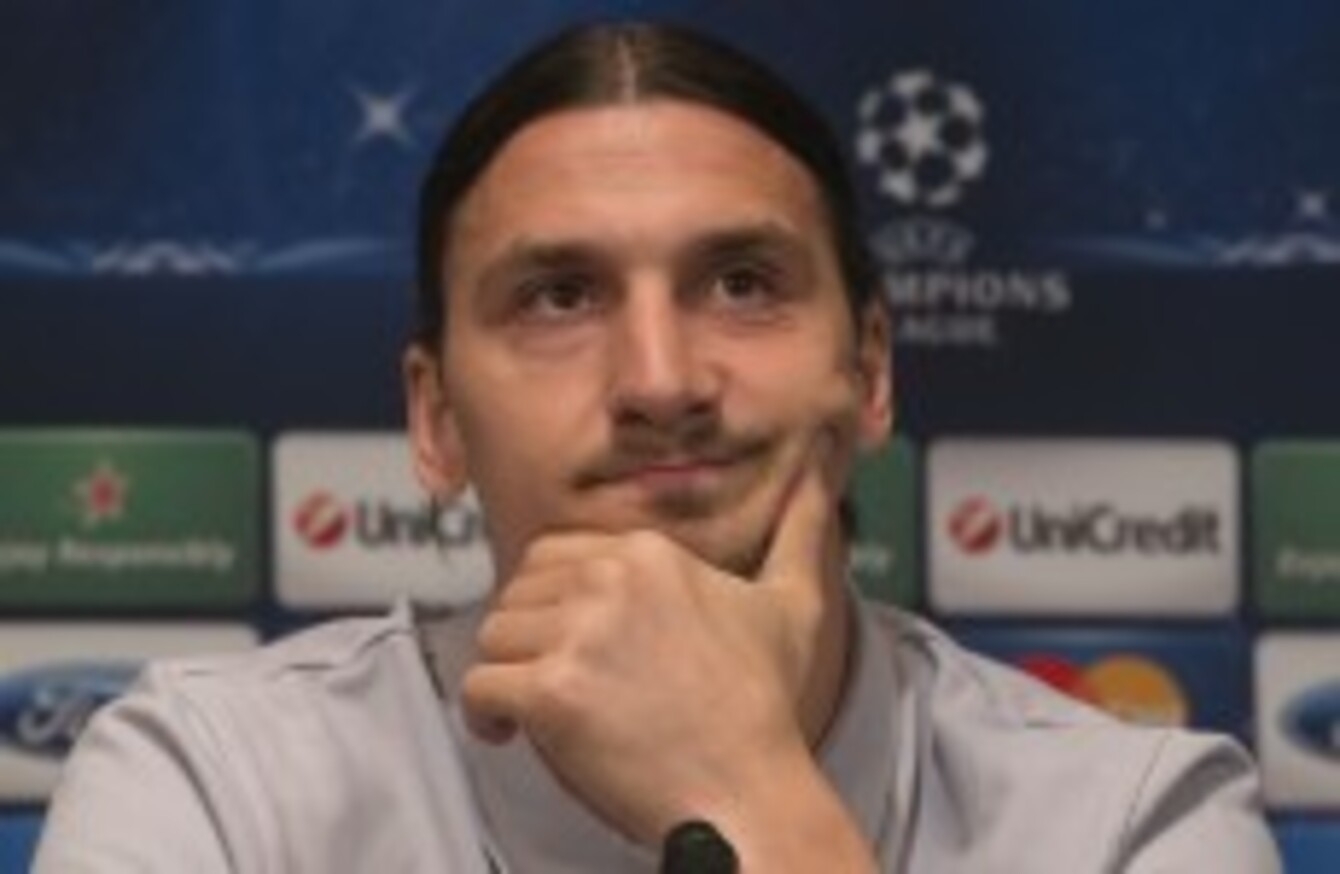 Ibrahimovic speaking to the media today.
Image: Michel Euler/AP/Press Association Images
Ibrahimovic speaking to the media today.
Image: Michel Euler/AP/Press Association Images
ZLATAN IBRAHIMOVIC RULED out any prospect of a move to the English Premier League as his Paris Saint-Germain side prepared to face Chelsea in the Champions League quarter-finals.
The French league leaders host the Londoners in the first leg at the Parc des Princes tomorrow with Ibrahimovic, who has scored a club record 40 goals in all competitions this season, their talisman.
A winner of league titles in the Netherlands, Italy, Spain and France, the 32-year-old Swede has never played in England and admits that he never will now that things are going so well at a PSG side awash with cash since their takeover by Qatar Sports Investments in 2011.
"I'm very happy here. The club is doing an amazing job to become like other top clubs. I've seen big changes, developments on and off the field that I've never seen elsewhere," said Ibrahimovic, who has a contract that runs to 2016 in Paris worth around £15 million ($25m, 18 million euros) per year.
"Either you aim low or medium, but these people, they aim high! To come to England today is not a question that is brought up. First of all I think it's impossible to take me to England. I don't think the people behind this project will let me go."
Ibrahimovic, who moved to Paris from AC Milan in 2012, added: "When I was at Milan I spoke to some English clubs, but I don't think I'll ever look back and say I wish I had gone to England.
"I respect the Premier League but I have no regrets about not playing there."
However, Chelsea manager Jose Mourinho, who had Ibrahimovic in his Inter Milan side in the 2008/09 season, said it would be a shame if he never experienced life across the Channel.
"If he's happy in Paris – and I know he is – he has to stay," said Mourinho. "But at the same time I think it's a pity for him if he finishes his career, when he played in the most important countries and won so much, but he never played in the best league in the world."
The meeting of PSG and Chelsea looks like the most evenly balanced of all the quarter-final ties but, while Ibrahimovic acknowledges that Paris represents his last chance to win the greatest prize in European football, he insists that José Mourinho's side must be considered the 'super favourites' to advance to the last four.
"I think that the biggest possibility to win it is with Paris because this is my last contract in Europe," he said with a nod to a decade of disappointments at this level.
"This year we are in the quarter-finals against a fantastic team. We have nothing to lose. I think we did a fantastic season so far and every game we win from now on is a bonus for us.
It is a project (that has been) going on for two years and we are beginners in everything we do. Chelsea has a project going on for 10 years. They've already won the Champions League, the Europa League, they have a great coach.
"I think all of the teams in the last eight are strong but Chelsea are the super favourites."
Under Laurent Blanc PSG are 13 points clear atop Ligue 1 and on course to win the League Cup while also hoping to reach the last four in the Champions League for the first time since 1995.
Blanc has brought the best out of his side with a 4-3-3 formation and a possession-based game and he confirmed that they will not change their way of playing just to counteract Chelsea's counterattacking approach.
"We have analysed Chelsea and prepared this match as we normally do," he said.
"We have contrasting styles. But which is the most efficient? We will see over the two legs, but I think that both teams will maintain their philosophy.
"If we start to worry about Chelsea on the break and change our approach, our own game will become less natural and our collective performance will not be at the level we want it to be."