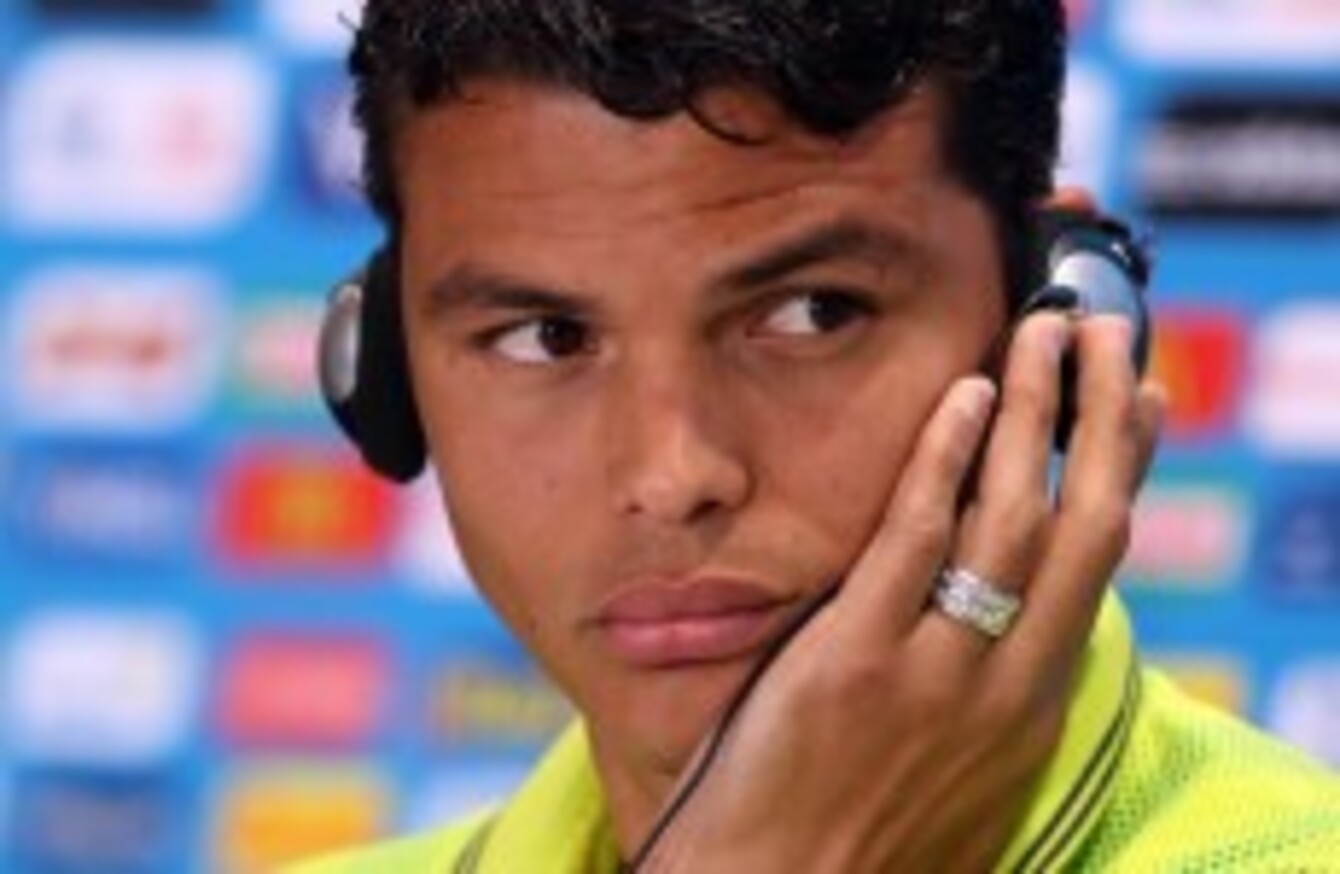 Brazil's Thiago Silva during the press conference at Estadio Mineirao, Belo Horizonte, Brazil.
Brazil's Thiago Silva during the press conference at Estadio Mineirao, Belo Horizonte, Brazil.
BRAZIL CAPTAIN THIAGO Silva branded Colombia defender Juan Camilo Zuniga a coward on Monday for the tackle which put star striker Neymar out of the World Cup.
"In my opinion it was a cowardly tackle," the Paris Saint-Germain defender said on the eve of his side's World Cup semi-final against Germany on Tuesday.
"I am a defender, I know how to mark a player and there is no way you can get the ball by putting a knee in the back.
"It is not something that comes about in a normal match situation."
FIFA turned down a request from the Brazilian Football Confederation (CBF) to ban Zuniga on Monday because the incident had been seen by the match officials at the time and no action was taken.
Silva will miss the match against the Germans in Belo Horizonte on Tuesday after FIFA also turned down the CBF's appeal against his yellow card in the 2-1 quarter-final win over Colombia on Friday.
Source: GamesKidsChannel/YouTube
The 29-year-old was booked 25 minutes from time with Brazil leading 1-0 through his early strike for impeding Colombian goalkeeper David Ospina.
"In no moment did I intend to take the ball from the goalkeeper. I was trying so hard not to commit any fouls, the only foul I remember was the yellow card and it is very difficult to miss the game," he added.
"But I really trust the players on the pitch. No matter the 11 players we will be well represented."
Bayern Munich's Dante is expected to come into the side in Silva's absence to face many of his German teammates at club level.
And Silva insisted he will not be overawed by the occasion.
"I spoke to Dante it was at the end of the last match and he was one of the first players to greet me.
"I told him his chance would come. He works very hard and that shows the skills and energy he has. I know what he had to overcome to get here and I told him this could be his moment."
However, Silva still harbours ambitions of returning to lead the side come the final in Rio de Janeiro on Sunday.
"My mission is not finished in the World Cup. These things like my absence and Neymar are making the group more united, it strengthens the group greatly.
"A semi-final will not be dependent on one player, but on the whole team for both sides.
"Making the least amount of mistakes is the key, small details will make the difference in who qualifies for the final. Everyone wants to watch this match because it is a classic between two of the biggest sides in world football.
"I am suffering because I cannot play, but I will have my heart and Neymar will have his heart with the players on the field."