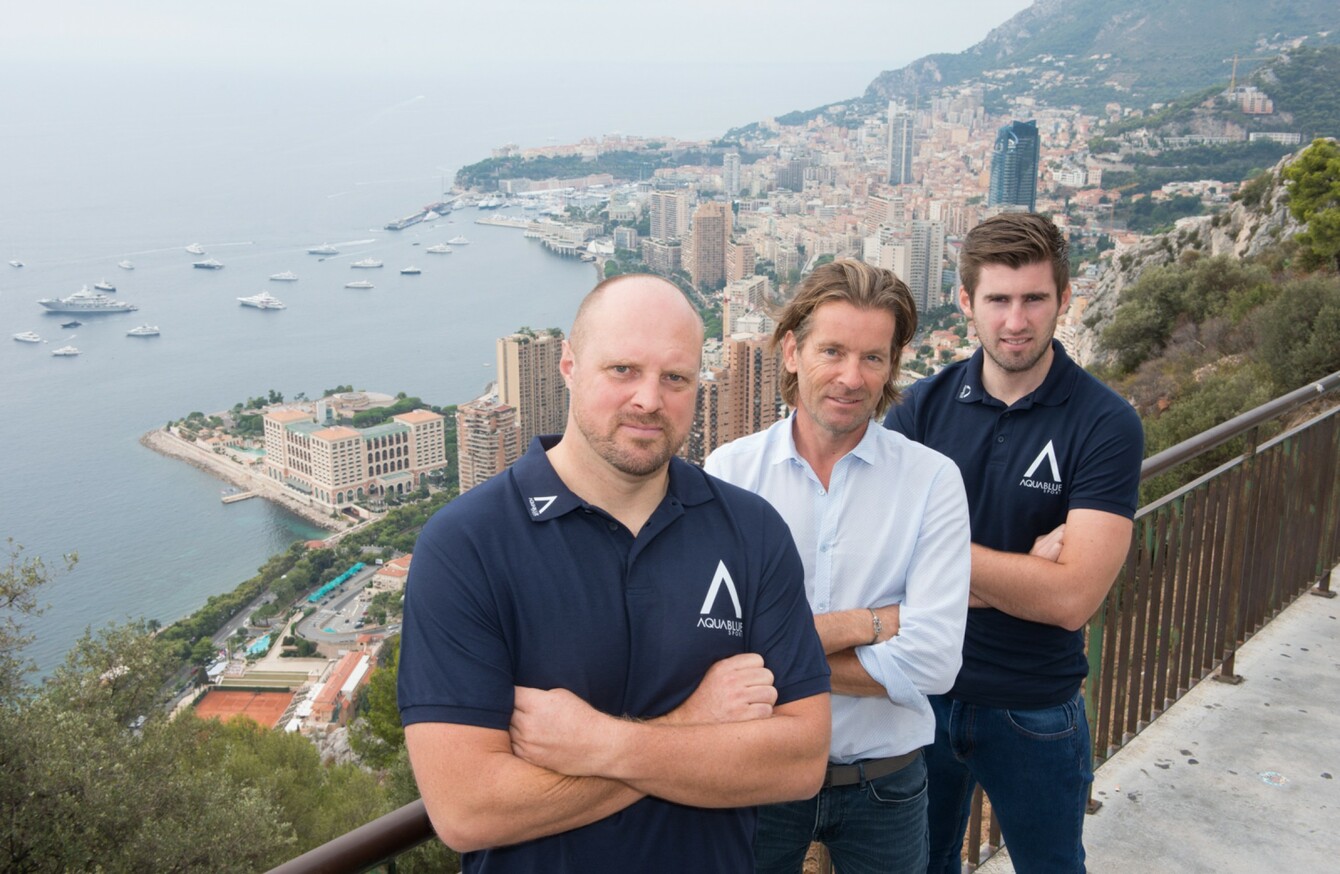 Rick Delaney (centre) is the man behind Aqua Blue Sport.
Rick Delaney (centre) is the man behind Aqua Blue Sport.
CYCLING MAY HAVE turned a corner in recent years, coming out the other side of endless scandals and reputational damage, but the reality is that these remain austere times in the sport.
Last year, two UCI World Tour teams — Tinkoff and IAM Cycling — collapsed and withdrew from competition after the Russian entrepreneur bankrolling them pulled the plug on sponsorship. They weren't the first teams to go defunct and certainly won't be the last.
Professional teams are largely dependent on sponsorship and in light of the systematic doping scandals which saw the sport's integrity hit, organisations have had to work within financial limitations. Prospective benefactors have been put off and are now far less willing to be associated with cycling.
Rick Delaney, an Irish millionaire now based in Monaco, has seen teams form and fold over the last decade and knows a sponsorship-based model is becoming progressively unsustainable in the current landscape; so he's come up with an alternative.
Last month, the final piece of the Cork native's grand and ambitious plan to establish a self-sustainable Irish cycling team came together as Aqua Blue Sport competed in its first race.
Twelve months of hard work came to fruition as the UCI Professional Continental — the second tier of world cycling — team took to the start line at the Cadel Evans Great Ocean Road Race in Australia.
Delaney has initially assured the team of funding for at least four years and has rolled out two-year rolling contracts to 16 riders as well as an impressive line-up of backroom and support staff.
The hope is that Aqua Blue Sport, now Ireland's first Pro-Continental team, will become entirely self-sufficient with the costs shifting to a new e-commerce business operating under the same name.
Rather than searching for sponsors and looking for organic growth, Delaney has thrown a huge amount of resources at the business. While this is, at the end of the day, a cycling team, the business model is as fascinating.
"The idea was not to come in and participate and put our heads down and stay at the back of the bunch," he tells The42. "That's not we're about, obviously we've got the e-commerce side so it's very important we hit the ground running and we make a big impact.
"We want to try and lay down a marker early in the season so we can demonstrate to people we're here to perform and that we're a professional outfit and we have professional backroom staff.
"We're here to set our stall out early and we're here to make an impact to try and get as much respect as we can."
Delaney, who is a passionate cycling fan and can be spotted on the hills of Monaco himself, continued: "We hope we can demonstrate as a Pro-Continental team that we can be self-sufficient.
"We don't have a sponsor and everybody talks about sponsors and sponsorship. We don't have a sponsor, there is no sponsor. We're all employees of Aqua Blue Sport Ltd, both the e-commerce side and the cycling team are the same. We're all working for the same company.
"Aqua Blue Sport is not the team sponsor, Aqua Blue Sport is the owner of the team and the ec-ommerce side and everybody associated with this is employed by Aqua Blue Sport Ltd.
"There's no point in trying to do this on a sponsorship model because it doesn't work. There's no revenue from the sport so the only revenue you can generate is through sponsors and you're only as good as your sponsors. You don't have independence and that has been proved in years gone by.
"Cycling shirts change every year because sponsors change. Sky are the closest thing I believe that our a one-brand team but nevertheless if Sky decide they've had enough of cycling, Team Sky would probably no longer be around.
"Aqua Blue Sport Ltd will always be around, the team is part of the company and the e-commerce part is part of the team."
Delaney is very clear of his vision for the team, and knows exactly what he's talking about when it comes to the business side of the things — but he'll leave everything else to the professionals.
It's all well and good throwing money at a project of this size but to make it work you need to recruit the right individuals and it was an important part of what Delaney describes as a 'cumbersome' process.
The team has a roster of 16 riders including team leader Lars Petter Nordhaug, 2016 British National Road Race champion Adam Blythe and former world track champion Martyn Irvine.
It's clear Delaney has identified and brought in a certain calibre of rider but the same could be said for the rest of the staff with his team composed of two Sporting Directors, two Performance Directors, a General Manager and a Team Doctor. He doesn't do things by half. Nobody in Monaco does.
"We didn't just look for riders with racing pedigree," he explains. "We threw the net much wider and looked for like-minded individuals firstly and then got a shortlist from there and kept chopping away until we got to our 16. The main criteria was try and pick 16 riders who come from similar backgrounds, who we believe will get on and are like-minded. Who understand each other and respect each other and I think we've done that.
"The last few months have been about trying to instil in the riders and the staff that we're trying to build a business and every time puts a jersey on, every time someone sends an email, every time someone takes a phone call on behalf of this company, we all need to be singing the same song.
"We need to be standing up and representing it the same way and that's the message I'm trying to deliver to the staff.
"The motivation for me personally is to try and make it work. To have a cycling team that has a stable financial backing and that would give it massive longevity. There's no point in having a cycling team based on a sponsor because it won't work. There will be no longevity, it will be here today, gone tomorrow. It will absolutely not work.
"So what we're trying to do is put together an Irish team that's very Irish and represent Ireland but make it sustainable and give it longevity and the only way we can do that is to try and raise capital ourselves. I think the model we've come up with is clever and sustainable and I think it will work."
By removing the added burden of financial uncertainty, Delaney's aim is to create a winning environment and has publicly stated that he wants Aqua Blue Sport to be at Tour de France level within three to four years.
It's clear that while Delaney is fully aware of the challenges ahead, he believes the infrastructure and building blocks that have been put in place will facilitate success and see an Irish team reach unprecedented heights.
"It's very, very realistic," he says of the target. "We just need to make sure that we do what we've set out to do and not deviate from the path we have laid ourselves. If we can do all those things and get the support from our fanbase then we'll do exactly that.
"Unfortunately it's down to buying World Tour points so you need to acquire riders firstly who have enough points, the minimum amount of points set by the UCI. That would be the first hurdle and the second hurdle would be to have the financial clout to be able to put the bank guarantees in place to be able to demonstrate to the UCI that you're financially stable for a minimum of two years.
Source: Aqua Blue Sport/YouTube
"We've massively invested in this, it's not a project it's a business. A start-up business and a blank canvas. We can decide our own destiny but I'm also realistic, I don't expect instant success.
"I've been asked this question many times and I'm going to give you an answer that probably isn't what you want. We'll have success on the bike. Year one is going to be a learning curve for our riders as they get to know each other and likewise the staff. If we can perform well and represent ourselves well and compete and likewise off the bike, if we can perform well then it would be a success. I think we will win races on the bike and that's the goal.
"The goal is to represent ourselves as best we can and year one there isn't any pressure on anybody to perform. Year one is find yourself and I think if we can get used to each other, learn from each other and represent the brand on and off the bike then I think the rest will just naturally happen."
One of the primary reasons why Delaney launched Aqua Blue Sport in 2017 was his ambition to have a top-level team representing Ireland on the world stage. We're a nation of cyclists, but not cycling fans, according to the 48-year-old.
"Flying the Irish flag is a huge factor and we may have international riders but we'll never lose sight of that. We're a nation of sporting fans, probably one of the best in the world. If we can get the public behind the team I think they'll really support us.
"Cycling is a huge support activity in Ireland, not a huge sport in Ireland. I'm not sure Joe Public understands bike racing quite yet but we're hoping this brings these cyclists you see every weekend to have an interest in pro cycling.
"We've assembled a special bunch of people and I think over the next few months people back home and all over the world will realise how special this is. It's exciting times."
Delaney describes Aqua Blue Sport as one of the best things ever to happen to Irish cycling, and even Irish sport.
Only time will tell.
The42 is on Instagram! Tap the button below on your phone to follow us!