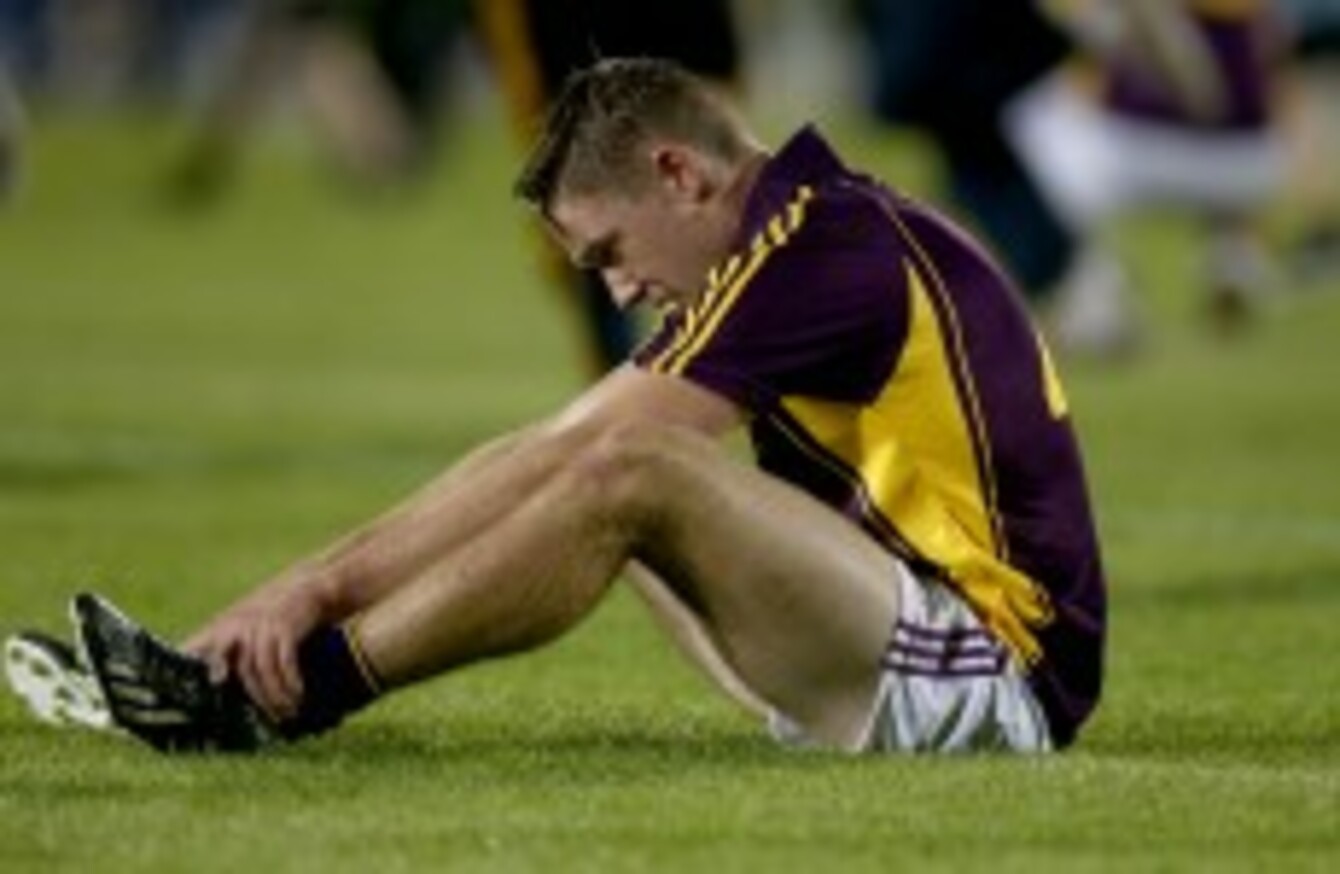 Eoin Conroy at the end of last year's final.
Image: Donall Farmer/INPHO
Eoin Conroy at the end of last year's final.
Image: Donall Farmer/INPHO
LAST YEAR'S BORD Gáis Energy All-Ireland U21 hurling final is a video nasty that Wexford skipper Eoin Conroy still hasn't revisited.
It's a game he'd rather forget after the Naomh Eanna clubman was given the proverbial run-around by Clare ace Tony Kelly.
Conroy candidly admits now that the Slaneysiders were like rabbits caught in the Banner County headlights at Semple Stadium, overawed by the occasion and their much-vaunted opponents.
Conroy said: "I still haven't watched the Clare game and I won't watch it.
"I never will. I watch all the games but I couldn't watch that one.
"On a personal level it was the worst 60 minutes of my life.
"I was marking Tony and following him around the pitch for 60 minutes was a nightmare but you learn a lot from it."
In Wexford's semi-final last year, Padraig Brehony was running riot before Conroy quenched the Galway man's fire.
But Kelly, the 2013 Hurler of the Year, was a massive step-up in class.
Conroy recalls: "Brehony had scored 1-5 after 20 minutes last year in the semi-final and I was put on him then and I held him scoreless.
"I thought he was a different level and I thought I was prepared for Kelly.
"But Kelly was just something else. It was ridiculous what he is capable of, his movement and his timing.
"Brehony made a lot of runs but Kelly, he could stand and you'd think you'd have him but at the perfect time, just like that, he's gone. That was the difference, his timing."
Over the winter months, Conroy absorbed the lessons and vowed to come out swinging again in 2015.
Wexford claimed the Leinster title for the third successive year and in Thurles later this evening, they will aim for the county's first All-Ireland U21 crown since 1965, with Limerick providing the opposition.
Corner back for the last three seasons at U21 level, Conroy is aiming to bow out of the grade with a bang.
He said: "I have been there for three years and we still haven't got the job done.
"That's very much the mindset that it's a job that has to be done.
"Maybe take a little bit of the emotion out of the game, don't play the occasion.
"The last three years have been great with Leinsters but there is a bigger picture and that's the aim."
Conroy admits that the big day jitters affected Wexford in a big way against Clare last year at Semple Stadium, as they fell to a six-point defeat.
He admits: "Definitely and maybe a little bit in awe of Clare too and their fantastic individuals.
"There's no doubt about it we played the occasion instead of the game.
"We concentrated on stopping Clare rather than being Wexford, that was our biggest flaw."
But Conroy is confident that the chastening experience can help the Model County this evening as they aim to go one step better.
He added: "That's what we are always told – that it's not a mistake if you learn from it.
"We have taken a lot from it.
"The biggest thing last year was we concentrated on Clare and who was going to pick up who.
"You have to do that to an extent but I think we went overboard on it.
"This year it's about what we are going to bring to the game and make sure we perform.
"There was massive hurt, the whole winter.
"Every training session, every running session and every gym session, it's at the back of your mind.
"You want to get better and improve and fix the damage."
Conroy will dip into the bitter memories of that Clare defeat for any further motivation, if more is needed.
He recalls: "I was going to shake his (Kelly's) hand and say 'fair play to you' but the minute the whistle went he was gone so I just hit the ground.
"I think he was being brought off for his man of the match award, that was the biggest sickener."
It's a feeling he doesn't want to experience again.