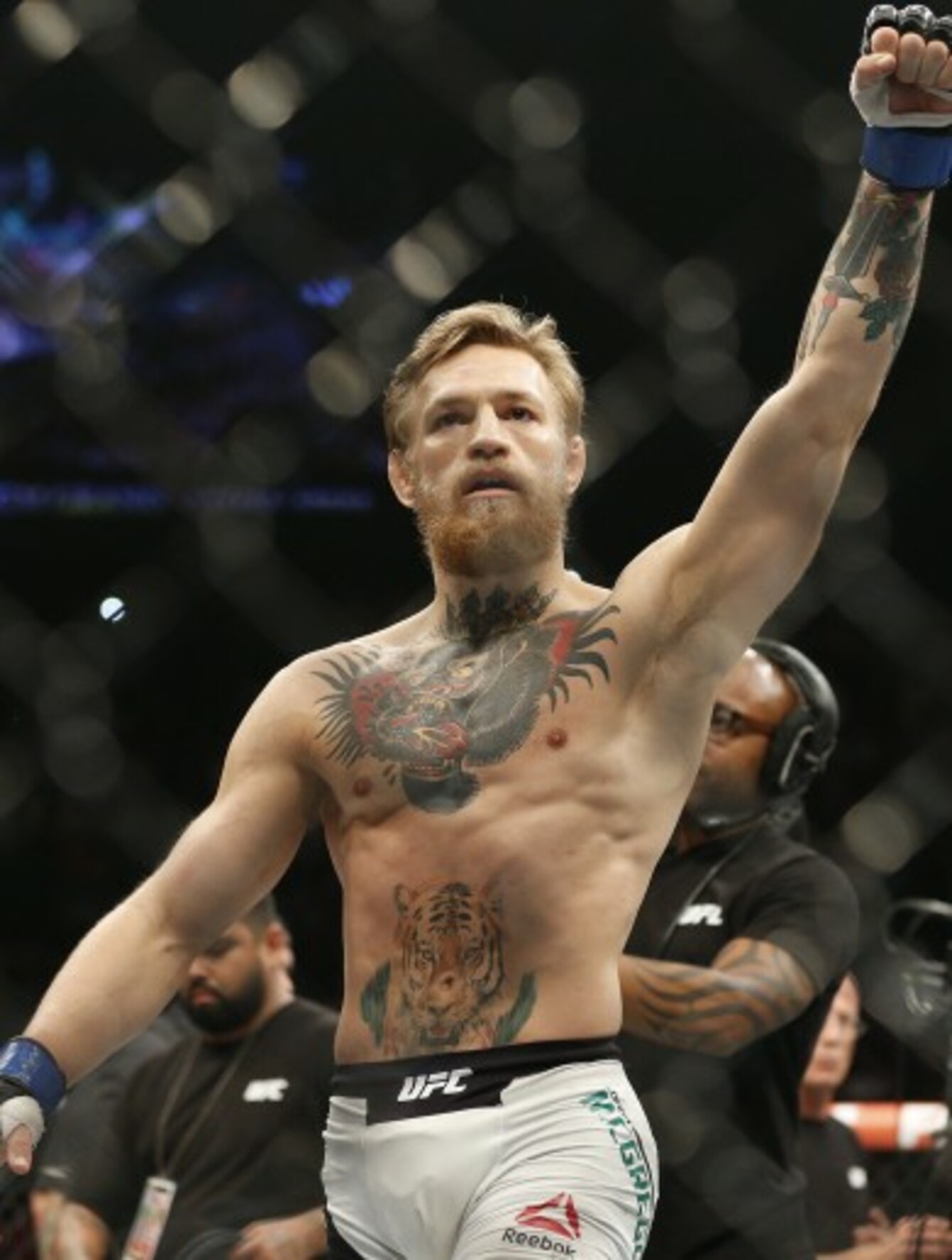 UFC interim featherweight champion Conor McGregor.
Image: John Locher
UFC interim featherweight champion Conor McGregor.
Image: John Locher
WITHOUT GETTING AHEAD of ourselves because we're not quite there just yet, it's pretty exciting that the fight we've been preparing for all year is finally almost upon us.
For the past week, I've been here in Los Angeles with Conor McGregor as we conclude our training camp for the featherweight title unification bout against Jose Aldo in Las Vegas a week on Saturday.
We'll stay here in LA for the remainder of this week before moving across to Vegas next Monday. There's something about going from the dark and cold of Dublin to the sunshine and sea air of LA which revitalises the body and mind.
There's a great atmosphere among the group of guys — Gunnar Nelson and Artem Lobov are here too, of course — and for me, as a coach, when I see that level of energy, I'll always latch on to it and turn it into productive training sessions.
We've been training on the beach during the day and in the gym at night. The circumstances couldn't be any better. Weight is always an important issue for Conor, but at this point, we're far ahead of any targets we've aimed for before. The entire process has been very easy, which is funny given that we're preparing for the biggest fight yet. But that's just the way it has been so far and the way it is right now.
At this stage before the last fight back in July, we didn't even know if there was going to be a fight. We weren't sure if Jose Aldo was in or out and Conor's knee injury wasn't looking great either. It was touch-and-go whether there was going to be a contest at all.
Everything only came together with days to go, which was probably one of the reasons why Conor's weight-cut was more difficult than normal on that occasion. It doesn't matter who you are, it's impossible to stay 100% disciplined if there's a strong chance that there won't even be a fight.
But everything is looking good for this fight to finally go ahead now, so we're in a much better place at this point in time. The fight is going to happen, Conor is free of injuries, his weight is on point… basically, a lot of factors are combining to make everything perfect. I really believe you're going to see a completely new Conor. Not just as a coach, but also as a fan, I'm extremely excited to see it all unfold.
Whenever I'm on social media, flicking through Twitter, Facebook, Instagram or whatever, I see a lot of UFC fighters posting videos of what they're up to in training. Now, they're obviously all going to say they're not doing it, but they're putting up their capoeira kicks, spinning kicks, their movement drills on the ground… Let's be honest, was any of that stuff happening before Conor started doing it? No, it wasn't.
I remember when people were posting about their Sean Sherk-style 'Fight Gone Bad' fitness training and weight-lifting, but now everyone is saying, 'Of course we don't do that, it's all about movement drills and keeping the body fresh'. I can do nothing but smile when I see it, but I'm happy too because I do genuinely believe that Conor has changed the general approach to training.
In the long run, that's only going to be good for MMA as a sport. It'll mean that we'll have more healthy athletes, fewer people being hurt and injured, and subsequently better fights. If other fighters are copying what Conor's doing and it improves the sport as a whole, that's fine with me.
In saying that, however, they're looking at stuff he was doing last year. They have no idea what he's doing now. Things change by the day with Conor and there are new things coming which I know other fighters will be doing this time next year. It's been interesting to observe that evolution. Obviously I'm not going to let you in on what those new things are, but the styles and techniques you'll see in this fight haven't been done yet.
A knee injury Conor picked up ahead of the last fight was a big concern but that's no longer a problem. In his current condition, there's no need for surgery. That's a last resort which won't be necessary. Conor has built up the muscles which support the knee so it's rock-solid now and he's looking great. We're coming to the end of a good training camp and there have been no issues whatsoever.
But one thing that did concern me was the demands that were being placed on Conor while he was preparing for this fight in Dublin by people who, to be fair, only meant well. I'm not going to lie; it wasn't easy at first. The problem is that the more you do, the more people want. There was no end to the demand for pictures, meetings and interviews.
We're told a lot of genuinely heartbreaking stories from different charities who might want an appearance or to have something signed, and we try to do as much as we can. But no matter how many you do, there's going to be another thousand behind them. And it's unfortunate that you can't do them all because there are some really tragic stories, but at a certain stage you have to get back to focusing on what put you in that position in the first place: training to fight.
You wouldn't believe how many people in tough situations we have to say no to simply because of time constraints, let alone fans from around the country who are contacting the gym just looking to arrange a photo or an autograph. You could spend all day every day trying to satisfy people but you still wouldn't get to them all. It's never-ending and it's only multiplying as time goes on.
But we've learned to adapt and overcome in a lot of situations over the last three-to-five years, and that's what we'll do now. It's a good complaint to have — receiving so much attention is a sign that you're doing things right — but we'll figure it out, as we always do, and we'll know how to handle that side of things while we're training in Dublin ahead of the next fight.
The Irish Sports Council are employed by the United States Anti-Doping Agency — who oversee the UFC's drug-testing programme — to carry out the tests in Ireland and they've been at the gym numerous times over the last few weeks and months. Unlike some other fighters, we just don't feel the need to make a social media announcement about it.
A record of who has been tested — and when — is available to view on USADA's website, so the information is there for all to see. I'll tell you what the Irish Sports Council aren't doing; they're not asking for selfies at the end of a urine test or destroying samples, and we're not getting the police involved or asking for visas and permits. We carry out the tests, as required, and then we carry on with our training. Simple.
I've said from the start that I can see this being a two-round fight, yet another part of me can see it being over in 60 seconds. But we give respect where it's due because Jose Aldo has been the champion for a long time.
He'll probably try to slow the pace down and initiate some grappling exchanges. However, with Conor's fight IQ and the manner in which he can read situations, even if Aldo comes out with a completely new style and approach, it won't take Conor long to work it out. It's almost like The Matrix, in that he sees a new problem which is being presented, downloads the correct response from his brain and then executes the plan.
I think it's going to be really difficult for anybody at this stage to last longer than seven or eight minutes with Conor in that type of environment. If it's not an extremely quick finish, I definitely can't see it going beyond the second round.