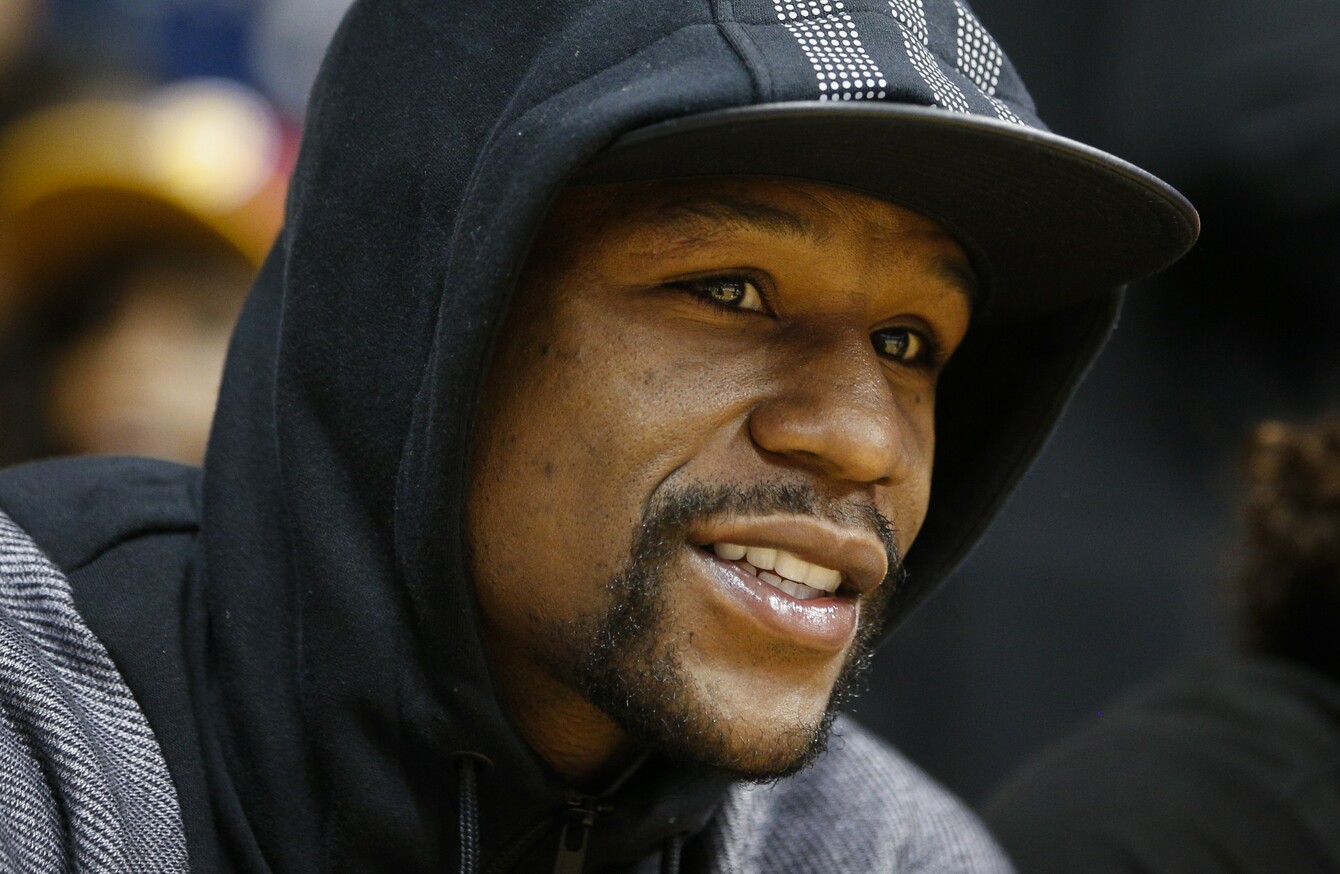 Floyd Mayweather
Image: John Minchillo
Floyd Mayweather
Image: John Minchillo
FLOYD MAYWEATHER HAS reiterated his belief that "racism still exists" in sport, citing Irish mixed martial arts star Conor McGregor as an example.
Mayweather, the undefeated former world boxing champion who retired last year, claimed that people are more tolerant of McGregor's trash talk because of the colour of his skin.
McGregor, whose interviews tend to be almost as entertaining as his fights, is currently the UFC featherweight champion and the biggest star in MMA.
"I don't really know the McGregor guy; never seen him fight. I heard his name actually from one of the runners that works for our company; a little kid named Ken Hopkins, he's a runner and takes care of a lot of the daily business. Whatever we need, he takes care of. He's a cool little kid, I like him, and he does MMA," said Mayweather in an interview with Fight Hype.
"He told me about the guy McGregor. They say he talks a lot of trash and people praise him for it, but when I did it, they say I'm cocky and arrogant. So biased! Like I said before, all I'm saying is this: I ain't racist at all, but I'm telling you, racism still exists."
Earlier in the interview, Mayweather used undefeated boxer Andre Ward as another example of the apparent existence of racism in sport.
Mayweather said: "You gotta really look at things like this: when Bernard Hopkins was a middleweight trying to fight Oscar De La Hoya, Shane Mosley and Felix Trinidad, they [the media] said he was calling out smaller guys. When the guy Triple G [Gennady Golovkin] does it, they don't say shit. Once again, I'm not racist; I'm just saying racism still exists.
"Do I think that they're trying to get Andre Ward beat? Absolutely! Andre Ward, if you're reading this article, if I was you, I wouldn't move up to 175 pounds to fight the guy, Kovalo [Sergey Kovalev], if that's his name, because I really don't know his name. I know he's a light heavyweight. Andre Ward is a 68-pounder and I think he should continue to dominate at 168. This is what I think should happen.
"You know, everybody keeps talking Triple G, so I just started taking notice probably last year. If this guy Triple G is so tough and so bad, you know, from what they say, then let him go up and fight Andre Ward. Once again, these guys in boxing [media], not me, are rating this guy, Triple G, super high.
"He's good with a stationary target in front of him. When he's fighting a guy that's straight up and down with no special effects, is he good? Absolutely! But do I think that Triple G can beat Andre Ward? Absolutely not! Easy pickings. It's going to be very, very, very easy for Andre Ward."
H/T: MMANytt.se