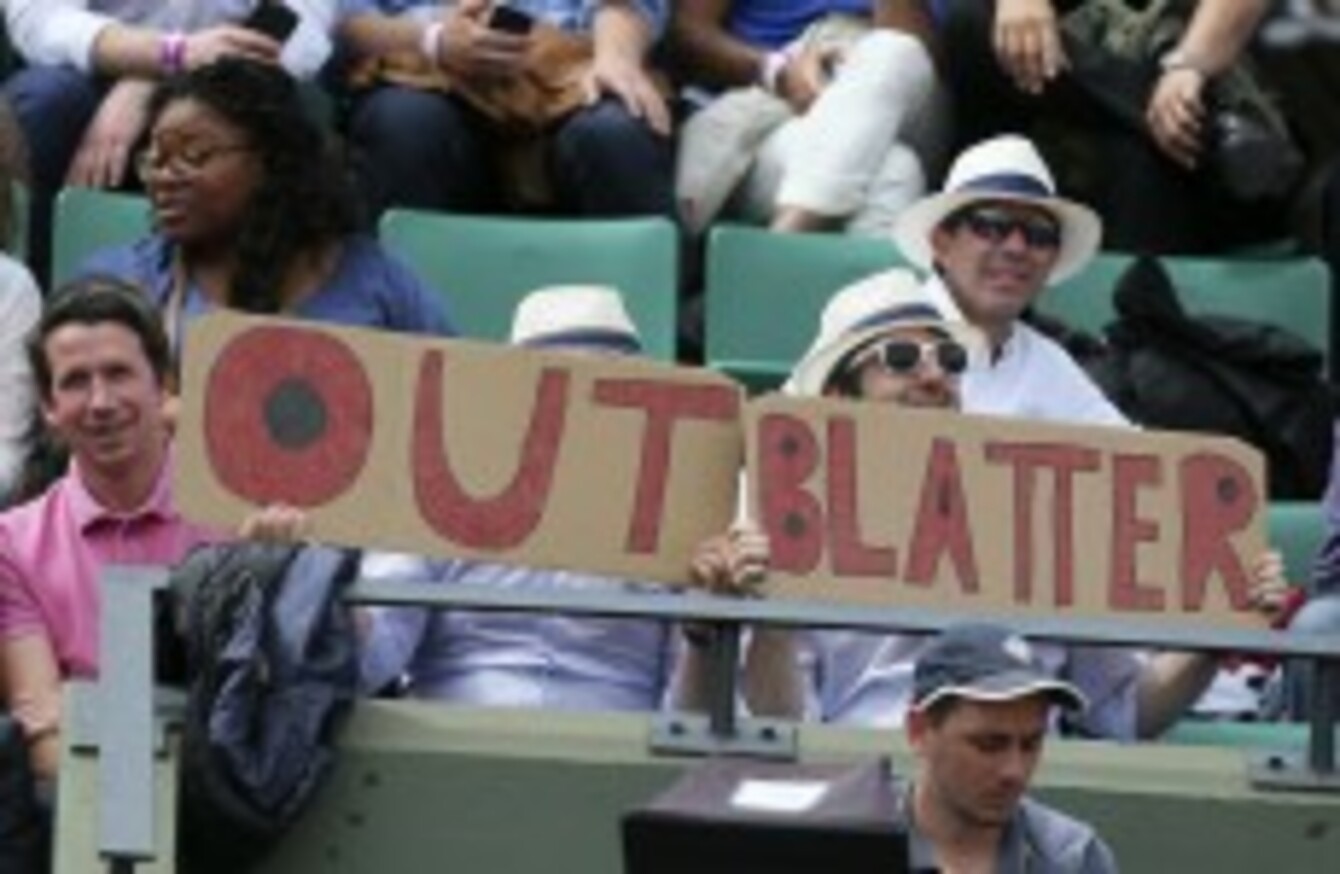 Many people have long called for Fifa to step down.
Image: AP/Press Association Images
Many people have long called for Fifa to step down.
Image: AP/Press Association Images
Updated at 20.47
1. Fifa has become a laughing stock
SINCE TAKING OVER as President in 1998, Sepp Blatter has watched on as Fifa's credibility has gradually dwindled to an alarming extent.
The highly dubious decision to award the World Cups in 2018 and 2022 to Russia and Qatar respectively might be seen as the root of the issue, however even before then, there were several question marks over his presidency.
As far back as 2002, Blatter's first re-election was marred by rumours of financial irregularities, with Farra Ado, then-Vice-President of the Confederation of African Football, suggesting he was offered $100,000 to vote for the Swiss native.
The arrests last week of several Fifa officials amid allegations of corruption appear to have been the straw that broke the camel's back, but ultimately, they are among a multitude of controversies that Blatter has presided over.
The fact that the veteran President was backed by the vast majority of his colleagues last Friday, only to resign four days later, encapsulates what a shambles Fifa has become.
2. Guilty by association
As his defenders are keen to point out, Blatter has never been found guilty of corruption himself, nor has he been directly linked with any of the arrests that occurred last week.
However, the growing list of embarrassments that have happened on Blatter's watch ensured his position as President has finally become untenable.
As Blatter insists to be the truth, he may not have privately known of any of the disreputable behaviour that appears to have taken place in recent years, but even if that is the case, it reveals a deep ignorance and failure to control the inner workings of an organisation that the 79-year-old is supposed to be leading.
Therefore, irrespective of the Swiss football administrator's level of involvement in the various scandals, as President, he must be held accountable to a degree for the actions of others as well as his own.
3. His consistent lack of professionalism
Source: timesofearth/YouTube
For a role that essentially requires a politician's level of diplomacy, Blatter has fallen short on many occasions in this regard.
In addition to his infamous denial of the existence of racism in football (see above), his comments about how to persuade people to watch women's football (oblige players to wear "tighter shorts") was an early indication that he was, to put it mildly, ill-suited to a role in public life.
Blatter's disparaging remarks about Cristiano Ronaldo back in 2013 was another stark example of his tendency to make ill-advised remarks and his uncanny ability to alienate some of the most important figures in world football.
Be part
of the team
Access exclusive podcasts, interviews and analysis with a monthly or annual membership.
Become a Member
Furthermore, the fact that these embarrassing remarks are barely a footnote in the list of issues with his reign shows what a poor President he has ultimately been, despite a reign of over four terms suggesting otherwise.
4. 17 years is far too long for anyone to lead a world football governing body
At 79, critics have wondered how Blatter initially found the motivation to run for another four years as President.
Moreover, he was first appointed on 8 June 1998, meaning he was just short of 17 years in office.
There is a reason that the many political positions can only be held for a relatively short timespan — Blatter has accrued so much power over the years that he has seemed bulletproof at times, despite the endless scandals blackening his name.
Despite all the work done by The Sunday Times, BBC's Panorama and American lawyer Michael Garcia among others — all of which pointed to the existence of wide-scale corruption in Fifa — the fact that he was last week given a resounding vote of confidence by his colleagues within the organisation shows how out of touch the majority of footballing delegates are with the public consensus.
Consequently, Blatter's resignation is unlikely to signal the end of Fifa's problems. Instead, it should be used as a new beginning and an opportunity to impose considerable reform on football's heavily tarnished governing body.
5. The many disastrous potential consequences of a decision to stay
As conceivable as it seemed just last Friday, another four years with Blatter at the helm of Fifa had become increasingly unthinkable before then.
Many high-profile football officials including FAI chief John Delaney, chairman of the FA Greg Dyke and Uefa President Michel Platini (the favourite to replace Blatter) had all called for his imminent resignation.
In addition, several critics had suggested the end was nigh for Blatter amid claims that some of Fifa's main sponsors were ready to boycott the organisation if swift action was not taken after last week's dramatic developments.
Therefore, if Blatter was to defy his critics and persist in the role, it would increase the likelihood of Fifa being rendered virtually powerless by those who had previously supported the organisation. Instead, Blatter and co were bullied into submission by ostensible threats of greater indignities to come.
6. His arrogant refusal to accept culpability for Fifa's many wrongdoings
The manner in which Sepp Blatter and co have handled Fifa's growing list of controversies has been shameless at the best of times.
Instead of embracing The Sunday Times' efforts to rid the organisation of corruption, the paper were accused of "sensationalist" reporting and "twisting the facts".
Blatter's public speeches have continually presented himself as the solution to, rather than the cause of, the organisation's countless problems, yet his words have rung increasingly hollow amid regular evidence of a resistance to all attempts at reform within the organisation — the refusal to reveal the full contents of an independent report by Michael Garcia being one of the more recent in a long line of farcical proceedings
The 79-year-old's daughter is the latest person to paint Blatter as a helpless bystander in this sorry spectacle, but the reality of the situation has finally caught up with the beleaguered President and his diminished coterie of defenders.