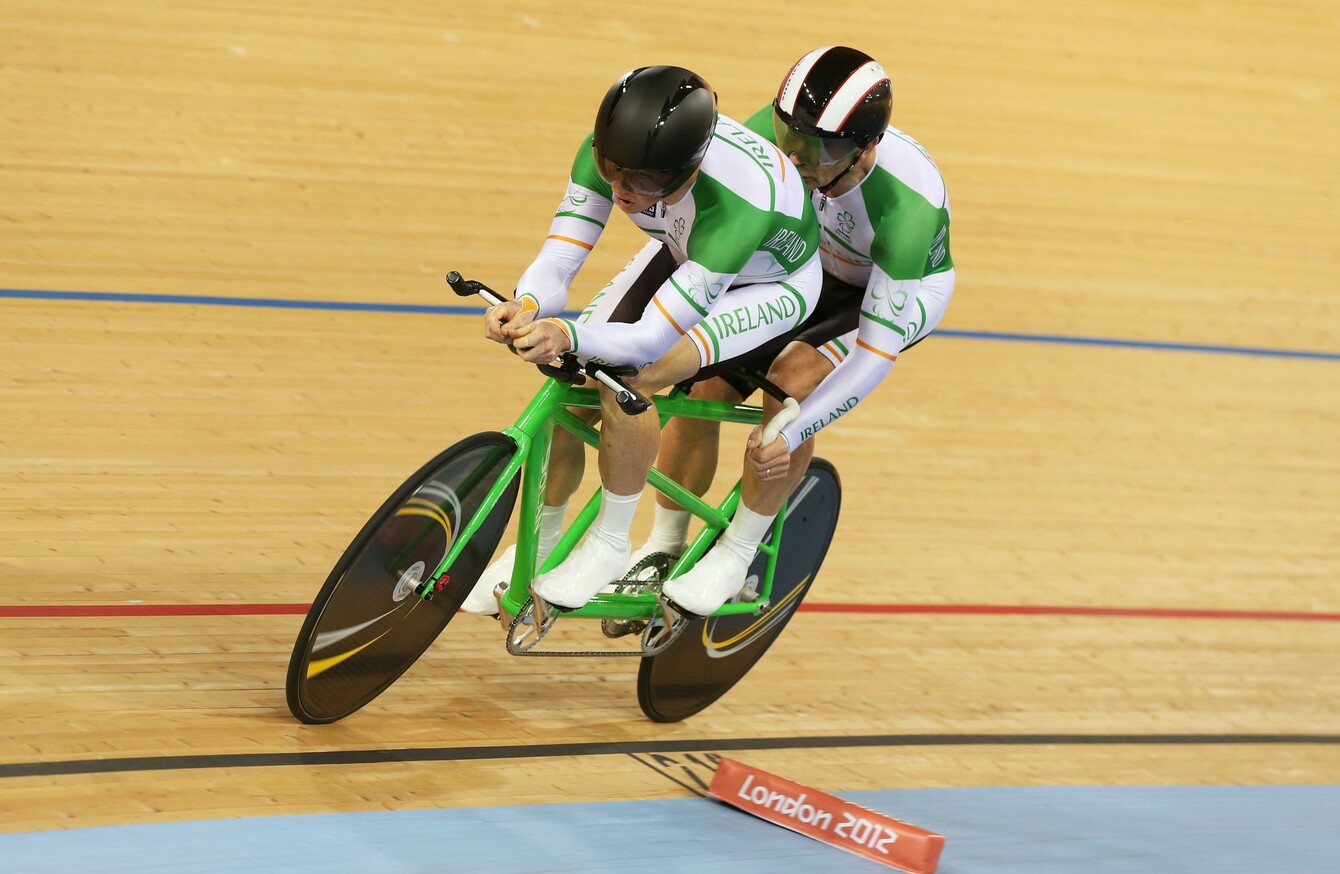 Shaw and James Brown during the London 2012 Paralympics.
Image: Bryn Lennon
Shaw and James Brown during the London 2012 Paralympics.
Image: Bryn Lennon
DAMIEN SHAW IS a latecomer to the sport of cycling but in the five years he's been competing seriously, he's managed to become the best domestic Irish rider.
He has won most races worth winning – and usually by some pretty big margins too.
His palmares – the word used in cycling for one's CV, boasts a long list of wins – though because he has never raced professionally, he's never had the chance to test him against the world's best.
That is until now because at the back end of last year he was signed on a one-year contract by the country's only UCI-registered continental team, the An Post Chain Reaction squad, formed 10 years ago.
Since then, the team have nurtured a number of riders for the pro ranks and among the Irish graduates is Sam Bennett, now riding for top German team Bora-Argon 18.
Shaw is 31 this year so he's not a young man by any means, but he's determined to get the best out of himself and 2016 could well be the year the country hears a lot more about the fireman from Mullingar.
Shaw became national road race champion in 2015 for the first time after one of the most trying years of his career.
The former international cross-country runner blitzed the field in Omagh last June less than two months after fracturing his shoulder in a crash at the VisitNenagh Classic in April.
And a week after he won the nationals he cracked his collar bone in Majorca after crashing in training.
They were huge setbacks but he responded admirably on each occasion, almost winning three stages of the An Post Rás in May and impressing on the track with the national team in September and October.
He'll get his road season underway in a little over a month and we can't wait to see what he can do.
Here, he outlines what training he did last Saturday…
6.30am: Wake-me-up time! In winter I'm not one for the early starts –  it's so hard to peel yourself out of bed when it's still pitch black outside.
This morning is particularly cold and bleak. There's a group turbo class at 7.30am so I'll do that because it's a much more appealing option than hitting the road.
I have my gear bag packed from last night and I skip breakfast as I have enough food in me from a late dinner last night.
7am-9am: I'm on the Wattbike for 7am with a two hour session planned. This takes place in a local bike shop and there's a good crowd in for it.
The main session is at 7.30am but I like to get a good warm-up done. Today's session is a mix of steady aerobic and anaerobic efforts, finished off with a few sprints.
It's a tough workout but shared in a group atmosphere, the time flies.
9.30am: A few of us meet at the local coffee shop for breakfast. This is why I skipped eating before training this morning!
Scrambled eggs and salmon with brown toast are great recovery foods and they do just the trick. After a bit of socialising I'm off to the gym for 11am.
11-12.30pm: I'm a big believer in gym work both for bike fitness and everyday life. I do a mix of plyometrics, core work and explosive lifting.
Then it's time for one of my homemade recovery drinks – double espresso, cocoa powder, milk, oats and a banana all blended up in case you're wondering, I'm also trying out a new range of recovery snacks provided by Soul Snacks.
Their chocolate orange cocoa balls are amazing.
12.30pm-2pm: Home, tidy up, gear in the wash and time for a quick nap. There's a lot of research done into the power of sleep as a recovery aid.
What are they
really like?
Rare insights on sport's biggest names from the writers who know them best. Listen to Behind the Lines podcast.
Become a Member
Not too long during the day, though, as it might affect how you sleep at night.
2-6pm: I give coaching programmes and Wattbike sessions to locals for the afternoon. I really enjoy doing these as I'm able to help share some of the stuff I've learnt over the years.
6pm-7pm: Sometimes I'll do another session on the Wattbike. If I'm tired or I know I'll be able to get out for a long spin on Sunday I'll skip the evening session and head home for a coffee and cake.
7pm-9pm: On the weekends I spend a bit of extra time cooking something nice. Sometimes it's Saturday, sometimes Sunday but usually it's a big batch enough for a couple of days.
I'm really into my food and trying new things. I got a slow cooker before Christmas and there's always something bubbling away on it.
9pm-10pm: I read a book, watch a bit of TV for an hour before bed. Nothing too exciting but getting ready for a big spin on Sunday.
2016 is going to be a big year for me because at me age, I've been lucky enough to secure a contract with a top continental team like An Post Chain Reaction.
Few teams would look at a guy my age but I know what I can do and I'm determined to prove my worth to the team.
31 sounds old in professional sport but I'm still learning this game and every year I've improved, even though I've been working a pretty demanding job at times.
The morning before I won a big stage race in Ireland a couple of years ago I was up until 4am putting out a fire and still managed to beat full-time guys.
Now I'm full-time and getting to focus entirely on this so I just can't wait to get going.
It's going to be quite a change racing the best guys in the world over 200 kilometres day after day but I've stepped up whenever I've had to in the past and I'll do so again in the future.