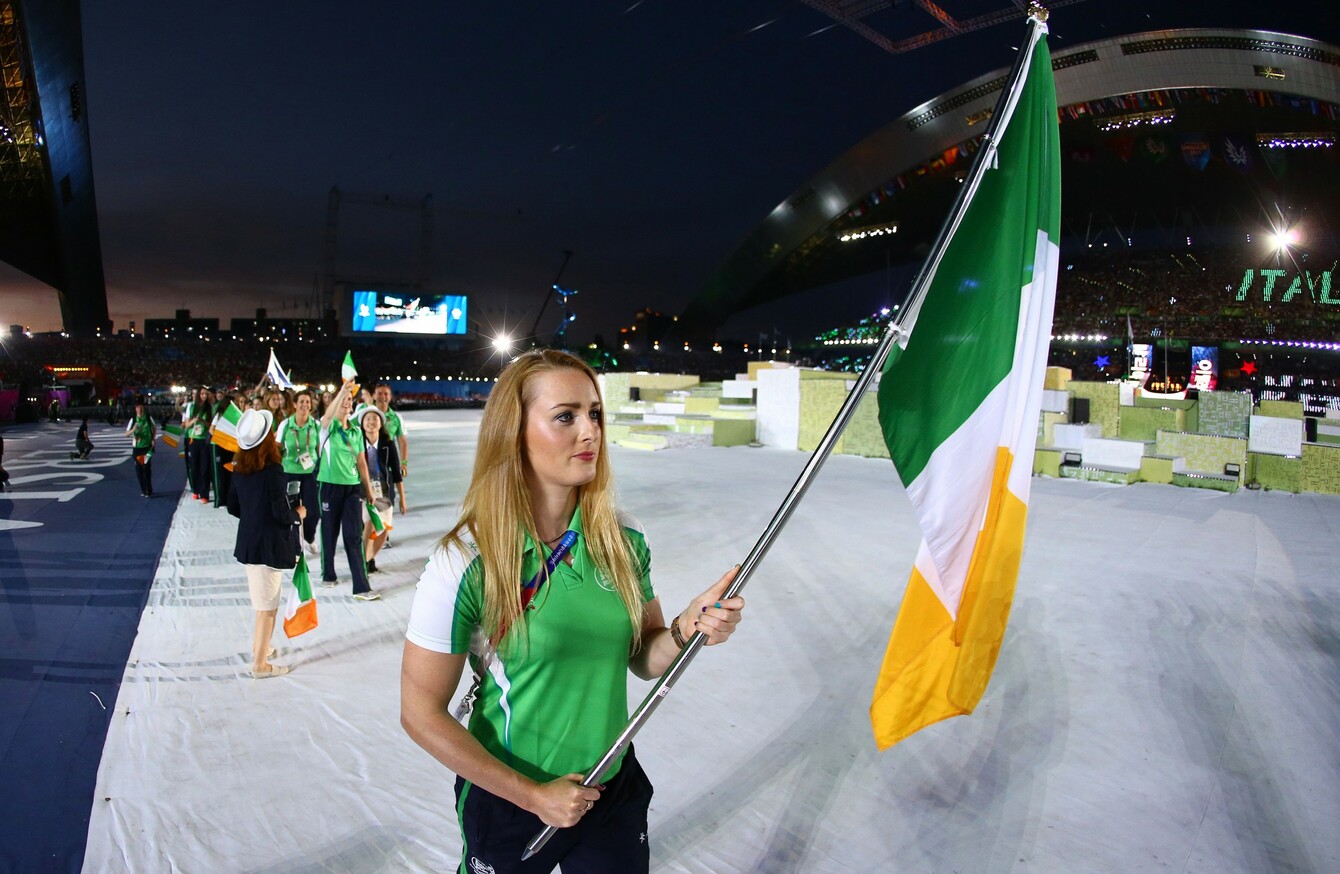 Fiona Doyle carries the Irish flag at the University Games last year.
Fiona Doyle carries the Irish flag at the University Games last year.
LIMERICK-BORN SWIMMER Fiona Doyle was the first Irish athlete to qualify for this year's Olympic Games in Rio de Janeiro and having dreamt of competing since the age of 12, she'll finally get her wish as many years later.
Watching the Games in Athens in 2004 was when Doyle truly became hooked on the sport and since then, she's enjoyed steady progress throughout her career.
Currently based at the University of Calgary in Canada where she's just graduated with a degree in Kinesiology, Doyle is dedicating the next months of her life to being in the best shape possible for Rio.
And here is a day in her life…
5am: I wake at this time most mornings and for breakfast I normally have an apple or a banana or just something light.
I only drink coffee because I'm disappointed by the tea quality here! I'll also have some water for breakfast.
6-8am: I'm usually at the pool for 5.30am and on deck from 5.30-5.40am. I usually start by stretching and doing some activation exercises before I get into the pool.
8-9am: We head for the gym straight out of the pool and go lifting!
At the moment we're coming out of a block of hard work and the focus is on anaerobic speed so it's pretty hard on the body. We do 5.5-6 kilometres each session but a lot of intensity within the workouts and then I'd do a lot of drills as well.
In the gym it's a power/strength programme and it's all go, go, go with heavy weights.
We'd normally do a combination of Olympic lifts, dead lifts, squats, weighted chins, bench press and a lot of core as well.
Between pool and gym sessions I'd have a piece of fruit and then a scoop of BCAA (Branched Chain Amino Acids)and then come home.
9.30am: It's breakfast number two and this is usually three eggs and three pieces of toast or eggs and oatmeal.
10-11am: I nap for between 40 minutes am hour, depending on how weights went and how tired I am.
I take it easy then, just trying to do little things to keep myself busy.
12.30pm: I'd have lunch around this time. Lunch tends to be quite small because I'd be just after breakfast.
I'll have something like half a large chicken breast and some vegetables. I'm trying to keep my weight down but the boys eat non-stop and I'm so jealous.
I don't know how they do it, they eat non-stop and they're like sticks!
1-4pm: This is the afternoon session so it means you have to resist eating heavy stuff at lunch because it doesn't sit well in the pool.
We could have heavier workouts in the afternoon then so I try to keep it kind of light.
I might throw some rice into the mix if I'm hungry. This gives me a good carb boost.
I head to the pool around 1pm and I'm on deck for 1.30pm, ready to go at 2pm.
Usually, the session is the same as this morning in terms of distance but there's a lot more intensity in the afternoon.
Throughout this I'll just sip away water or Gatorade. A gel could be quite heavy and doesn't sit well when you train hard so I avoid these.
4-5.50pm: Once a week I help out with some clubs here just coaching. I go around to different age group squads to work with coaches and kids.
If I'm not doing that I'll stretch for half an hour and I also do a lot of foam rolling and glute activation exercises with a tennis or lacrosse ball.
I find them great in terms of injury prevention because I tend to be quite prone in my shoulders or groin, so these exercises are just to make sure I'm loose.
6pm: That's pretty much me then for the day. Seeing as I don't have to study anymore I've more free time so I come home and chill out.
I used to study for two hours and then get dinner but now I'm just relaxing. It's the first time I've never had to worry about opening a book.
I'd cook dinner every night. I try to mix it up and my dinners could range from curry to chicken and veg, rice, wraps, fajitas. I like trying different things but I try not to eat too much of it.
For the evening then I'd watch some TV or read some books. I started watching the new Suits episodes and they're pretty good, I have a whole list of shows actually. I won't say how many.
What are they
really like?
Rare insights on sport's biggest names from the writers who know them best. Listen to Behind the Lines podcast.
Become a Member
I like Game of Thrones, House of Cards, the usual but I tend to read quite a bit as well, mostly fantasy books.
I'm just discovering more and more things; I don't think it's great for athletes to just sit, it's nice to rest but you still need to keep your brain moving.
Doyle is refreshingly down to earth for someone who has achieved so much. 2015 was a stunning year where she claimed silver and bronze medals at the World University Games in Korea.
Representing her university in her favoured event, the 100m breaststroke, Doyle became the first Irish swimmer to secure her place at this year's Games while also smashing her own personal best.
She takes it all in her stride and tries not to think too far ahead, but focussing on the 'process' instead.
"It's a love hate relationship with swimming," she says.
"For the most part I love pushing myself and seeing what I can do.
"It helps that train with 30-40 others ranging in age from 18-23 so it's nice having that group, people you can have the craic with because I'd be lying if I said there weren't times when I ask myself 'what am I doing' when that alarm sounds at 5am."
It's far from easy to fund the lifestyle that a top athlete requires to be competitive. There are bills to pay like anyone else and travel expenses aren't cheap either.
But she's lucky to have generous backers in MKC Communications and LEDP (Limerick Enterprise Development Partnership).
"I have been so fortunate," she explained of her ascent to this point.
"You do it because you feel like you have to and just hope you can find the funds somewhere.
"It always makes me sad when you hear people go 'why are we giving this money to athletes?'
"People don't fully understand how much it costs to do what we do.
"When you go to these events and people turn around and go 'God they're useless, why can't we be like USA and Great Britain' but what they're not realising is these countries are pumping money into their athletes and they get everything handed to them on a silver platter once they get to a certain level.
"In Ireland, we don't have that luxury so we're trying to continuously fight for it, depending on what sport you're in.
"We do it because we love it but after that it's a case of hoping you find the funds somewhere."