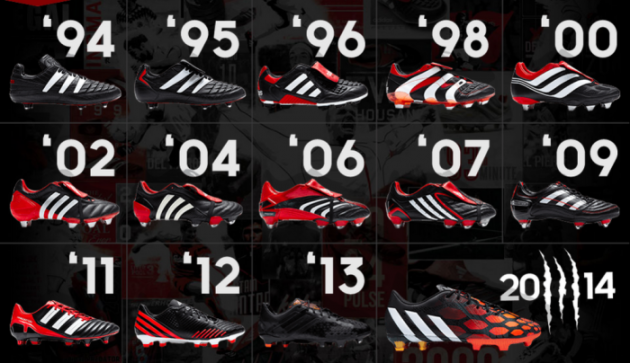 WE ALL HAVE our favourite model of Preds. For this writer, it's got to be the '98 vintage.
Well, there has been some major news regarding one of Adidas' best-loved boot today, as it seems they are being discontinued.
In a statement, the brand announced that it is hanging up the Predator range, which was first introduced back in 1994, to make way for a number of futuristic new products — X and Ace.
"The game of football has changed over the years," it reads. "Positions, traits and attributes that mattered before are irrelevant now. There's a new set of rules. Forget everything you thought you knew about football, the future is now and adidas is leading from the front.
"In an unexpected new video released today, players including Leo Messi, Thomas Müller, Luis Suarez and Oscar sparked a revolution and announced the end of adidas' existing on field boot silos. No more Predator, f50, 11Pro and Nitrocharge."
We can only assume the latest editions will come in an array of garish colours and be made of wafer-thin plastic. Anyone else feeling old…?
adidas Football / YouTube
(h/t: WhoAteAllThePies)