EARLIER THIS YEAR, a heartwarming story emerged from a refugee camp in DR Congo. It was about Emerance, a teenager from Burundi and captain of her football team. She's so good that her team-mates call her Neymar.
Two years ago, in the middle of the night, she and her family fled the bloodshed of their homeland. Afterwards, inevitably, it was hard for her to shake the trauma.
In the Lusenda camp, a temporary home for an estimated 29,000 Burundian natives, Emerance leads her girls team against others. The majority play barefoot on scorched, dusty patches of earth. Emerance dreams of a future career as a footballer in the US and when she's on that field – however briefly – she's closer to achieving that dream and further from the nightmares she's already lived through.
Football is a strange thing. It's the world's game. It's an international language that everyone can speak. For some fans, it's an obsession. For others, particularly those like Emerance, it's a a happy distraction, a coping mechanism, a comfort blanket. In whatever  small, perhaps largely insignificant way, football can help.
When we chat, Adrian Carberry is back home after another day at the office.
"We had a new group earlier and two boys showed up," he says.
"Abdul and Juan. One is 17 and the other is about 18 or 19. And sitting there chatting to them…"
He takes a second.
"For myself, who has three girls, hearing their stories…One lad has his mother and two sisters in Turkey and his brother is still back in Syria. So the families are all broken up around Europe. It's horrendous. And you're expecting them to come down to you and be in good form and all the rest."
Carberry, a former League of Ireland player with Athlone Town and Galway United, is a development officer with the FAI in Roscommon, as well as an assistant coach with the Republic of Ireland Under-19 Women's team.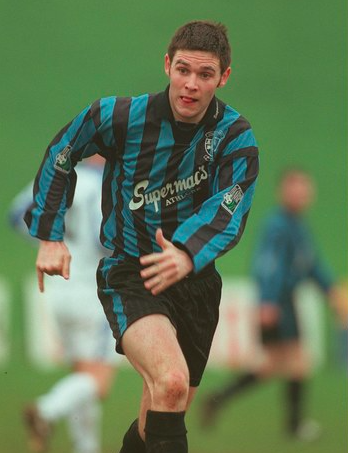 Adrian Carberry seen here in action for Athlone Town in 1998.
But his latest training programme is a bit unique.
"We were all aware of Ballaghaderreen being a centre point for where Syrian refugees were going to come into Ireland," he says.
"They'd start off there in a holding centre before being moved around the country. So the opportunity came up to do something there because, I suppose, we had a good grouping of refugees where maybe before they'd be sporadically spread around the country. But this was a big group of about 200 so we felt it was a good idea to get involved and help out.
We have an intercultural national coordinator at the FAI – Des Tomlinson – and he got funding through AMIF, a group that deals with refugees and who look after them when they arrive in a country and try and make life better for them. So we sat down with Des and worked out a programme regarding what we could do with them. The funding was set up around education and football so there had to be an educational aspect to it also. So it would kick off with English language skills."
Syrian refugees have lived in the tiny Roscommon town of Ballaghaderreen since the spring of 2017. They've been accommodated in a former hotel – a world away from their fallen homes in Aleppo, Damascus or Deir Ez Zour – before being moved to other areas of the country once their integration is complete.
But, unsurprisingly, it's been a long and difficult transition.
Every single thing is different. Except at the local community park.
The refugees receive English language tutorials but the content is aligned with Carberry's coaching sessions.
So, one class may focus on verbs like 'sit' and variations of the term. Later, on the field, those positions will be incorporated in various football drills.
"I work towards whatever words they have spoken," Carberry says.
⚽️Refugees score language goals on the soccer pitch thanks to @FAIreland pic.twitter.com/P1OXMjOzQM

— UN Refugee Agency (@Refugees) April 9, 2018
"You have to bear in mind that it's not like your first day in Junior Infants. Everyone is coming in at different levels. Some have good English and you try and use those guys as well to help you out on the pitch. So it's words you hear on the field but also basic words they would use every day and then we'll try and use all of them in the session."
Carberry is quick to point out that the success of the programme is not only down to good teaching but the relationship the refugees have with the sport.
"Football is easy to get across," he says.
Everybody speaks football. So it was easy to sell. We're very lucky. With football, it's so easy. It doesn't matter. Religion doesn't matter. The language you speak doesn't matter. Where you're from or who you are doesn't matter. You put a football down, you put goalposts down or even some jumpers and you play. You play away. Kids will play with whoever. They don't mind. And that's why we have an advantage there in terms of getting a message across by using football. It's absolutely fantastic that everyone wants to play and can play – different levels, obviously – but they just want to play and have fun. These people were coming from a horrendous background and for them to come here and for us to be able to give them something small…"
He pauses again before trailing off.
"We did start off with younger children but the programme isn't without fault," he admits.
"We couldn't engage with them. We couldn't get them in. They came down once or twice but didn't come back. It was hard to engage with them. When you're with new groups, you really have to find someone in there who can get the message out. Communication between all of us wasn't great at the start but it has improved now. We've started back with the children again and every Friday night we play futsal for two hours. It's just getting them out and once they can understand some words, they just come and play and that's working well. It's giving them something. It's small but it's words that they might use everyday. And you have that carrot that football provides."
The programme started shortly after the refugees arrived in Ballaghaderreen. But it was new for everybody. And that led to some teething problems. Effectively, all parties needed to learn, not just the Syrians.
"We ran it around Easter last year and it took a while to take off," Carberry says.
You'd get one or two coming to sessions. And then there was the understanding of time. And there was a bit of respect that needed to grow between all of us. We're there for a session at 3 o'clock and they're not arriving until 3.30 or 3.45 and we didn't understand why. Denis Bates from the Red Cross has also been heavily involved and he was trying to get them to come down on time. But it was about us understanding them too. Ideally, as Irish people, we'd have given up after waiting the usual 10 minutes and then just headed off. But they were coming to a hotel from their country, thrown into a camp site somewhere along the way – probably Greece or Turkey – and they're arriving into Ireland and put into a one-bedroom hotel. So it is quite hard. We needed to understand that they're not always going to be coming into our sessions buzzing and ready to go. It doesn't matter how good it is or how many bells and whistles we have. You have to understand they're coming in from a horrendous background. Seeing people dying. War. It's horrendous. You see the images on the news now of chemical warfare. My God. What have these children seen? So it's trying to deal with all of that."
"Here's me coming into the FAI and trying to coach the next Irish star and trying to find players and then you're thrown into this. But we got there. It took a while. There were a few weeks where nobody showed up. But then we got up to 24 adults coming every week. Then, we had a group of 10 girls arrive. That petered out a bit so we concentrated on running just with the guys. But we'll start with the girls again and build that back up."
For Carberry, it's been a different kind of challenge. The coaching required is a complete contrast to what he oversees in his other training sessions. It's basic, slow, tedious. But the rewards, arguably, are greater.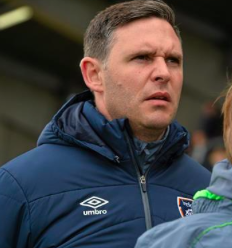 Sportsfile Carberry on duty with the Republic of Ireland. Sportsfile
"When you're getting ready for the first session, you're saying to yourself 'My God. What am I doing?'" he says.
"But it's what I signed up for. It's part of being a development officer with the FAI. It changes so much. I came to get involved in elite football but I've found myself everywhere in between. Some of it has been quite hard and quite challenging. But some of it is brilliant and this part has worked out very well. It was tough at the start but it has got better. You start off wanting to coach Ireland's next big star. Like, I've just come back from the Irish Women's Under-19s and then you need to switch back to this and it can take a while.
But, we're looking for new Irish players all the time. The next star? Maybe that boy or girl will have been born in Syria? Or maybe their parents are Syrian and they were born here?"
The sessions give the refugees a break. It's something they can get excited about. It's something that's familiar to them – a rare thing in Roscommon. And ultimately, they're incredibly grateful for the perfect strangers, like Carberry, who are affording them the opportunity to kick a leather ball around a field. They can – however briefly – enjoy something again.
"It's a small thing that I see in the guys – just playing football and enjoying themselves," Carberry says.
And wanting to win! That's worldwide. They want to win. And that's good to see. And they're very thankful. After a session they'll come up to me and it's, 'Thank you, Coach'. There's a bundle of us development officers around the country – probably 50-odd, and we're all doing the same thing. A lot of it does go unnoticed but everyone is doing great work with different groups. I do think this is a very good story and something that can be built up all over Ireland."
"It's an eight-week programme but we're not necessarily strict on that. The people currently in the centre are changing. They're being moved out now and new people are arriving on a monthly basis. So, we'll finish up at some stage, take a break and go back and start again, probably with a different group, maybe concentrate on getting the girls back involved. But we do have other programmes running too in the region. We have a late-night league and hopefully we'll have that set up soon. Some of the refugees have good English and they do learn daily in the centre. So, after a while, they might just want to play football."
Though their English is constantly improving, football is still the refugees' language of choice. References to Lionel Messi and Cristiano Ronaldo are greeted with plenty of enthusiasm. But there is one thing that has surprised Carberry about their football knowledge.
"It really is Spanish football that they pick up on," he says.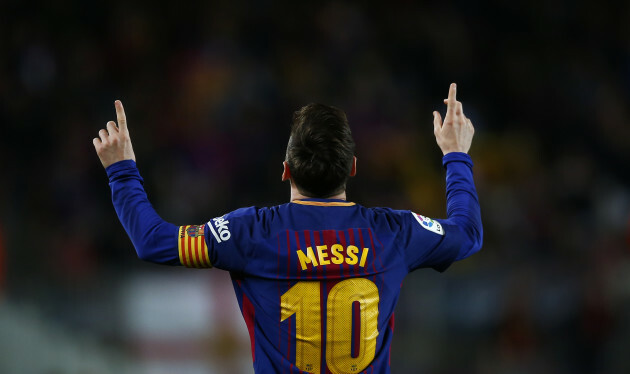 Manu Fernandez Manu Fernandez
"It's the league they will go to first. They'll talk about German teams like Bayern but not so much the English clubs, which I found strange. All the Premier League marketing and it's still the Spanish and German clubs they want to talk about. So you're able to talk about Messi and Ronaldo and they all know immediately what you're saying, which is fantastic."
Their knowledge of Ireland's domestic game is also getting better. And one pretty confident refugee is intent on making the step up sooner rather than later.
"They are watching the League of Ireland," Carberry says.
"I'm not sure if it's Soccer Republic or whatever but they are aware of it. One guy we had –  Allan – was moved onto Cork and he was enquiring about getting John Caulfield's number!"
"He probably has a bit to go before he's at that level  - but maybe a few seasons with Athlone Town and then he can progress further? But we do have a great product with the League of Ireland that we should be promoting and I think we'll definitely get them to games and to see the Irish team play too."
As we wrap up, Carberry inadvertently addresses the dissenting voices, those who are suspicious and angry with the assistance the refugees have received since arriving in Ireland.
Another brief anecdote provides important context.
"I know there are people saying stuff like, 'We don't look after our own' and 'we're taking care of people from outside before our own'. But when you talk to these refugees, they really are coming from hardship. There are a lot of qualified people coming in – who had a good life – and coming in here with absolutely nothing – not even shoes."
We had a Uefa delegation over last week for a study visit and they came to Athlone. So we brought a team from Ballaghaderreen to Athlone and I had to go and gather up a couple of pairs of runners. I roped in a few friends to help and finally we managed to get 14 or 15 pairs of runners for them to play in."
"That's what you're dealing with. They have nothing at all."
The42 is on Instagram! Tap the button below on your phone to follow us!